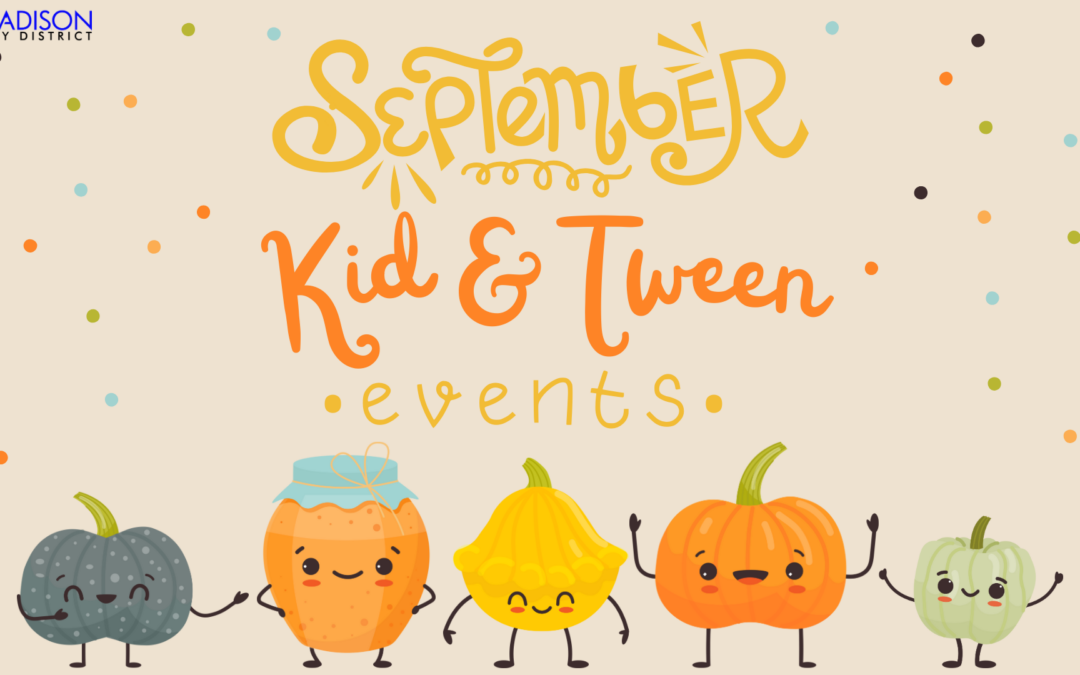 September Kids & Tween Events
Join Miss Gina, Grace, and Marybeth for Preschool Story Time, Toddler Time, and Book Babies! For September, we will have fun with the letter F and farm animals!
Preschool Story Time is for ages 2-5 and meets Tuesdays at 10:30 AM and 6:30 PM or Wednesdays at 10:30 AM

Toddler Time is for ages 10-23 months and meets on Mondays and Tuesdays at 9:30 AM

Book Babies is for 0-9 month olds and meets Wednesdays at 9:30 AM
Please note, there is no Toddler Time on Monday, Sept. 4 – the Library is closed for Labor Day. Wondering which early literacy library program to attend? Go to the age-specific event for your oldest child. All regular Story Times are held in the Community Room. Additional activities and links will be available after the program on the Madison Library District Kids Corner blog.
Come to the Library and participate in an activity that's all about science, technology, engineering, art, or math! Sept. 5 we'll stop fidgeting… not! For this activity, we will make "back to school" fidgets to hide in your pocket or backpack. On Sept. 19 we will explore the world of friction and how to eliminate it with a balloon hovercraft! Kids and Tweens ages 6-11 and an accompanying adult, meet us on Tuesdays at 4:00 PM in the Community Room. 
Learn the art of chess and other games with the master of fun and strategy, Nick Allison. Tweens and teens ages 9-18 are welcome to join Mondays, Sept. 11, 18, & 25 from 4:30-5:30 PM in the Community Room. Game supplies will be provided.
Free Family Films for all ages! Fridays at 3:30 PM in the Community Room! Sept. 1 is Fly Away Home (PG) and Sept. 15 is The Fox and the Hound (G). Children under 12 must be accompanied by someone 14 or older. Parents, please prescreen films to determine if it is appropriate for your child.
Do you love LEGOs? Join other kids who love the ever popular bricks at Madison Library District's LEGO Club! We will meet in the Community Room on Tuesday, Sept. 12 from 4-5 PM. For kids ages 6-11 with an accompanying adult & teens ages 12-18.
Books for Boys & Mother Daughter Book Club
Mother Daughter Book Club and Books for Boys! Join us for our Fall Kick-off Party at the Better Book Café (Community Room) on September 14 at 6:30 PM! "Taste" a book and see if it's to your liking! Bring your favorite book and share why others should "eat" it for their book feast! We will choose our books this year from the menu. For boys and girls ages 8-11 with an accompanying adult.
Discover the world of technology with Cubelets, Makey Makey, robots, 3D printing pens, and so much more with Tech 4 Kids 'n Tweens at the Library! We will meet Tuesday, Sept. 26 at 4 PM in the Community Room. For ages 6-11 with an accompanying adult.
Family Storytelling Night
Join us for Family Storytelling Night®, a highly interactive family literacy and engagement event hosted by down-to-earth dad, Patrick Mitchell. Parents will learn a storytelling method (without books) to enhance literacy nightly at home all year long. You'll also celebrate individual, family, and community history, heritage, culture, and language along the way. Refreshments will be provided at the beginning of the evening. Families with children of all ages are welcome. Monday, Sept. 25 at 4:30 PM in the Community Room.
 The Library will be closed Monday, Sept. 4, 2023 for Labor Day. No items are due but the book drop will remain open. Thank you!
The Library will be closed Thursday Sept. 28th through Saturday the 30th for Staff Development and Building Maintenance. No items are due. Thank you!
Sign up now to take part in the Library's October 16 Open Recital! All instruments, ages, and skill levels are invited to share their artistic abilities with our community. We look forward to hearing you perform!