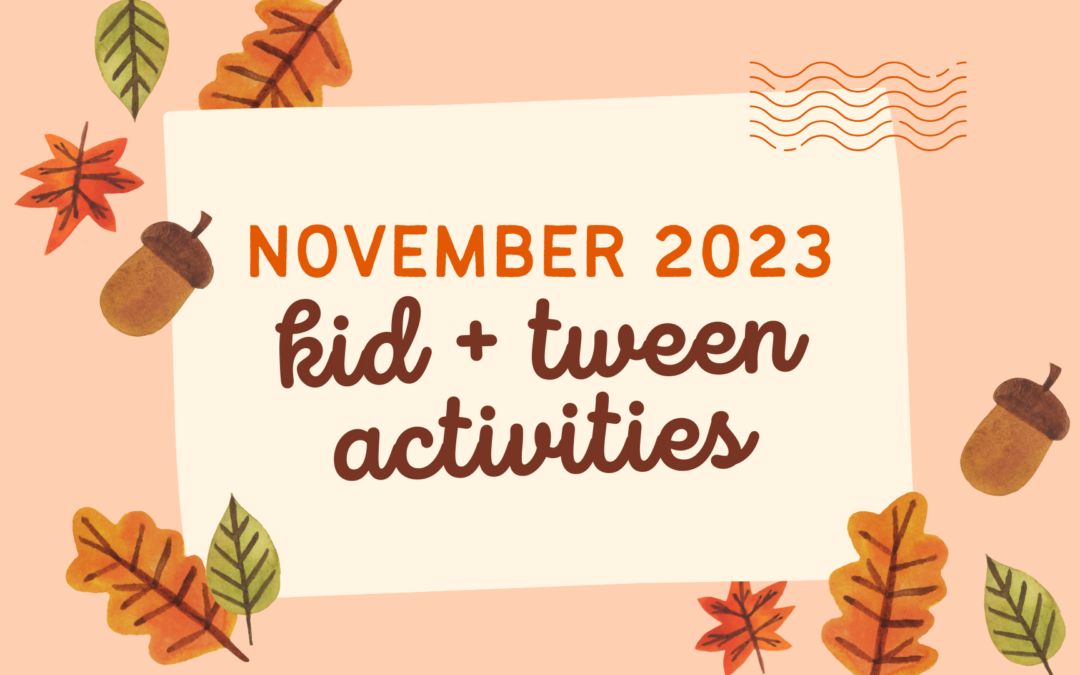 November Kid and Tween Activities
Join us this November for a world of imagination and learning at Story Time!
The theme for Preschool Story Time (ages 2-5) is The Letter U! Explore the magical world of "Uni"-horns, Umbrellas, Under the…, and something NEW, just for U… or should we say YOU!
Tuesdays & Wednesdays at 10:30 AM

Tuesday evenings at 6:30 PM
Toddler Time (ages 10-23 months): Dive into the exciting theme of "Under the …" with your little ones as we embark on a journey of discovery and fun!
Mondays & Tuesdays at 9:30 AM
Book Babies: sensory adventures for the littlest ones (ages 0-9 months) who are not yet walking and their grown-ups! Enjoy songs, stories, movement, and sensory activities together while we explore the theme of "Under the …"
Please note, there will be no programs on November 1. We can't wait to see you and your little ones in the Community Room!
For tweens and teens aged 9-18, it's time to embark on a journey into the world of strategy and fun with our master of games, Nick Allison. We meet every Monday in the Community Room at 4:30 PM. Game supplies are provided, so all you need to bring is your enthusiasm!
Mark your calendars for a special event – the Open Chess Tournament on November 13 from 4:30 to 6:30 PM. It's a Chess Tournament for all levels! Test your skills against players in your category for a chance to win sweet prizes. Our chess and game master, Nick Allison, will oversee the tournament, ensuring an exciting and fair competition. Spectators are welcome, so bring your family and friends to cheer you on!
Join us on Tuesdays for kid and tween activities at the Library! Here's what's coming up in November:
Nov 7: Dive into the Arctic and learn about the narwhals who live there! (ages 6-11)
Nov 14: It's LEGO Club – let your creativity run wild! (ages 6-18) 
Nov 21: Get ready for some high-flying fun with balloon turkey rockets! (ages 6-11)
Nov 28: Explore the world of technology with Cubelets, Makey Makey, robots, 3D printing pens, and more at Tech 4 Kids 'n Tweens! (ages 6-11)
See you in the Community Room at 4:00 PM every Tuesday for a world of adventure and discovery. Don't miss out!
Calling all young bookworms! On Thursday, November 9 at 6:30 PM, we're bringing together the Mother Daughter Book Club and Books for Boys in our Community Room for an evening of literary adventure!
This month's read: The Incredibly Dead Pets of Rex Dexter by Aaron Reynolds. Whether you're a daring detective like Rex or just love a good mystery, this book is bound to captivate your imagination! Designed for ages 8-11 with an accompanying adult, this event promises bonding, laughter, and meaningful discussions. Come enjoy treats, a fun activity, and let's unravel the mysteries of Rex Dexter together!
We honor our heroes this Veteran's Day. In gratitude for their service, Madison Library District will be closed Friday and Saturday, November 10-11. No items are due, but the book drop will remain open. Thank you for your service, veterans!
We are grateful for our patrons! This Thanksgiving the Library will be closed Thursday the 23rd through Saturday the 25th. We will also close early on November 22 at 5 PM. No items are due when the Library is closed. Thank you!