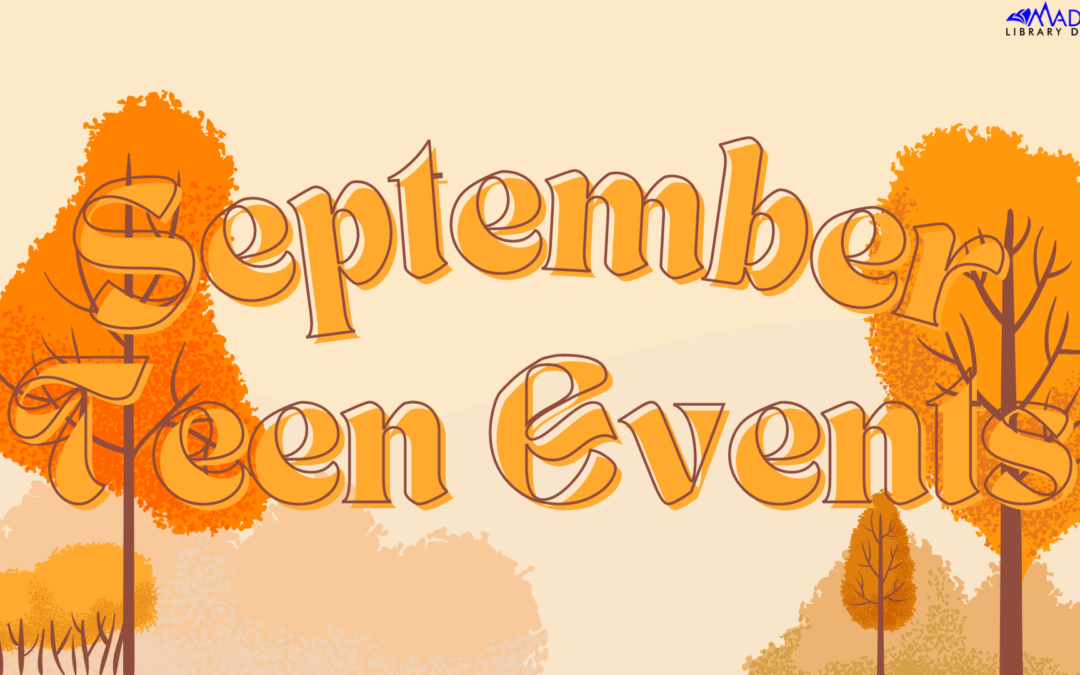 Hauntings – Library Teen Virtual Convention
Teens are invited to join the annual Library Teen Virtual Convention! Inspired by all our favorite ghost stories, spooky folklore, and mysterious cryptids, this year's theme is HAUNTINGS! The Convention is hosted on Discord and will run from Sept. 4 to Oct. 27. This year we're pleased to have panels from guest experts on topics like AI Art and Ethics, game design, and careers in STEM, as well as a variety of games and challenges and daily art, writing, and conversation prompts. Teens ages 13-18 should join the Madison Library District Teen Server to be invited. View more details about the convention and Discord on YouTube: https://www.youtube.com/watch?v=KUCHIiIutMM
 Have a say in what goes on at the Library for teens! Ages 12-18 are welcome to join us Wednesday, Sept. 6 at 4 PM in the Community Room to voice their input.
We've got crafts for teens (ages 12-18) at the Library! Join us Thursdays this month in the Community Room from 4:30-5:30 PM. Teens will be using perler beads to create cryptid creations on Sept. 7! For Sept. 21, teens will need to bring a pair of shoes that require laces so that they can learn new and unique ways that they can tie their shoes, changing their everyday shoes into their own unique pieces of art! The library will provide laces.
Calling all teen adventurers ages 12-18! Join our party and learn to play Dungeons & Dragons! We will meet in the Community Room Fridays, Sept. 8 & 22 from 3:30-5:30 PM. Please join the Library Teen Discord. More information is posted there about how to prepare beforehand. You can also visit the Teen Zone on our website for details.
Learn the art of chess and other games with the master of fun and strategy, Nick Allison. Tweens and teens ages 9-18 are welcome to join Mondays, Sept. 11, 18, & 25 from 4:30-5:30 PM in the Community Room. Game supplies will be provided.
Do you love LEGOs? Join other kids who love the ever popular bricks at Madison Library District's LEGO Club! We will meet in the Community Room on Tuesday, Sept. 12 from 4-5 PM. For kids ages 6-11 with an accompanying adult & teens ages 12-18.
Would you like to meet TWO best selling authors and learn how to set up a story's beginning, middle, and end? Now entering the Young League of Writers' stage… Sian Ann Bessey AND Traci Hunter Abramson! Both of these authors are experts at storytelling and creating incredible plots that keep readers on the edge of their seats! We will meet to share what we've all been working on and talk with both of them about what makes writing great. Ages 12-18 are welcome to join us 4-5:30 PM in the Community Room on Wednesday, Sept. 13.
Teen Anime Club is for everyone ages 12-18! Thursday, Sept. 14 we will be watching Komi Can't Communicate. No charge, no registration, just meet at 4:30 PM in the Community Room.
Have you ever wanted to make treacle tart from Harry Potter and the Sorcerer's Stone? Or how about the scones from The Inheritance Games? Or maybe you would like to try the mallowmelt from Keeper of the Lost Cities. Then join us for our teen Cook with a Book fall kick-off event at the "Reading Rabbit Grill" (Community Room). We will pick the books to cook in the next year while snacking on yummy treats. Ages 12-18 are invited Wednesday, Sept. 27 from 4:30-5:30 PM.
Free Family Films for all ages! Fridays at 3:30 PM in the Community Room! Sept. 1 is Fly Away Home (PG) and Sept. 15 is The Fox and the Hound (G). Children under 12 must be accompanied by someone 14 or older. Parents, please prescreen films to determine if it is appropriate for your child.
 The Library will be closed Monday, Sept. 4, 2023 for Labor Day. No items are due but the book drop will remain open. Thank you!
The Library will be closed Thursday Sept. 28th through Saturday the 30th for Staff Development and Building Maintenance. No items are due. Thank you!
Sign up now to take part in the Library's October 16 Open Recital! All instruments, ages, and skill levels are invited to share their artistic abilities with our community. We look forward to hearing you perform!