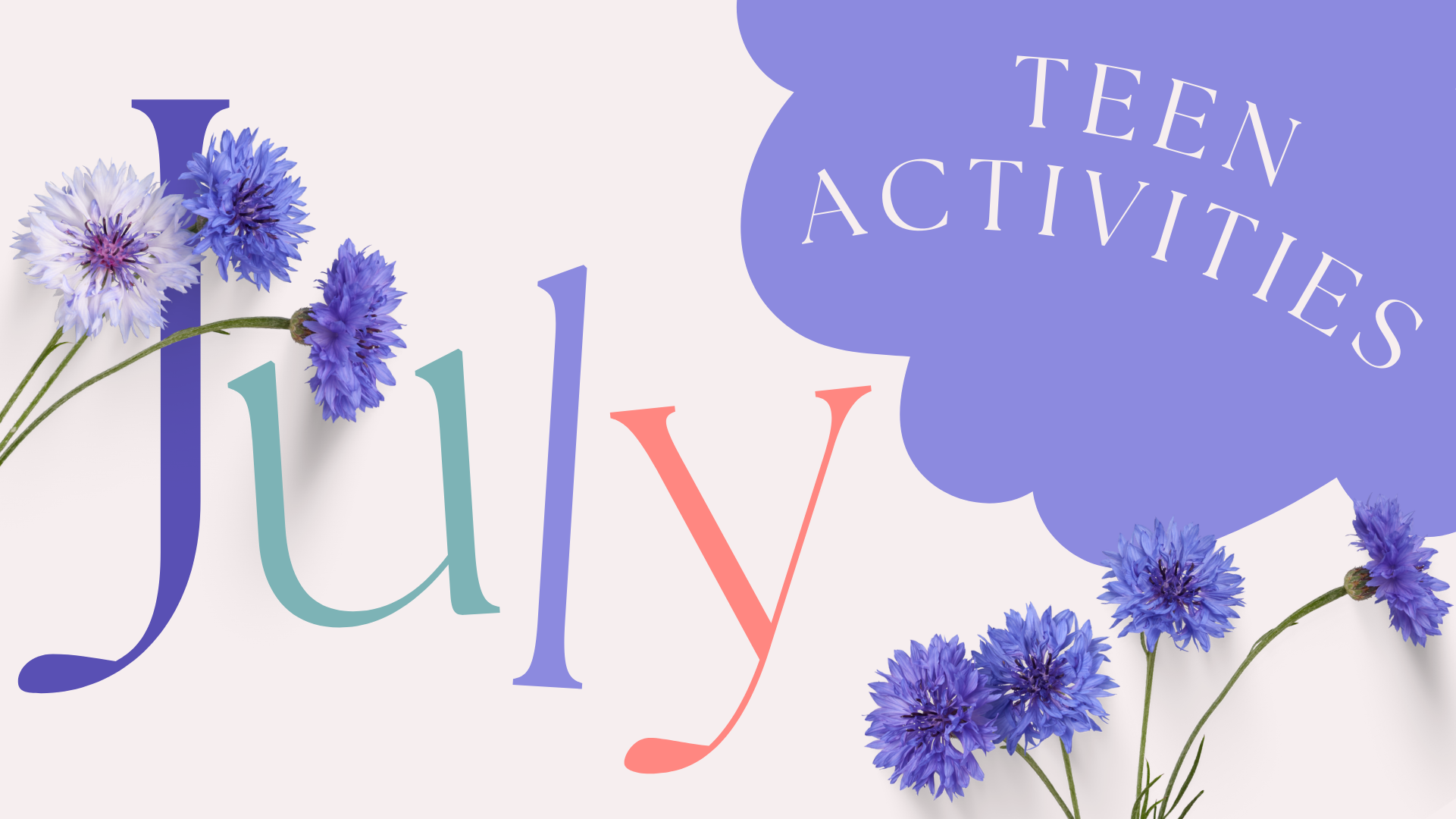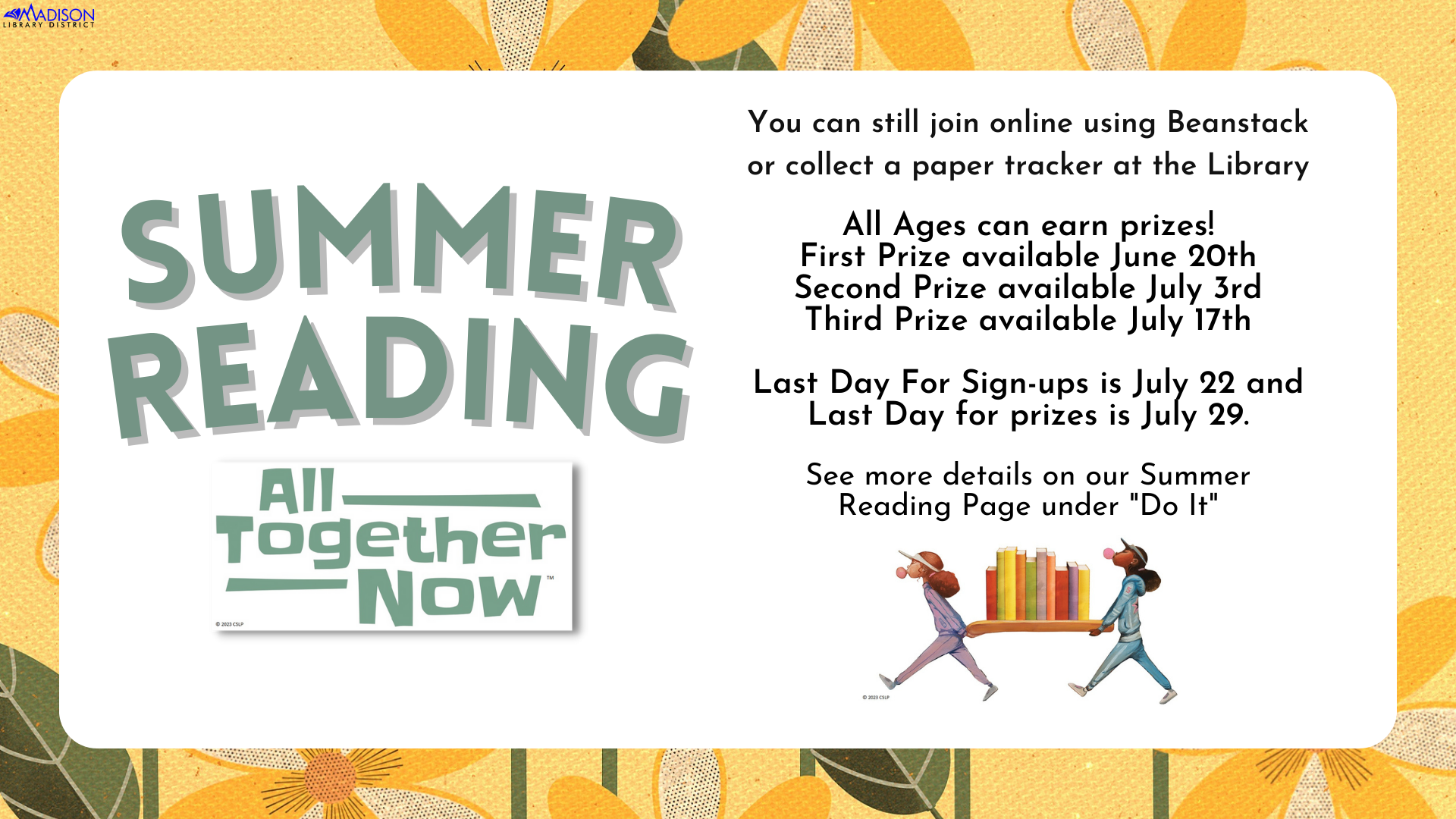 CHESS AND GAME CLUB
Learn the art of chess and other games from the master of fun and strategy, Nick Allison. Game supplies will be provided.
Mondays from 4:30-5:30 PM in the Community Room.
For Ages 9-18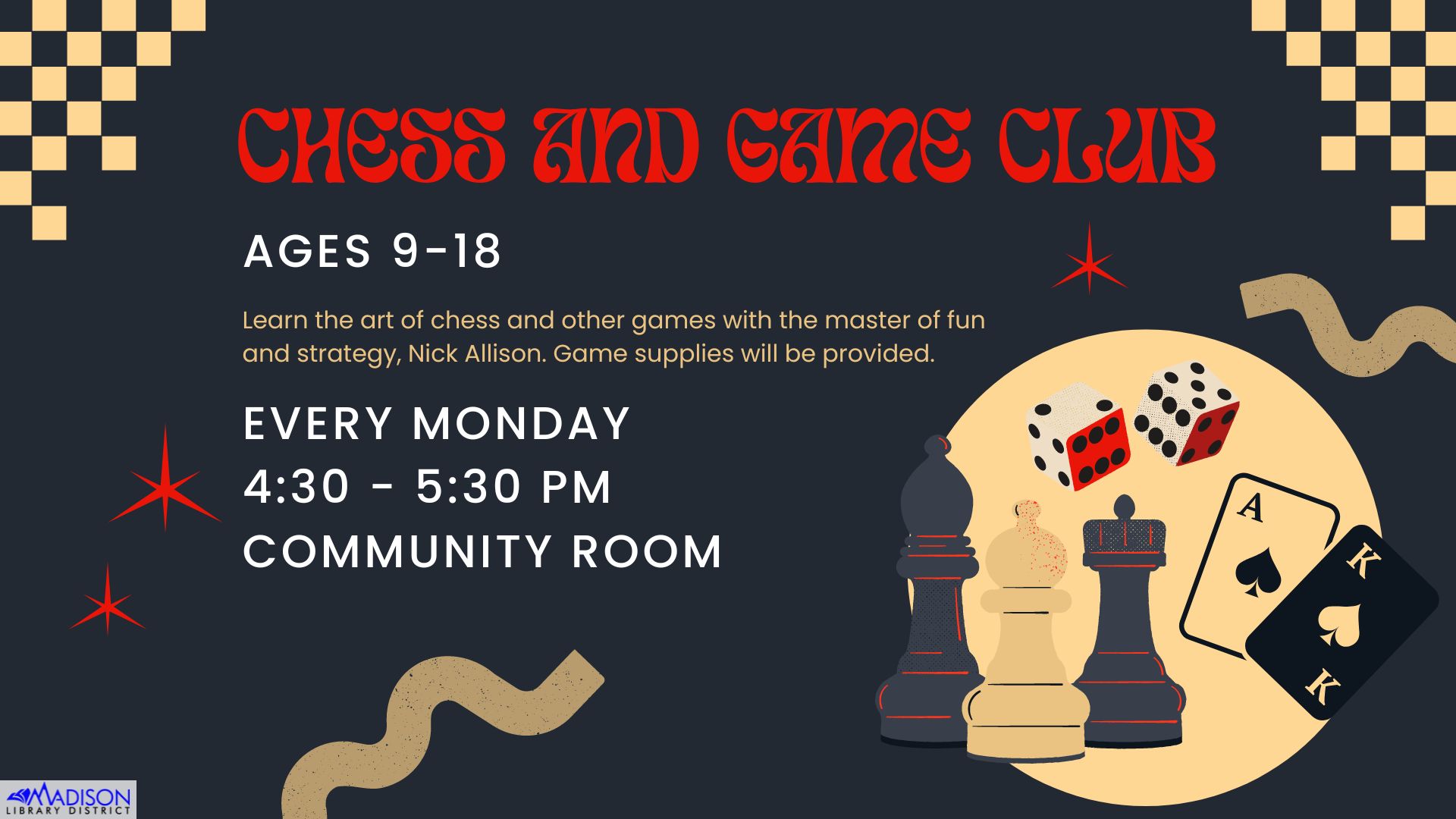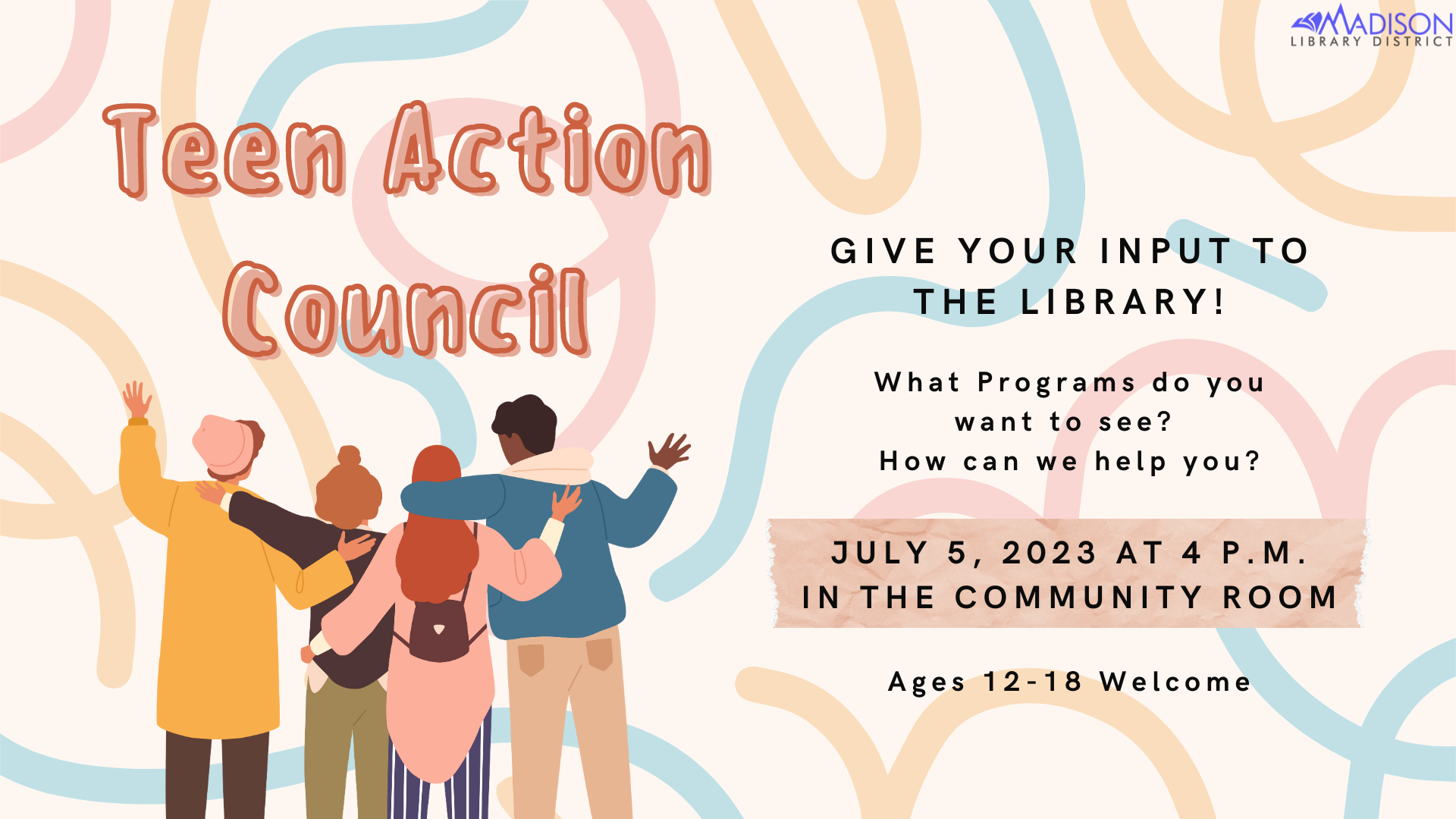 TEEN ACTION COUNCIL

Teen Action Council gathers to discuss plans and come up with ways for the Library to help teens. Have a say in what happens at your Library!
Wednesday, July 5, 2023 at 4 PM in the Community Room.
For ages 12-18.
"ALL TOGETHER NOW" BLOCK PARTY
This is the Block Party everyone will be talking about this summer! Inspired by our summer reading theme "All Together Now", we'll have lawn games from all over the world, food trucks to fill any craving, a climbing wall and bounce houses, plus international performers including Footworks Dance Studio, the Yellowstone Brass, Amelat Dance Company, and Proform Airborne Jump Rope. There'll be something for everyone at all ages. Don't miss out! The celebration begins July 8th 5:00-8:00 PM on the field next to the library. Stay for an after-party outdoor movie experience that starts at 9 PM! Concessions will be available for purchase.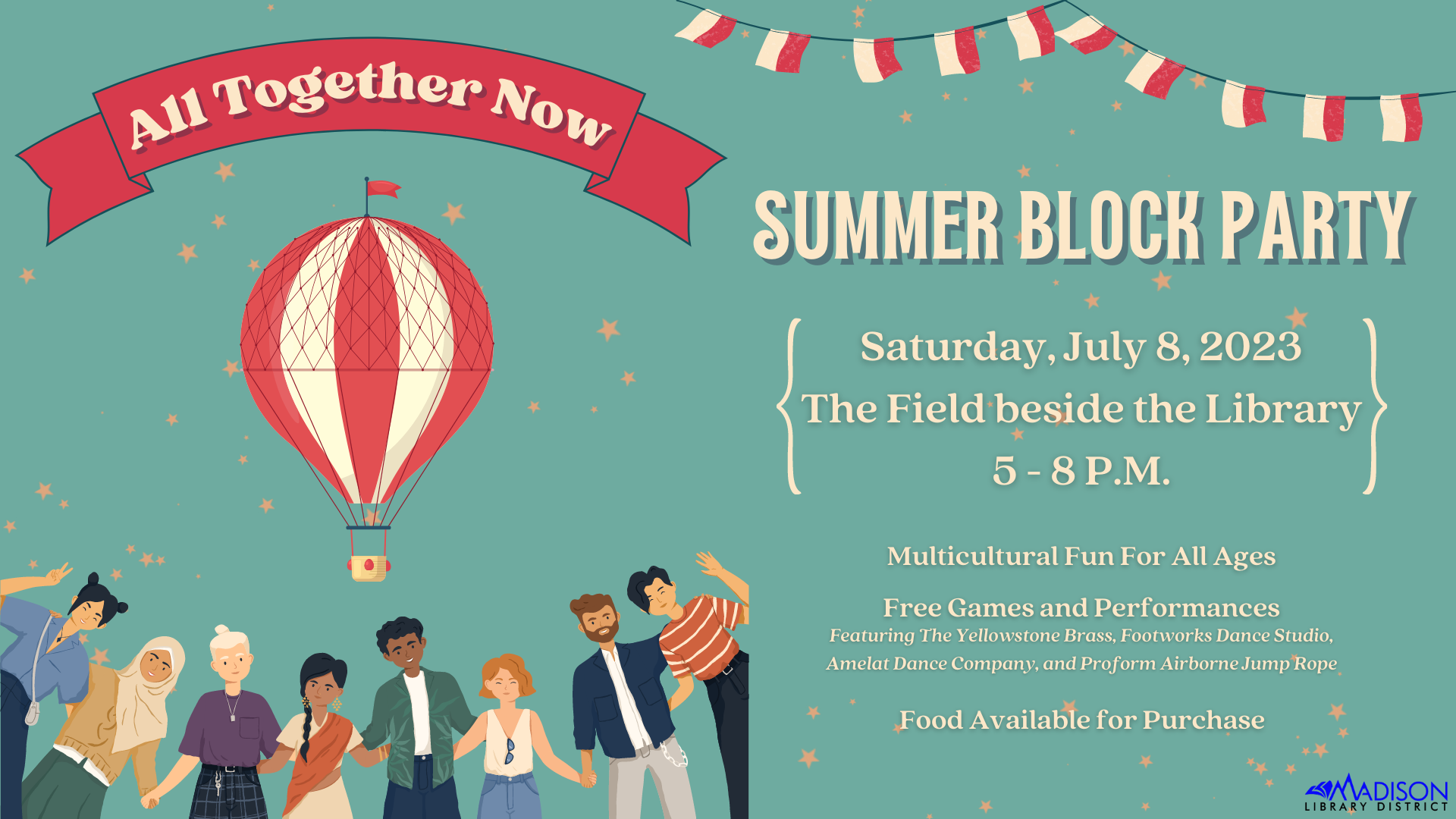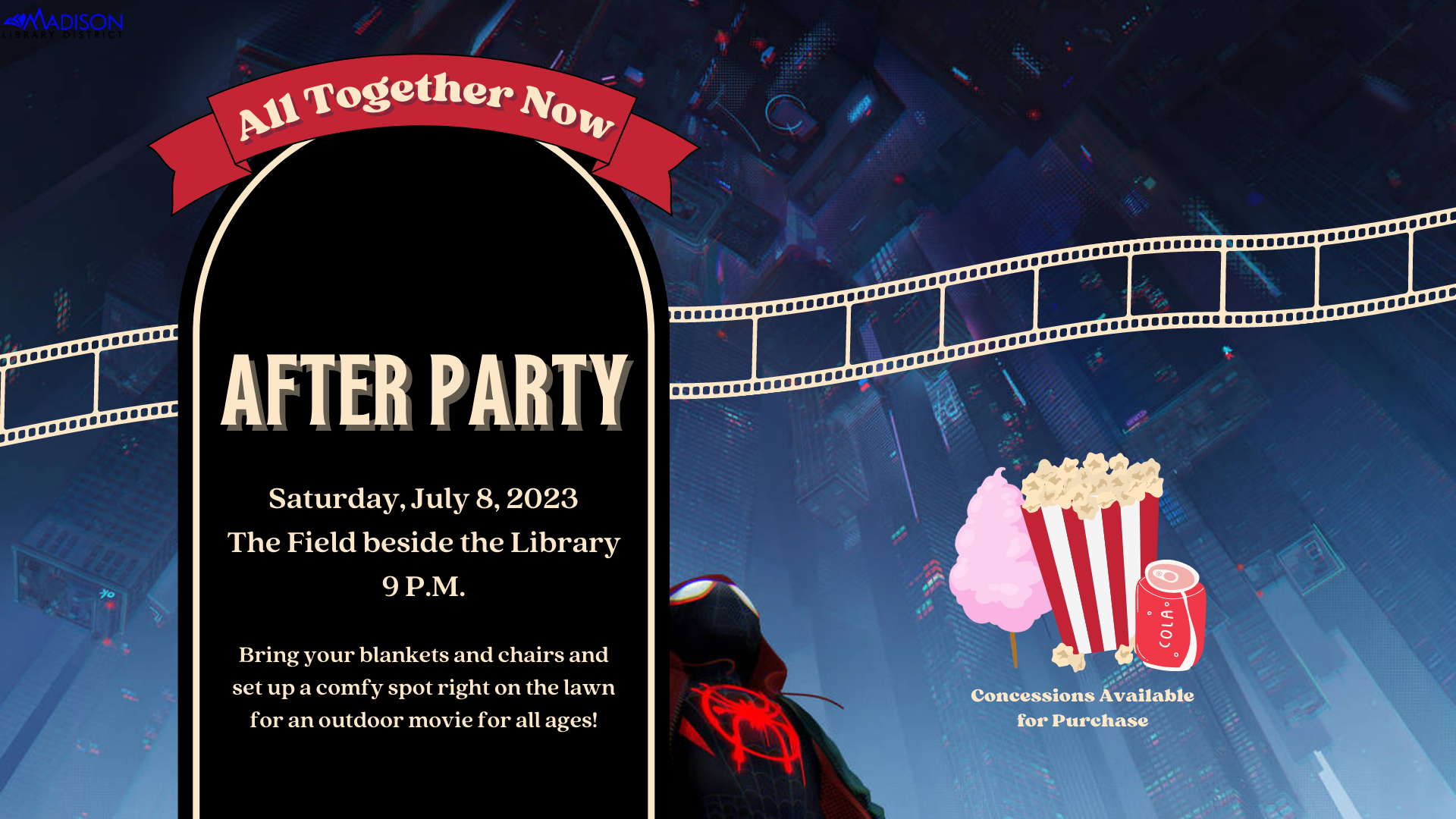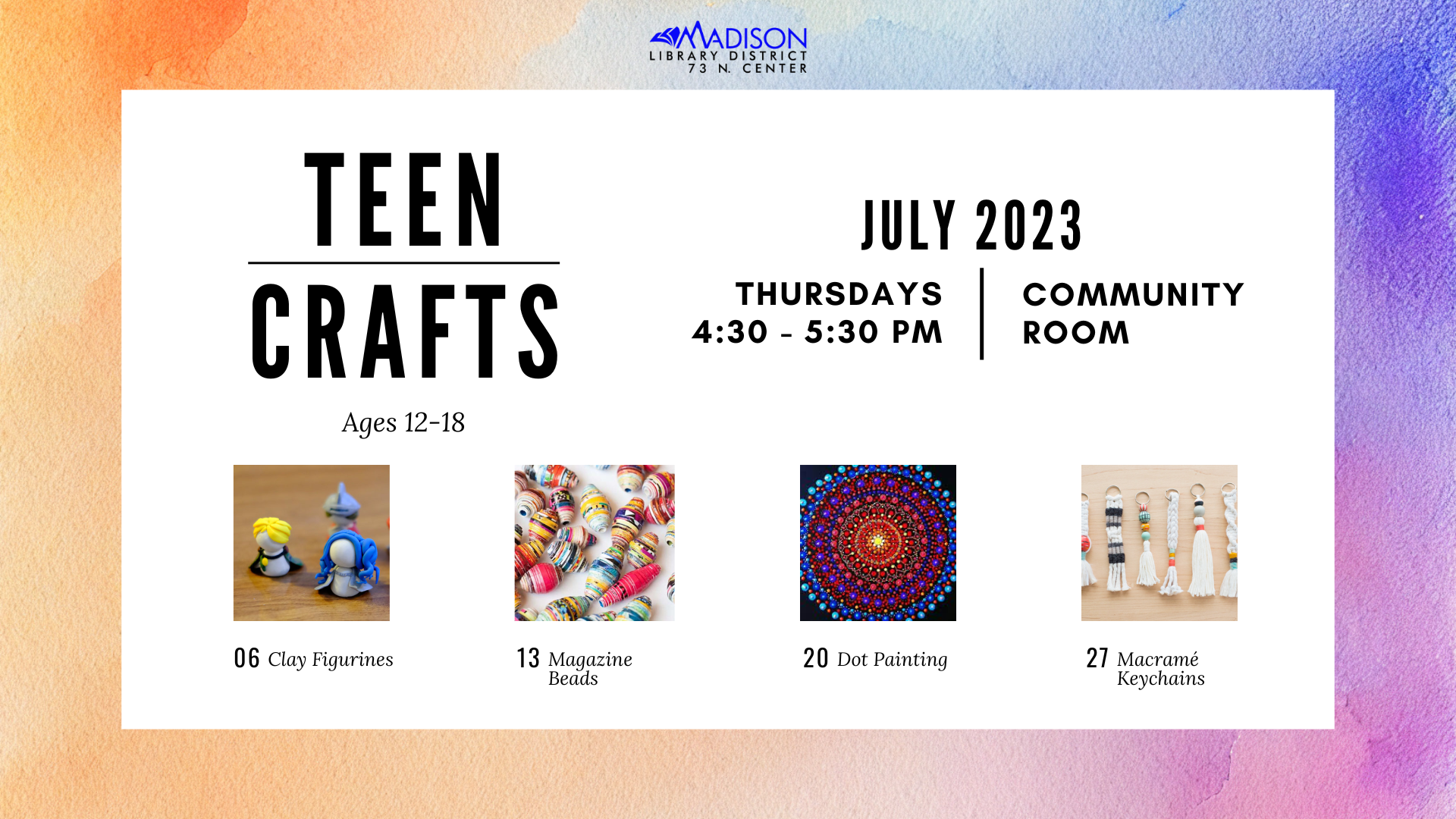 TEEN CRAFTS

We've got crafts for teens at the Library! Join us Thursdays this month for clay figurines, magazine beads, dot painting, and macrame keychains!
Every Thursday in July at 4:30 PM
in the Community Room
BFF'S 2 WFF'S WRITING CONTEST

Do you and your friend love to write? Try writing a story together and perhaps you will become WFF's… writing friends forever! Write a story about this year's Summer Reading theme, "All Together Now," and see how your collab writing stacks up against other teens your age. All participants will receive a prize!
Email an attached submission to gina.m@madisonlib.org by July 24, 2023. Winners will be announced July 28, 2023 at the Teen Summer Reading party. For more information, check out the contest rules.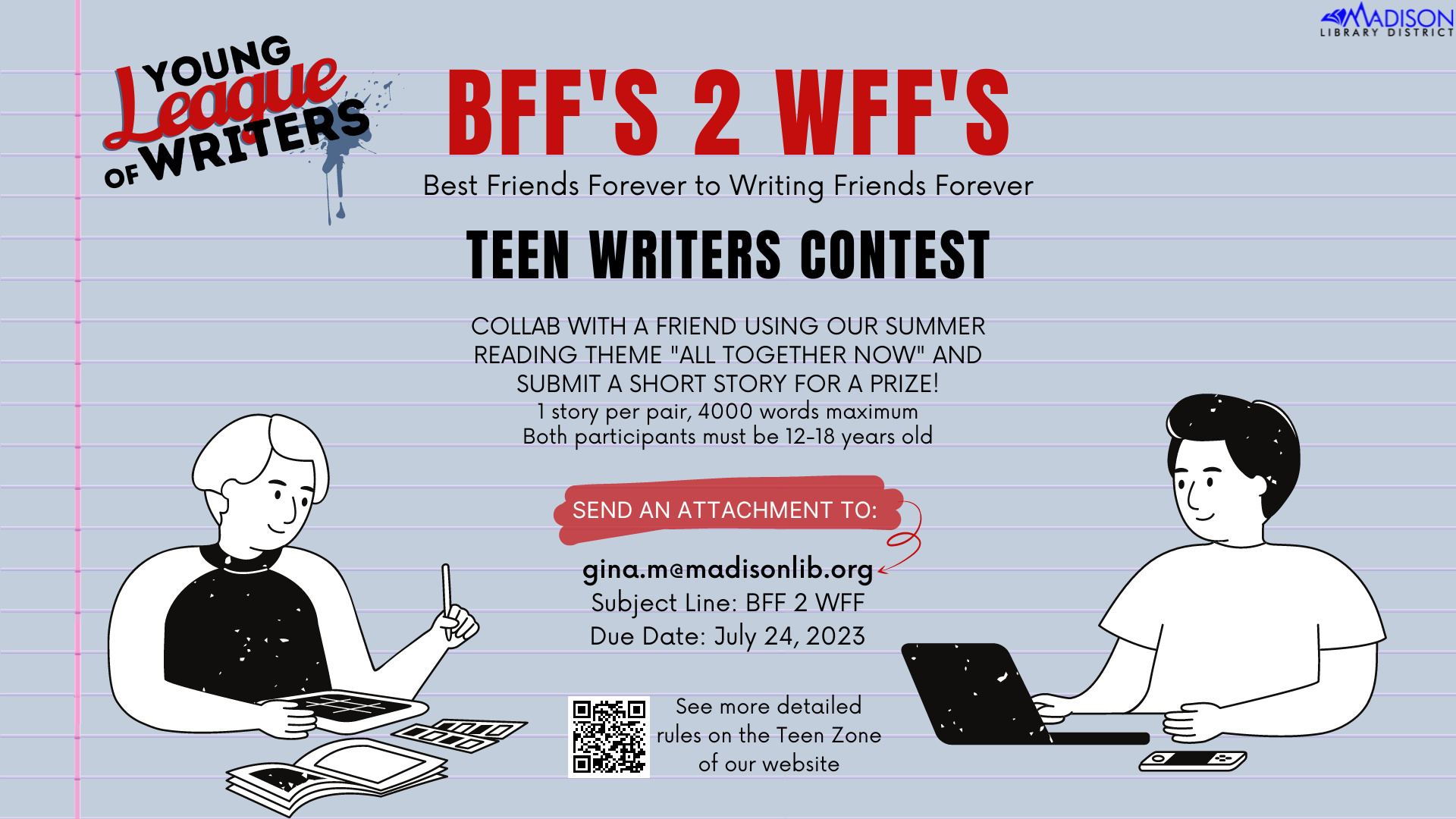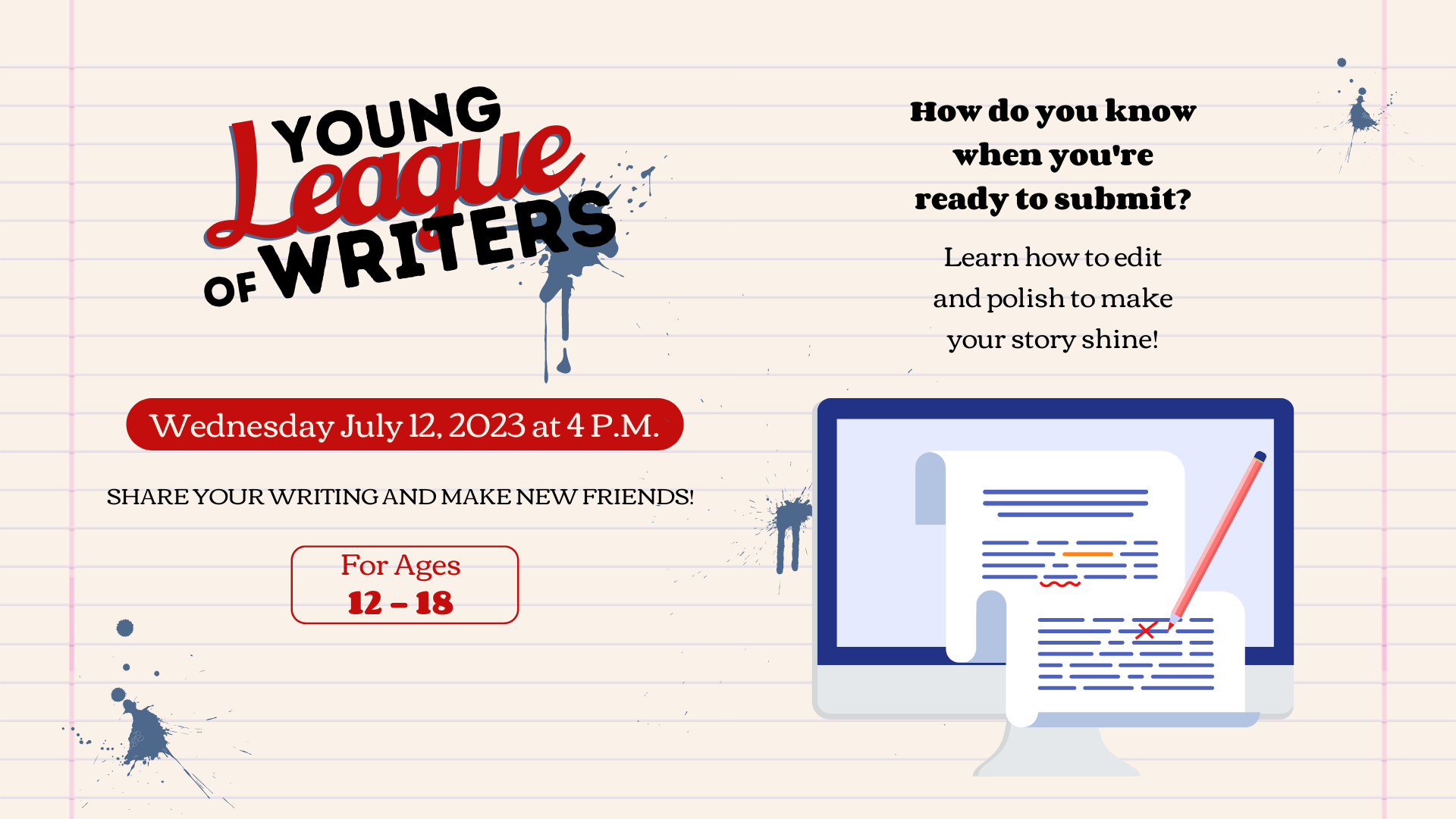 YOUNG LEAGUE OF WRITERS

Would you like to share your writing with other teens your age or just make new friends? Join the Young League of Writers!
Are you working on your "All Together Now" collaborative short story? How do you know when it's ready to submit? Join us to learn how to edit and polish your story so it's ready for submission!
Wednesday, July 12 at 4 PM in the Community Room
For ages 12-18
TEEN DUNGEONS & DRAGONS

Calling all teen adventurers! Join our party and learn to play Dungeons & Dragons! Please join the Library Teen Discord; more information is posted there about how to prepare beforehand. You can also find details in the Teen Zone.
Fridays, July 14 & 21 from 3:30-5:30 PM
in the Community Room
For Ages 12-18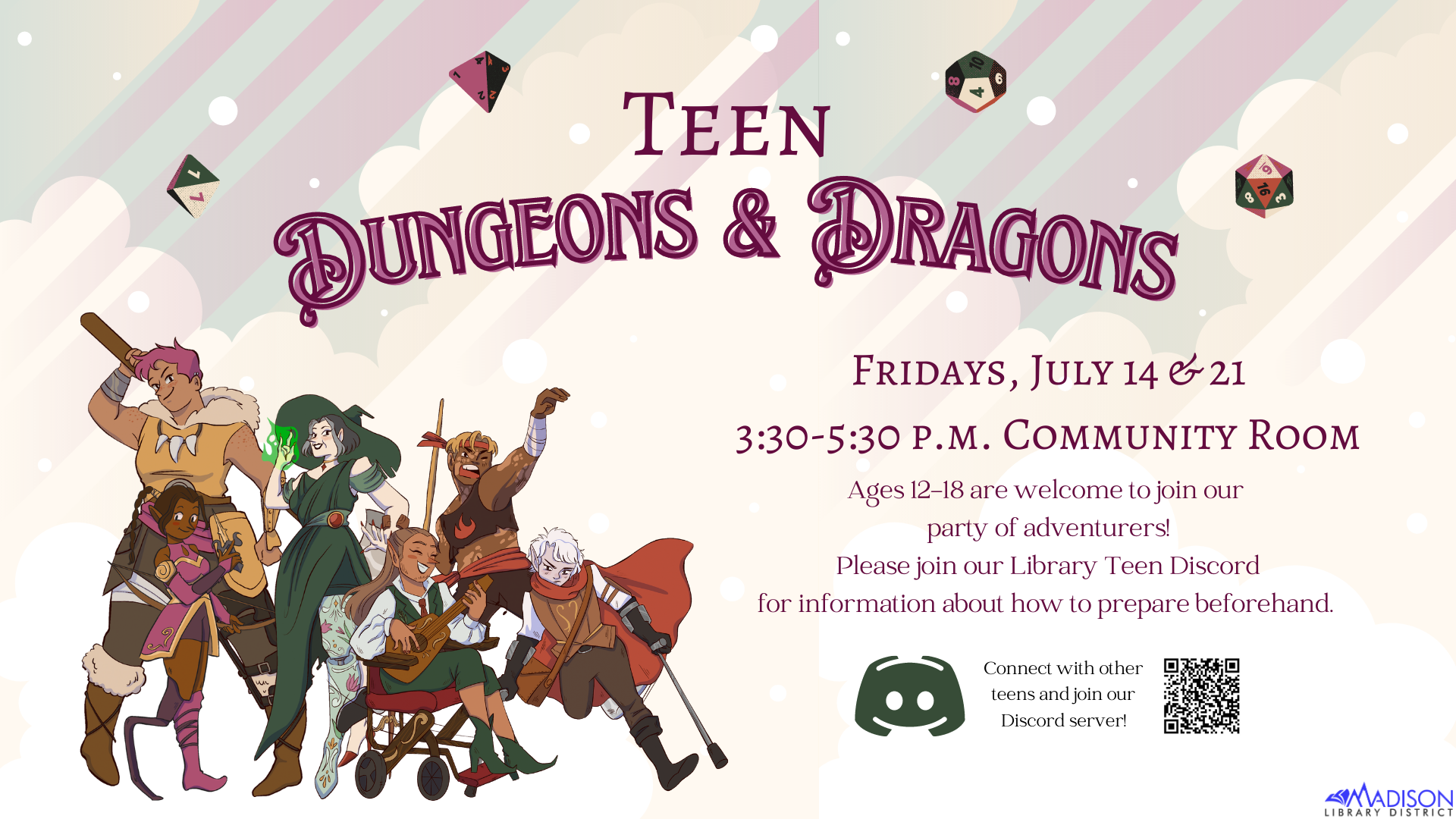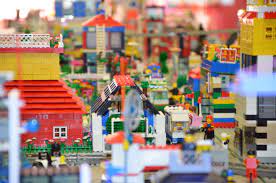 SUMMER STEM LEGOS

Join kids, tweens, and other teens for Summer STEM! We will be building world landmarks out of LEGOS!
Tuesday, July 18 at 2 PM in the Community Room
For ages 6-18
ANIME CLUB

Teens gather together to watch anime favorites, chat about manga, and play games! We will be watching One Piece and competing in a food eating contest!
Wednesday, July 26 at 4:30 PM
in the Community Room
For ages 12-18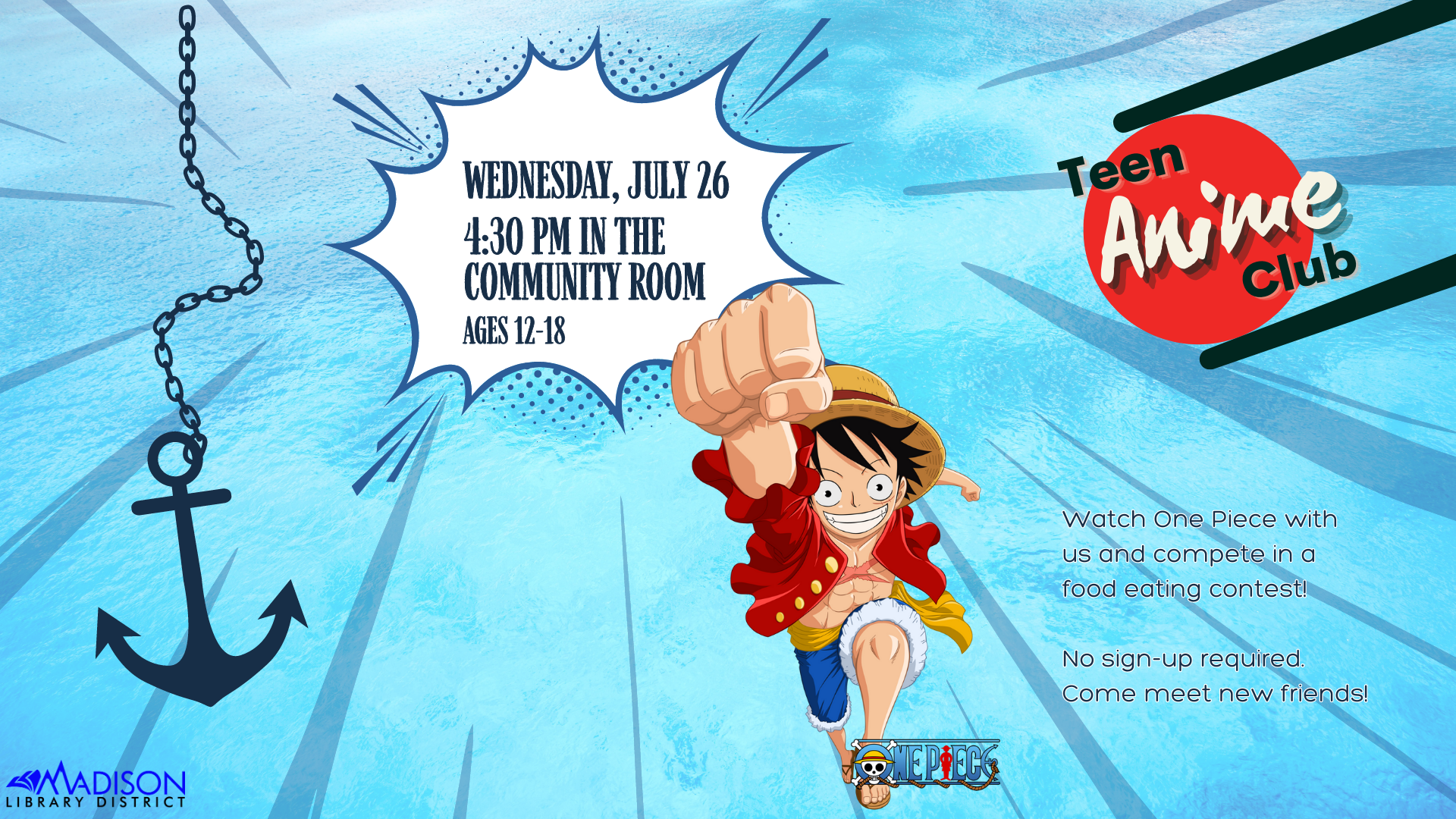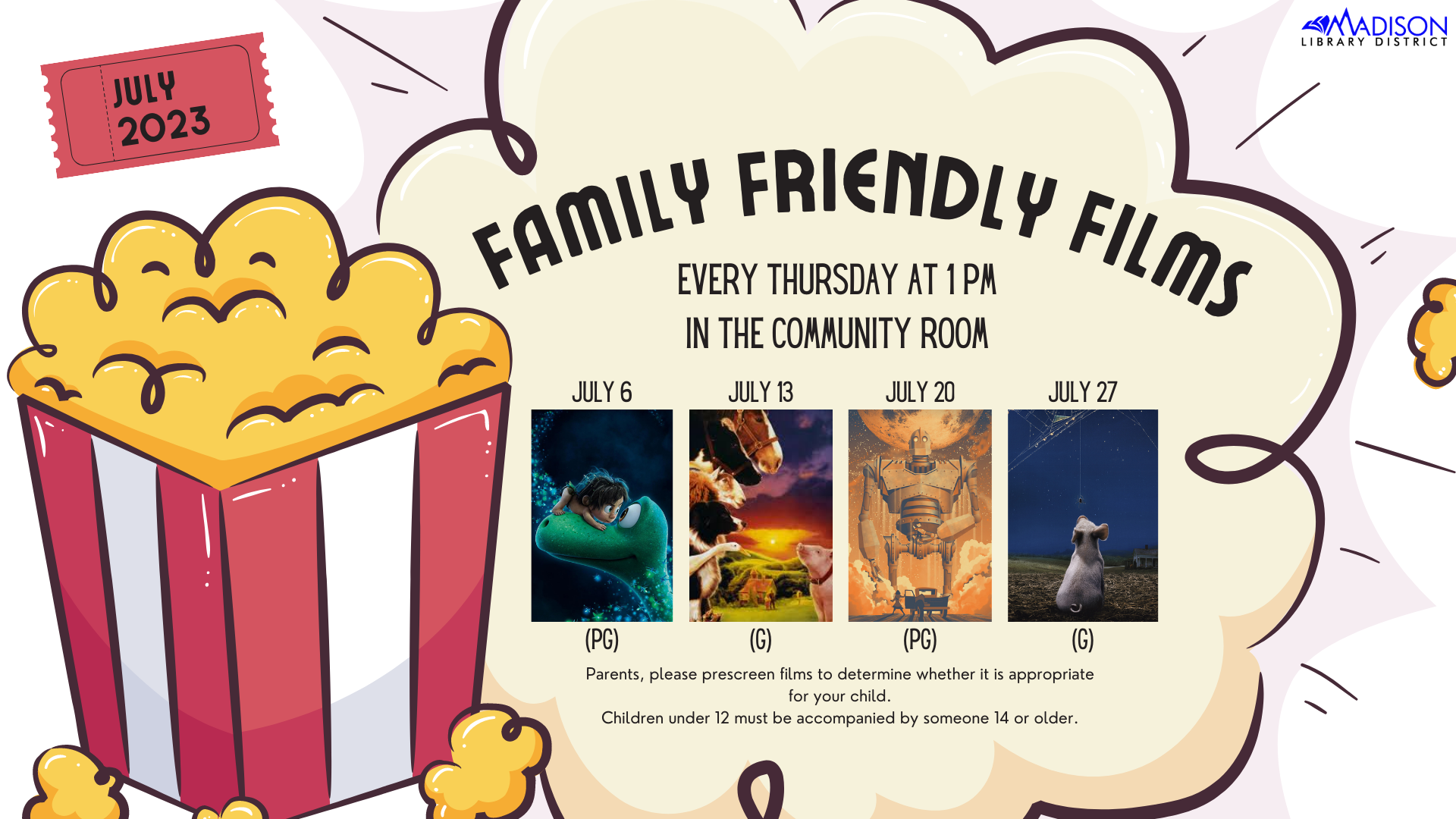 FAMILY FRIENDLY FILMS

Enjoy free movies for the whole family at the Library!
Thursdays at 1 PM in the Community Room
Parents, please prescreen films to ensure they are appropriate for your children. Children under 12 must be accompanied by someone 14 or older. 
SUMMER READING FINISHERS PARTY
Celebrate the end of summer reading with peace, love, friendship and… murder of course! Join us for a 60's Murder in the Library Mystery Party where teens will discover who has attacked and murdered the Library's books about love. Mysterious foods will also be served!
The party starts at 7 PM in the Community Room on Friday, July 28. For ages 12-18.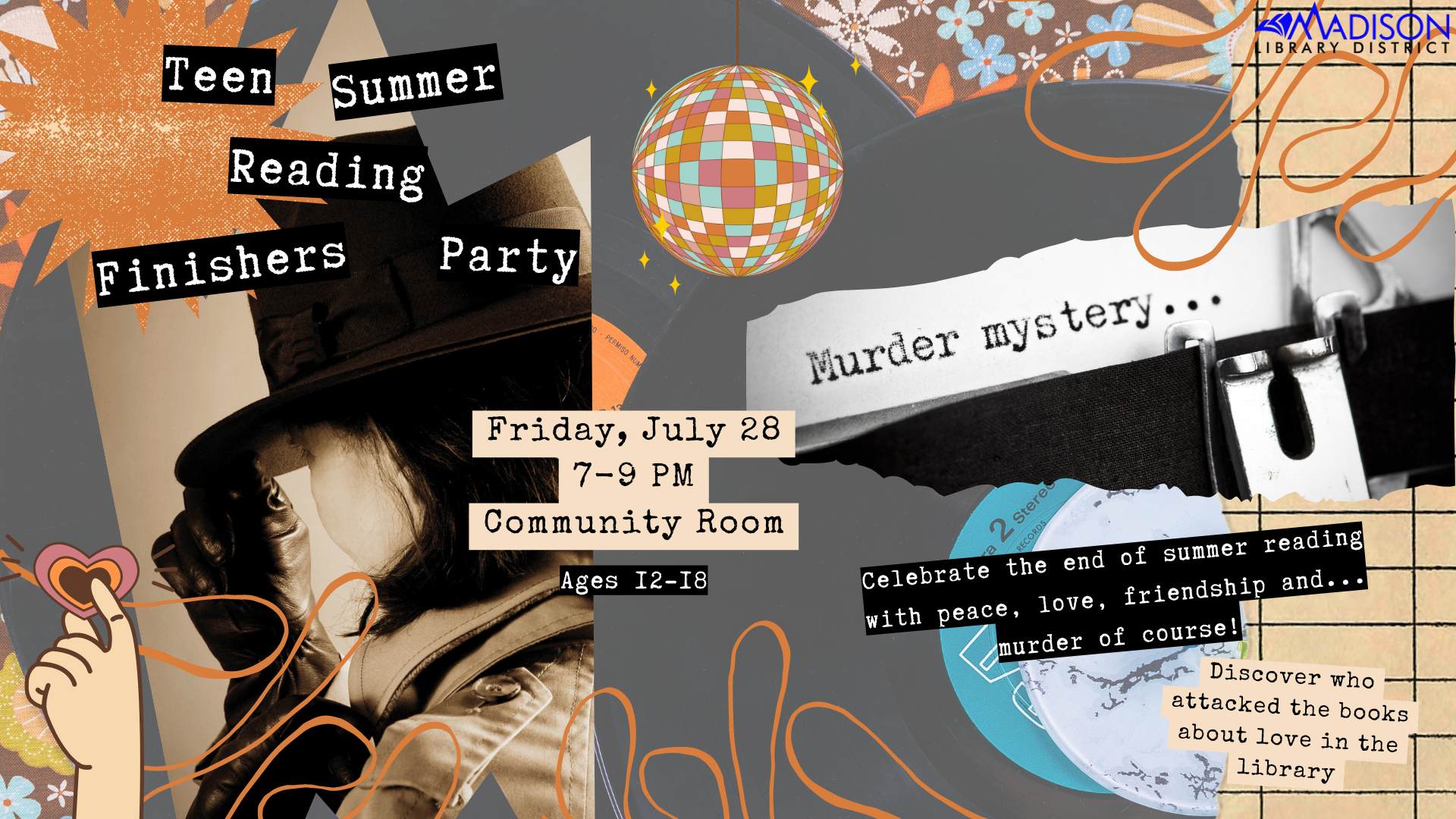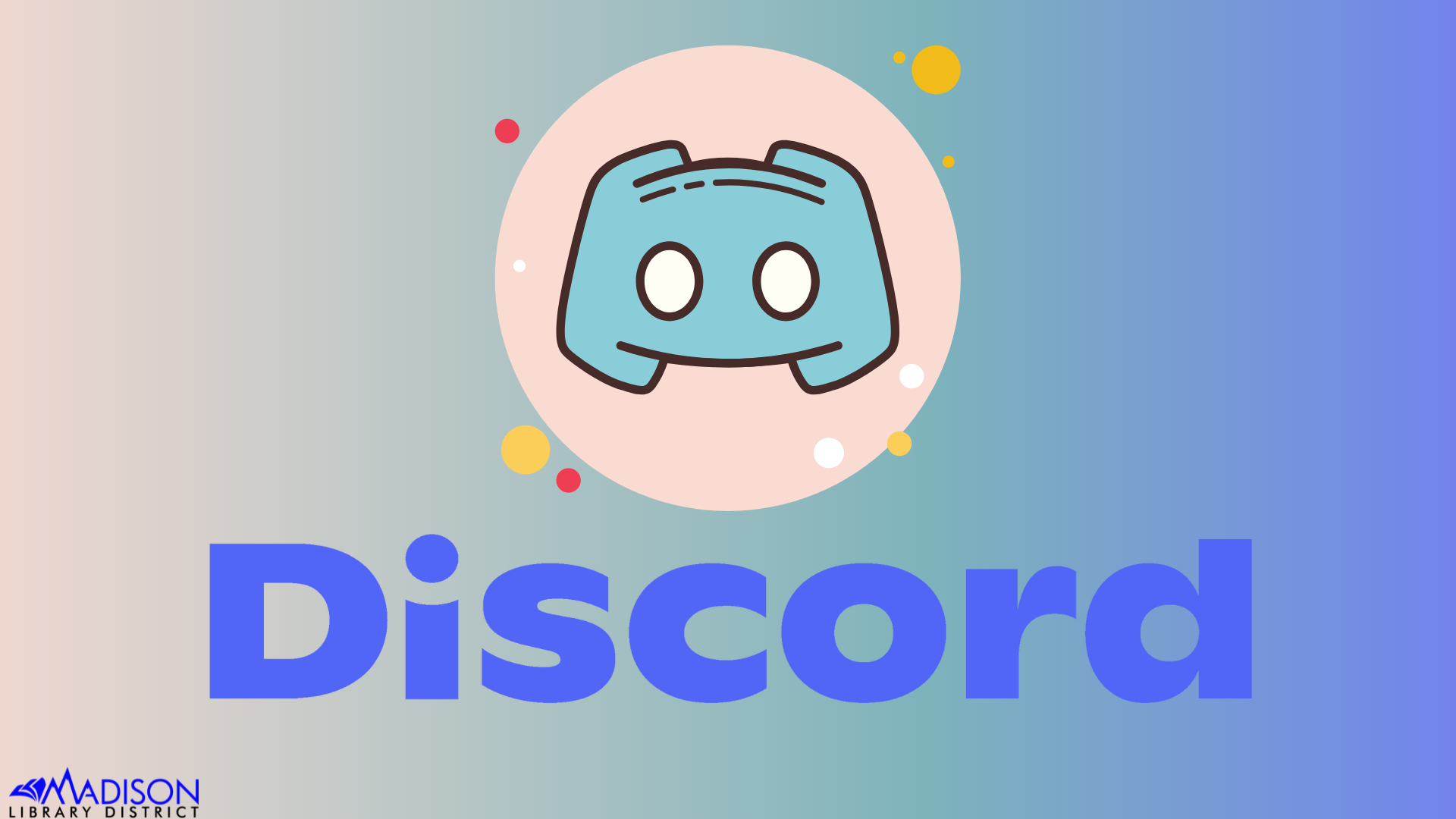 DISCORD SERVER
Join our Discord Server! Chat and get to know other teens in the area. The Server is monitored by Library Staff to ensure a fun and safe place for all.