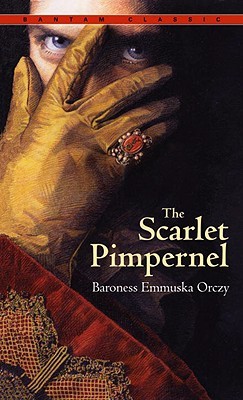 The Scarlet Pimpernel
by Baroness Emmuska Orczy
The Library Book Club meeting for this book was held February 21, 2019, at 6:30 pm in the entry foyer.
This book was our chosen community reads book for the 2019 On the Same Page.  Free copies were available at the library until supplies ran out.
Armed with only his wits and his cunning, one man recklessly defies the French revolutionaries and rescues scores of innocent men, women, and children from the deadly guillotine. His friends and foes know him only as the Scarlet Pimpernel. But the ruthless French agent Chauvelin is sworn to discover his identity and to hunt him down.
book 1 in The Scarlet Pimpernel series
Ratings and Reviews from the Librarians
Vivian rated it ★★★★ and said "I was surprised the book deviates quite a lot from the movie (or is it the other way around – hah!)? I can see how these Pimpernel stories became runaway best-sellers and could easily become addicting!"
Cathy rated it ★★★★.