Free Movies at the Madison Library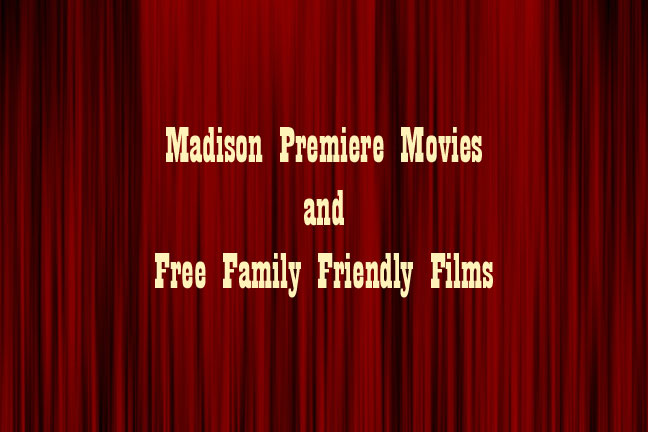 Madison Premiere Movie
Don't want to wait on the holds list for three months to see that new movie? One Friday each month, we screen a hit movie in our Community Room the same week it comes out on DVD. Doors open at 6 PM, and the screening starts promptly at 6:30 PM.
Pick up a calendar at the library to see which title we'll be showing this month.
Film ratings may vary.
Free Family Friendly Films
Looking for somewhere fun to take the kids in the afternoon? Tuesdays at 4 PM, catch a kid-friendly movie in our Community Room (enter through the library). Selections correspond to the weekly story time theme. Pick up the current list of films each month at the library.
During Summer Reading, multiple films are shown at various times throughout the week.
Children under 12 must be accompanied by someone age 16 or older.
Regular Hours of Operation
Monday – Thursday: 9:00 am – 8:00 pm
Friday: 10:00 am – 6:00 pm
Saturday: 10:00 am – 4:00 pm
Sunday: CLOSED
Closures in 2022
January 1 – New Year's
January 17 – Martin Luther King, Jr., Day
February 21 – President's Day
March 25 – Staff Development Day
April 2 – Closed for Maintenance
May 28-30 – Memorial Day
June 20 – Juneteenth
July 2-4 – Independence Day
September 3-5 – Labor Day
September 22 - Staff Development Day
October 1 – Closed for Maintenance
November 11 – Veteran's Day
November 23 – Closing at 5 pm
November 24-26 – Thanksgiving
December 23-26 – Christmas
December 30-31, 2022 – New Year's
January 2, 2023 – New Year's Day
Address
73 North Center
Rexburg, Idaho 83440
We are located on Center Street, just north of Main Street, by the Historic Rexburg Tabernacle.