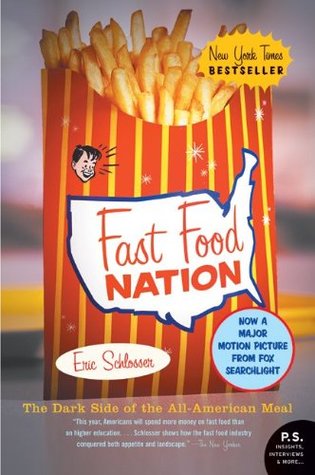 Fast Food Nation: The Dark Side of the All-American Meal
by Eric Schlosser
Fast food has hastened the malling of our landscape, widened the chasm between rich and poor, fueled an epidemic of obesity, and propelled American cultural imperialism abroad. That's a lengthy list of charges, but Eric Schlosser makes them stick with an artful mix of first-rate reportage, wry wit, and careful reasoning.
Schlosser's myth-shattering survey stretches from California's subdivisions, where the business was born, to the industrial corridor along the New Jersey Turnpike, where many of fast food's flavors are concocted. Along the way, he unearths a trove of fascinating, unsettling truths—from the unholy alliance between fast food and Hollywood to the seismic changes the industry has wrought in food production, popular culture, and even real estate.
Ratings and Reviews from the Librarians
Bekka rated it ★★★★★ and said, "You'll never look at meat the same way again…"
Lorna rated it ★★★★.