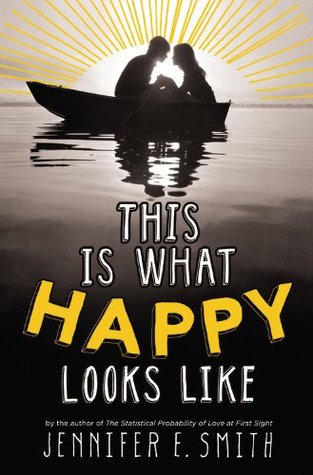 This Is What Happy Looks Like
by Jennifer E. Smith
If fate sent you an email, would you answer?
When teenage movie star Graham Larkin accidentally sends small town girl Ellie O'Neill an email about his pet pig, the two seventeen-year-olds strike up a witty and unforgettable correspondence, discussing everything under the sun, except for their names or backgrounds.
Then Graham finds out that Ellie's Maine hometown is the perfect location for his latest film, and he decides to take their relationship from online to in-person. But can a star as famous as Graham really start a relationship with an ordinary girl like Ellie? And why does Ellie want to avoid the media's spotlight at all costs?
Ratings and Reviews from the Librarians
Bekka rated it ★★★★ and said, "What a cute book! It reminded me a bit of some of Sarah Dessen's works. These are real kids with some typical problems, and some not-so-typical problems. I loved the romance, and the way it developed. I think the characters were quite well done, and the writing is very enjoyable. This is a great, lighter read for those who enjoy sweet romances with a little fairy tale thrown in."
Miranda rated it ★★★★ and said, "3.5 stars. Not super original, but a cute story. I will be looking for her other titles. A great read-a-like for Janette Rallison and Lindsey Leavitt."
Lorna rated it ★★★ and said, "It was an O.K. story for a light summer romance."
Betsy rated it ★★★★★.
Emma rated it ★★★★.