Ida B. . . and Her Plans to Maximize Fun, Avoid Disaster, and (Possibly) Save the World
by Katherine Hannigan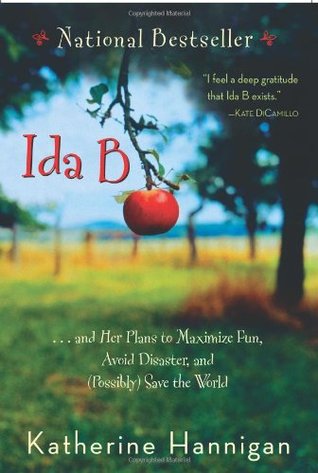 The Mother Daughter Book Club meeting for this book was held April 13, 2017, at 6:30 in the Community Room.
Book club reading copies were available for checkout from the circulation desk about a month prior to the meeting.
Ida B. Applewood believes there is never enough time for fun.
That's why she's so happy to be homeschooled and to spend every free second outside with the trees and the brook.
Then some not-so-great things happen in her world. Ida B has to go back to that Place of Slow but Sure Body-Cramping, Mind-Numbing, Fun-Killing Torture—school. She feels her heart getting smaller and smaller and hardening into a sharp, black stone.
How can things go from righter than right to a million miles beyond wrong? Can Ida B put together a plan to get things back to just-about perfect again?
Ratings and Reviews from the Librarians
Katra rated it ★★★★★ and said "I really felt for Ida B., for her loves, her relationships, her woes, and her triumphs. This is a child's book with true depth. I loved it!"
Lorna rated it ★★★★★.