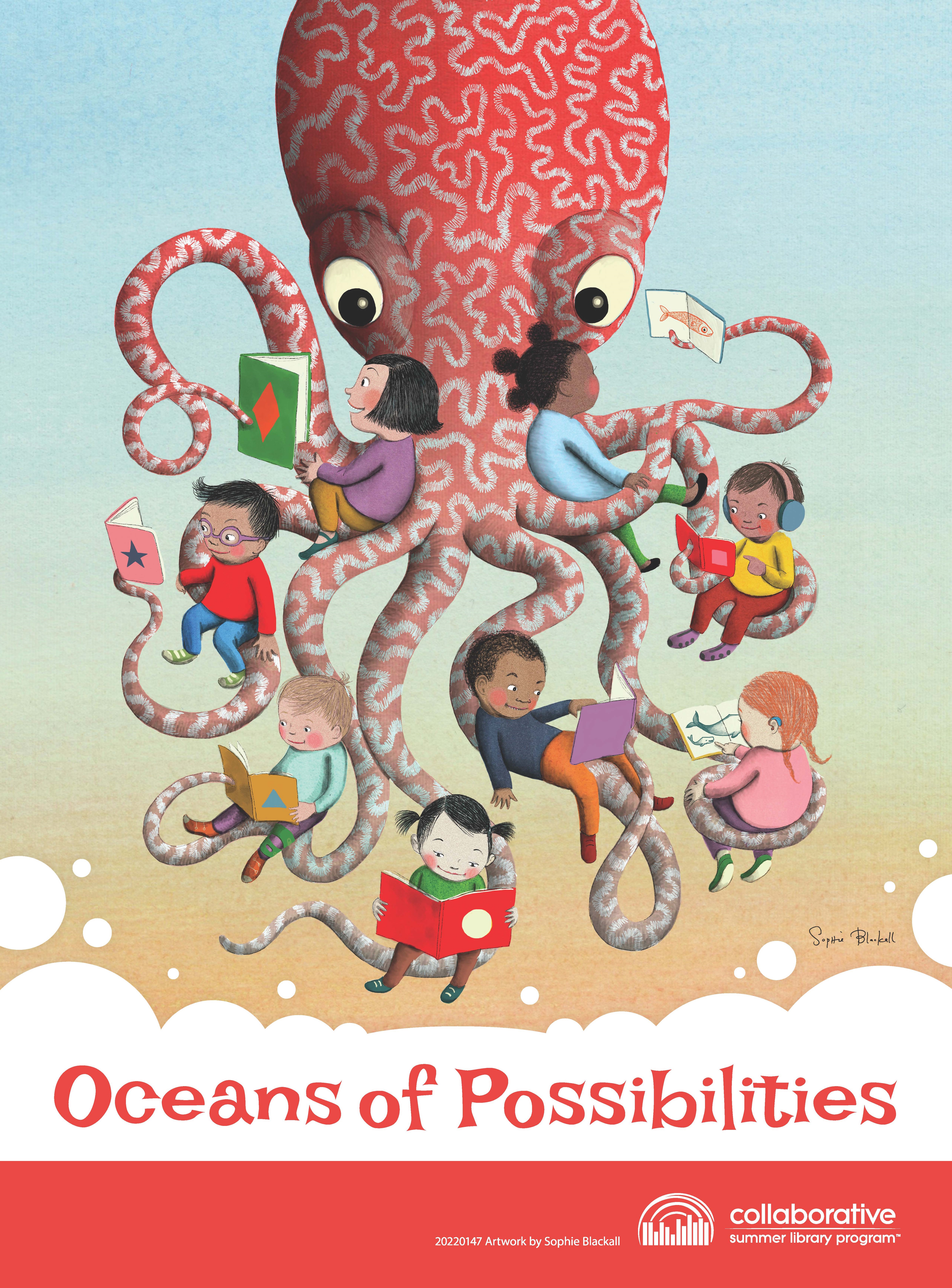 Each year, from June through July, we host Summer Reading. Our online versions are identical to the in-person programs, and have the same goals and prizes. Many of our activities will be online this year, including crafts and activities you can do at home.
The 2022 Summer Reading Theme is "Oceans of Possibilities." The opportunities are endless!
Did You Play Online Last Year?
We're using a new software this year, so you'll need to register as if you have never played the online version before.  The software is called Beanstack, and we're excited to use it! You can download an app and do the entire program through your phone or tablet.
Program may not be repeated!  Only 1 set of prizes per person per summer.
NO PRIZES will be given after Saturday, JULY 30, 2022.
Prizes
You can read ahead of schedule, but prizes won't be available until their release date. If you miss a week, you can collect it the next time.
For example, if you come in July 5, and haven't gotten any prizes yet, you can pick up prize number 1 and 2.  If you've read past that point, and are ready for prize 3, you'll have to wait until July 18 to get that next prize.
Prizes will be available any time after their first availability date until July 30, while supplies last.
Prize Schedule
For all programs:
Weeks 1 & 2: June 6-18: Program sign-ups only; no prizes available yet
Week 3 & 4: June 21-July 2: Prize 1 available starting June 21
Week 5 & 6: July 5-16: Prize 2 available starting July 5
Week 7 & 8: July 18-30: Prize 3 available starting July 18
Last Day to Sign Up: July 23
Last Day to Collect Prizes:

July 30
Beanstack Login
An easy place to keep all your family's reading progress together! No More worries about lost paper logs!
You can add all your children and register them for their respective programs in one place. All programs can be accessed through the main Beanstack link. Its an easy three step process:
Register for a Beanstack Account. Search for "Madison Library District" to find our library. Then sign up as a reader.
Add any additional readers to your account (any children you don't want to have their own account.)
Log reading and activities – and come get some fun prizes along the way!
Anyone with their own library card can register for a Beanstack account.  So teens and older children can keep track of their own logging and rewards.
For parents who want to keep everyone in one place, they would register, sign up as a reader, then add each child as an additional reader under the parent account.  Then the parent would have to do the updates for each child.
The librarians at the Summer Reading Booth can also help with all this! Don't hesitate to ask us if you're confused.
December

2022

Sun
Mon
Tue
Wed
Thu
Fri
Sat

5

Photography Contest

Christmas Extravaganza

• •

7

Photography Contest

Teen Action Council

• •

13

Books for Balloons Drawing on YouTube Channel

•
Thank You to Our Summer Reading Sponsors
These amazing businesses and organizations donated over $60,000 to make our 2022 Summer Reading possible. We appreciate their support of literacy in our community!
Summer Reading Information Pages
Regular Hours of Operation
Monday – Thursday: 9:00 am – 8:00 pm
Friday: 10:00 am – 6:00 pm
Saturday: 10:00 am – 4:00 pm
Sunday: CLOSED
Closures in 2022
January 1 – New Year's
January 17 – Martin Luther King, Jr., Day
February 21 – President's Day
March 25 – Staff Development Day
April 2 – Closed for Maintenance
May 28-30 – Memorial Day
June 20 – Juneteenth
July 2-4 – Independence Day
August 18-27 - Infrastructure Upgrades & Inventory
September 3-5 – Labor Day
September 22 - Staff Development Day
October 1 – Closed for Maintenance
November 11 – Veteran's Day
November 23 – Closing at 5:00 pm
November 24-26 – Thanksgiving
December 16 - Closing at 5:00 pm
December 23-26 – Christmas
December 30-31, 2022 – New Year's
January 2, 2023 – New Year's Day
Address
73 North Center
Rexburg, Idaho 83440
We are located on Center Street, just north of Main Street, by the Historic Rexburg Tabernacle.