FEBRUARY Kid + Tween Activities
 FAMILY FRIENDLY FILM NIGHTS ARE BACK!
Every first and third Tuesday @ 4pm in the Community Room.
SCHEDULE:
February 15th: The Tigger Movie
Children under 12 must be accompanied by someone 14 or older.
COMBINED TWEEN BOOK CLUBS
Books for Boys and Mother Daughter Book Club will be combined for the month of February. 
The book will be Winnie-the-Pooh by A.A. Milne. From Goodreads:
"The adventures of Christopher Robin and his friends in which Pooh Bear uses a balloon to get honey, Piglet meets a Heffalump, and Eeyore has a birthday."

Thursday, February 11th at 6:30pm in the Community Room. This will be an EXTRA fun activity because we will be doing YOGA WITH WINNIE-THE-POOH! Please wear exercise pants; no shorts or skirts.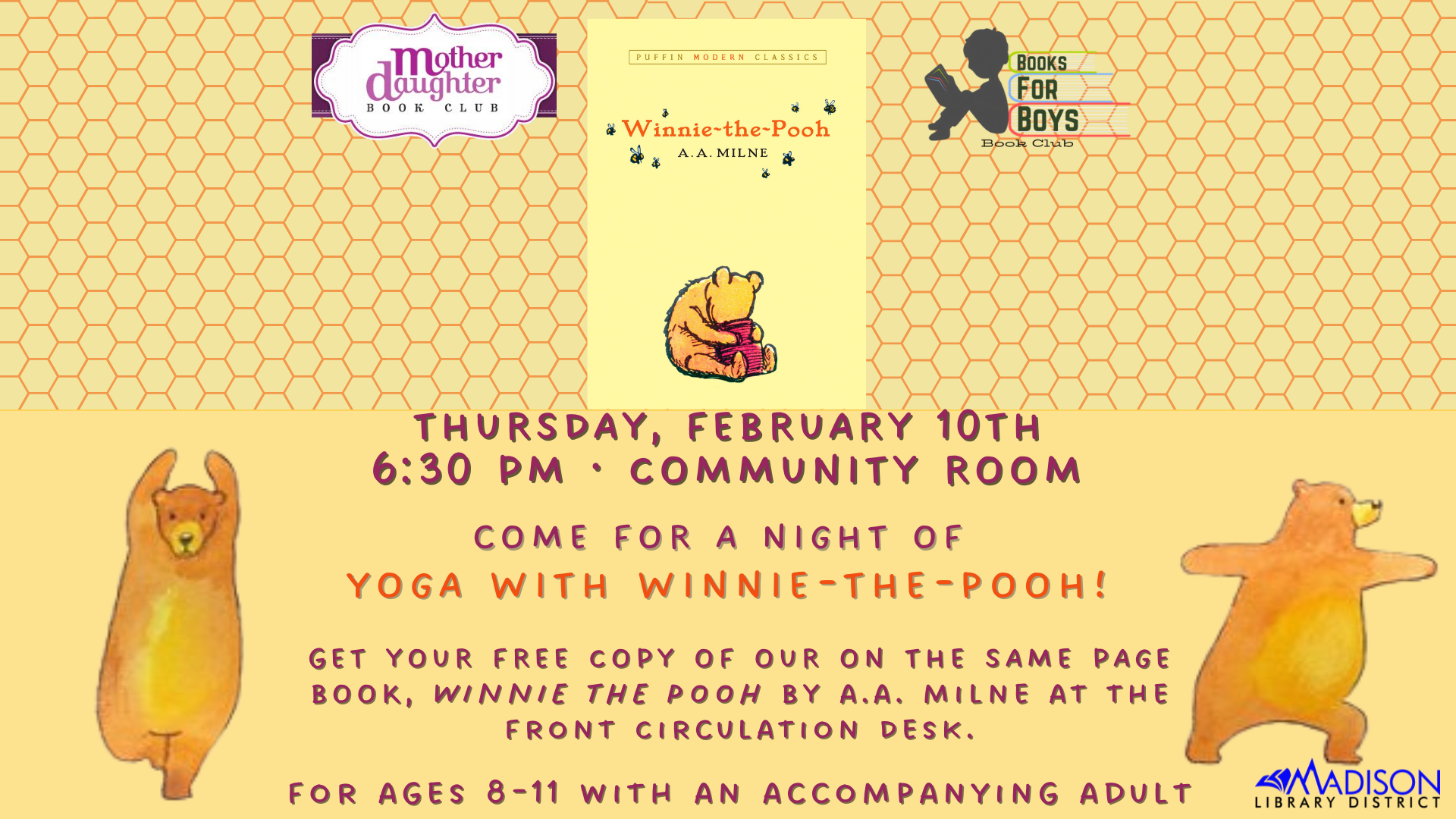 A HONEY OF A DAY FOR CRAFTS
A craft day for all ages! Come to the library to make some fun Pooh-themed crafts.
Ages 0-11yrs: Pooh headbands or finger puppets
Ages 12-18yrs: Pooh Perler bead keychains
Ages 19+: Honey jar
Saturday, February 12th, starting at 1pm in the Community Room.
STUFFED ANIMAL SLEEPOVER
Friday, February 18th from 6:30-7:30pm in the Community Room
Come for a treat and a story with your stuffed friend!
Your stuffed buddies can stay overnight at the library But they don't have to if they are too tired or shy.
And don't worry – the librarians will take great care of them! Pick them up the next morning and see how much fun they had.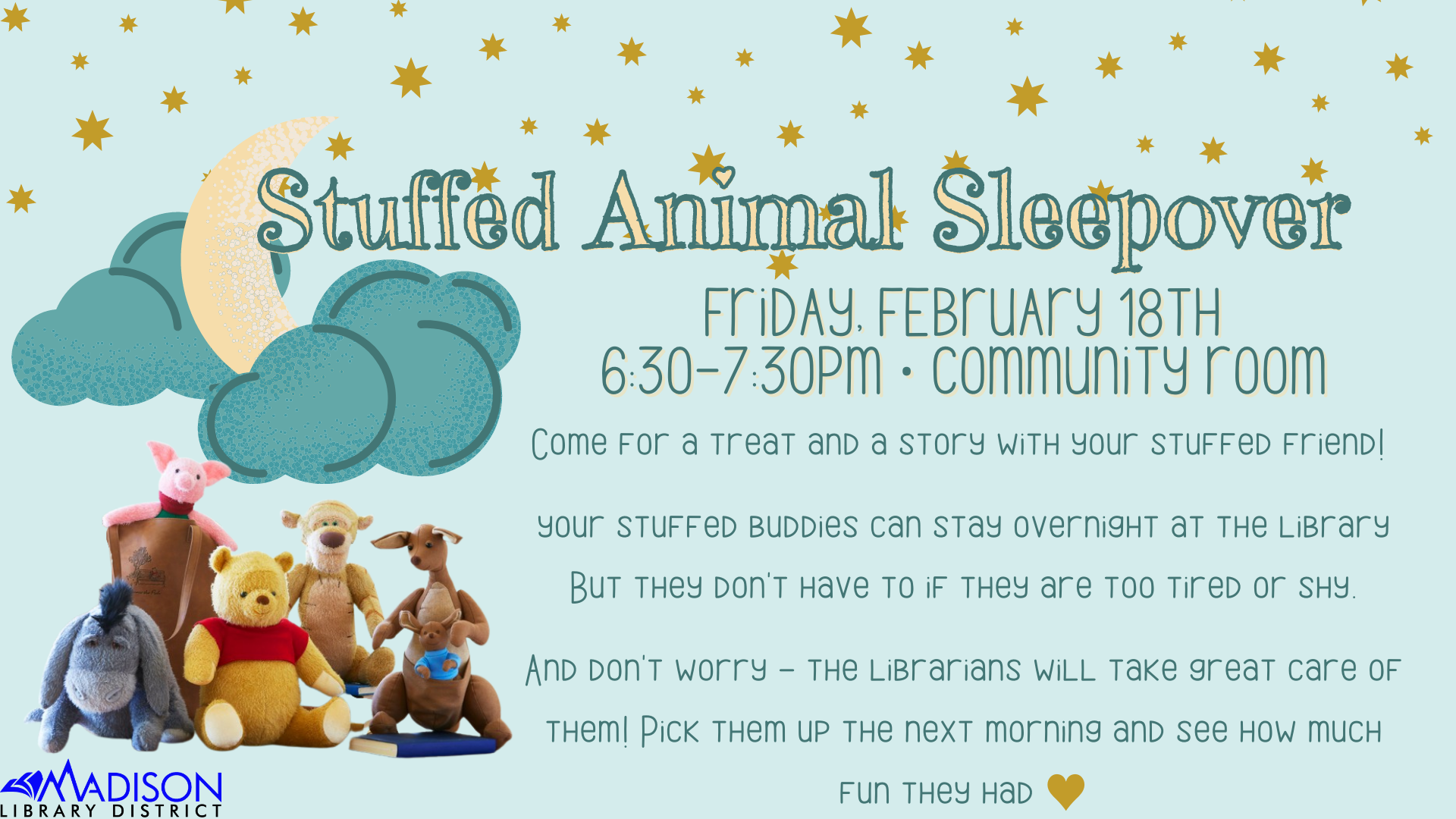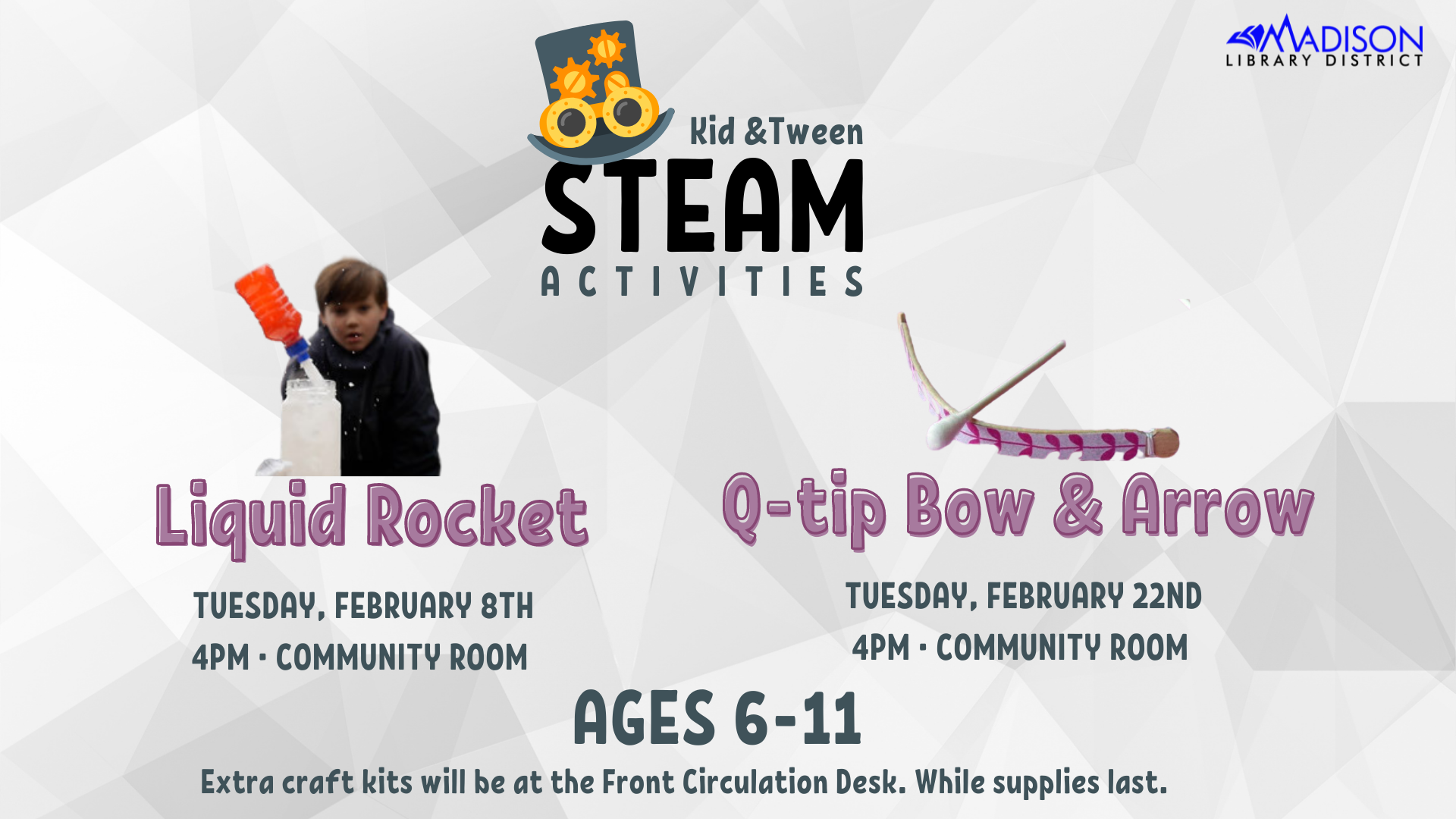 KID + TWEEN STEAM ACTIVITIES
STEAM activities will now be IN-PERSON. Every 2nd and 4th Tuesday at 4pm in the Community Room. For ages 6-11.
Any extra activities will be available for Take 'n Go at the Front Circulation Desk.
February 8th: Liquid Rockets
February 22nd: Q-tip Bow & Arrow
ON THE SAME PAGE: WINNIE-THE-POOH BIRTHDAY PARTY
Friday, February 25th, from 7:30-9pm
Winnie-the-Pooh ends with a birthday party; and since it's the library's birthday as well, this seems a fitting ending for 2022's On the Same Page. Join us for cake and ice cream, balloon animals, pin the tail on Eeyore, and other activities. We'll also look at photos taken on last week's Stuffed Animal Sleepover and make sure our friends didn't get into any mischief.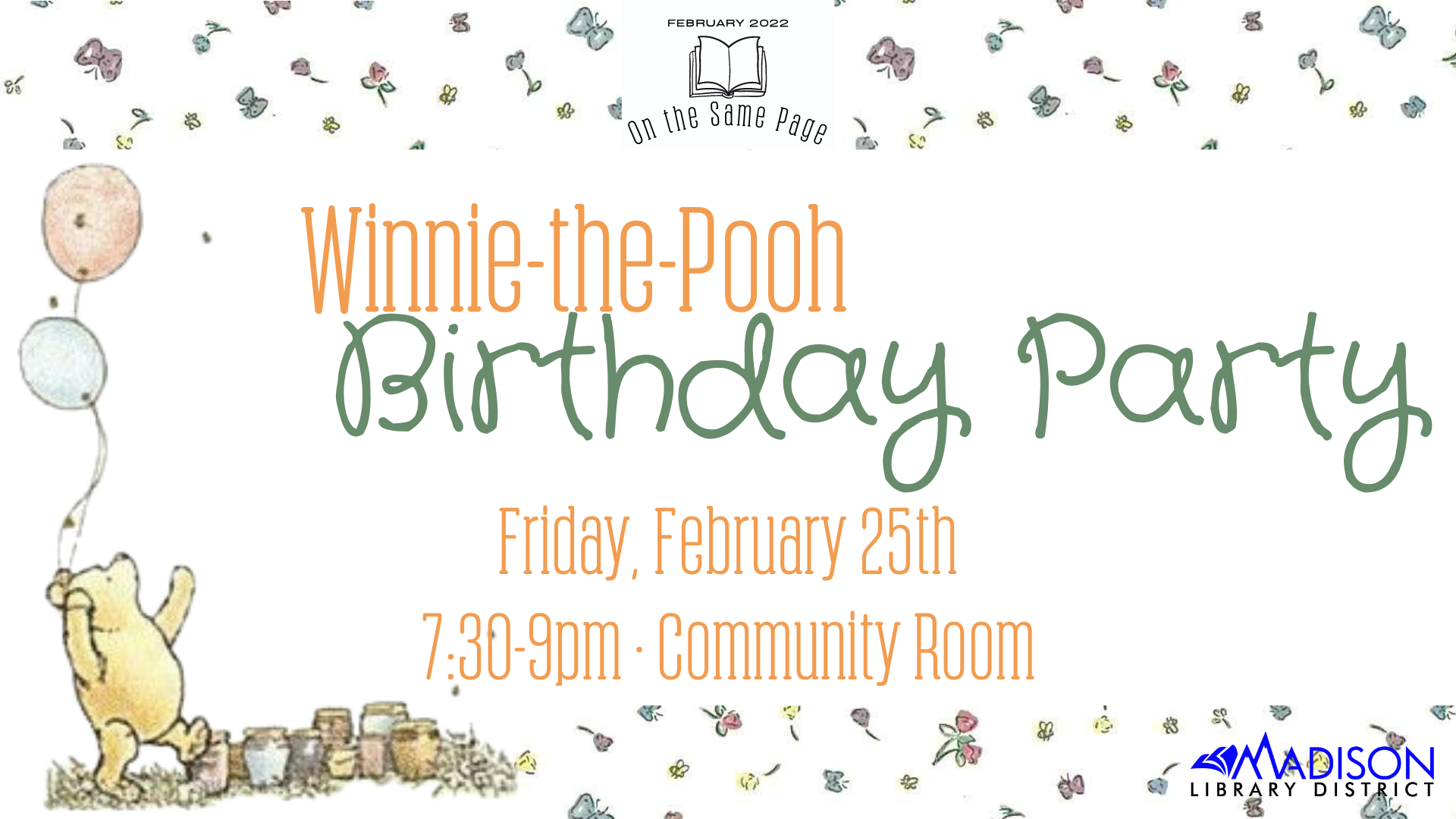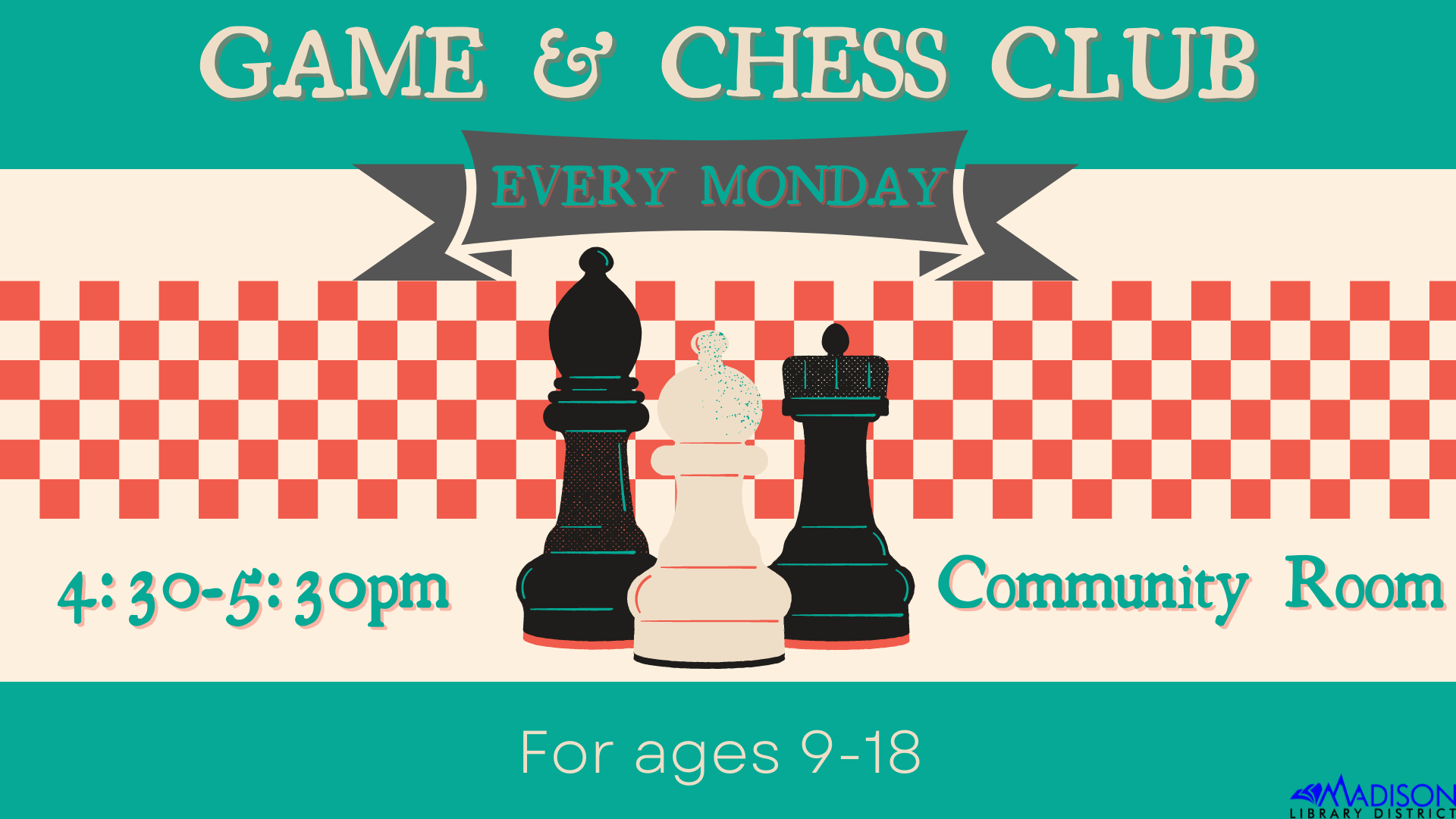 GAME AND CHESS CLUB
Every Monday in the Community Room, 4:30-5:30pm.

Learn the art of Chess and other games with the master of fun and strategy, Nick Allison. Game supplies will be provided.
For ages 9-18.
PRESIDENT'S DAY CLOSURE
The library will be closed Monday, February 21st, for President's day.
No items will be due and the book drop will remain open. Thank you.
 STORYTIME – LIVE IN COMMUNITY ROOM
STORYTIME – New day added!
Mondays, Tuesdays, & Wednesdays at 10:30am
Tuesdays at 6:30pm

TODDLER TIME –time change 
Mondays & Tuesdays at 9:30am
BOOK BABIES – time change
Wednesdays at 9:30am
Take n' Go Kits will be available during Storytime. Any extras will be distributed at the end of the week at the Children's Reference Desk.