Caldecott Medal Winners
America's Best Picture Books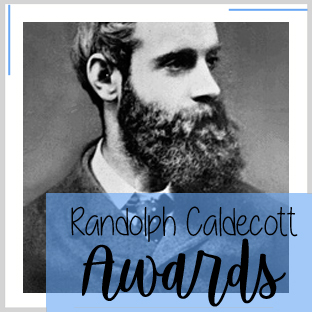 The Caldecott Medal was named in honor of nineteenth-century English illustrator Randolph Caldecott. It is awarded annually by the Association for Library Service to Children, a division of the American Library Association, to the artist of the most distinguished American picture book for children.
The winners and honor books are selected from books published in the preceding year. The winners are typically announced in February.
2023: Hot Dog illustrated and written by Doug Salati
---
It's summer in the city, and this hot dog has had enough! Enough of sizzling sidewalks, enough of wailing sirens, enough of people's feet right in his face. When he plops down in the middle of a crosswalk, his owner endeavors to get him the breath of fresh air he needs. She hails a taxi, hops a train, and ferries out to the beach.
Here, a pup can run!
2022: Watercress by Andrea Wang
illustrated by Jason Chin
---
Gathering watercress by the side of the road brings a girl closer to her family's Chinese Heritage.
Driving through Ohio in an old Pontiac, a young girl's parents stop suddenly when they spot watercress growing wild in a ditch by the side of the road. Grabbing an old paper bag and some rusty scissors, the whole family wades into the muck to collect as much of the muddy, snail covered watercress as they can.
At first, she's embarrassed. Why can't her family get food from the grocery store? But when her mother shares a story of her family's time in China, the girl learns to appreciate the fresh food they foraged. Together, they make a new memory of watercress.
2021: We Are Water Protectors by Carole Lindstrom
illustrated by Michaela Goade
---
Inspired by the many Indigenous-led movements across North America, We Are Water Protectors issues an urgent rallying cry to safeguard the Earth's water from harm and corruption–a bold and lyrical picture book written by Carole Lindstrom and vibrantly illustrated by Michaela Goade.
Water is the first medicine.
It affects and connects us all . . .
When a black snake threatens to destroy the Earth
And poison her people's water, one young water protector
Takes a stand to defend Earth's most sacred resource.
2020: The Undefeated by Kwame Alexander
illustrated by Kadir Nelson
---
Originally performed for ESPN's The Undefeated, this poem is a love letter to black life in the United States. It highlights the unspeakable trauma of slavery, the faith and fire of the civil rights movement, and the grit, passion, and perseverance of some of the world's greatest heroes. The text is also peppered with references to the words of Martin Luther King, Jr., Langston Hughes, Gwendolyn Brooks, and others, offering deeper insights into the accomplishments of the past, while bringing stark attention to the endurance and spirit of those surviving and thriving in the present. Robust back matter at the end provides valuable historical context and additional detail for those wishing to learn more.
2019: Hello Lighthouse by Sophie Blackall
---
Watch the days and seasons pass as the wind blows, the fog rolls in, and icebergs drift by. Outside, there is water all around. Inside, the daily life of a lighthouse keeper and his family unfolds as the keeper boils water for tea, lights the lamp's wick, and writes every detail in his logbook.
2018: Wolf in the Snow by Matthew Cordell
---
A girl is lost in a snowstorm. A wolf cub is lost, too. How will they find their way home?
Paintings rich with feeling tell this satisfying story of friendship and trust. Here is a book set on a wintry night that will spark imaginations and warm hearts, from Matthew Cordell, author of Trouble Gum and Another Brother.
2017: Radiant Child: The Story of Young Artist Jean-Michel Basquiat by Javaka Steptoe
---
Jean-Michel Basquiat and his unique, collage-style paintings rocketed to fame in the 1980s as a cultural phenomenon unlike anything the art world had ever seen. But before that, he was a little boy who saw art everywhere: in poetry books and museums, in games and in the words that we speak, and in the pulsing energy of New York City. Now, award-winning illustrator Javaka Steptoe's vivid text and bold artwork echoing Basquiat's own introduce young readers to the powerful message that art doesn't always have to be neat or clean–and definitely not inside the lines–to be beautiful.
2016: Finding Winnie: The True Story of the World's Most Famous Bear, illustrated by Sophie Blackall, written by Lindsay Mattick 
---
Before there was Winnie-the-Pooh, there was a real bear named Winnie.
In 1914, during World War I, Captain Harry Colebourn, a Canadian veterinarian on his way to serve with cavalry units in Europe, rescued a bear cub in White River, Ontario. He named the bear Winnie, after his hometown of Winnipeg, and he took the bear to war. Harry Colebourn's real-life great-granddaughter Lindsay Mattick recounts their incredible journey, from a northern Canadian town to a convoy across the ocean to an army base in England . . . and finally to the London Zoo, where Winnie made a new friend: a boy named Christopher Robin. Gentle yet haunting illustrations by acclaimed illustrator Sophie Blackall bring the wartime era to life, and are complemented by photographs and ephemera from the Colebourn family archives. Here is the remarkable true story of the bear who inspired Winnie-the-Pooh.
2015: The Adventures of Beekle: The Unimaginary Friend by Dan Santat
---
This magical story begins on an island far away where an imaginary friend is born. He patiently waits his turn to be chosen by a real child, but when he is overlooked time and again, he sets off on an incredible journey to the bustling city, where he finally meets his perfect match and-at long last-is given his special name: Beekle.
2014: Locomotive by Brian Floca 
---
It is the summer of 1869, and trains, crews, and family are traveling together, riding America's brand-new transcontinental railroad. These pages come alive with the details of the trip and the sounds, speed, and strength of the mighty locomotives; the work that keeps them moving; and the thrill of travel from plains to mountain to ocean.
Come hear the hiss of the steam, feel the heat of the engine, watch the landscape race by. Come ride the rails, come cross the young country!
2013: This Is Not My Hat by Jon Klassen
---
When a tiny fish shoots into view wearing a round blue topper (which happens to fit him perfectly), trouble could be following close behind. So it's a good thing that enormous fish won't wake up. And even if he does, it's not like he'll ever know what happened…
2012: A Ball for Daisy by Chris Raschka
---
A story about love and loss as only Chris Rashcka can tell it. Any child who has ever had a beloved toy break will relate to Daisy's anguish when her favorite ball is destroyed by a bigger dog. In the tradition of his nearly wordless picture book Yo! Yes?, Caldecott Medalist Chris Raschka explores in pictures the joy and sadness that having a special toy can bring. Raschka's signature swirling, impressionistic illustrations and his affectionate story will particularly appeal to young dog lovers and teachers and parents who have children dealing with the loss of something special.
2011: A Sick Day for Amos McGee, illustrated by Erin E. Stead, written by Philip C. Stead
---
Amos McGee, a friendly zookeeper, always made time to visit his good friends: the elephant, the tortoise, the penguin, the rhinoceros, and the owl.
But one day—"Ah-choo!"—he woke up with the sniffles and the sneezes. Though he didn't make it into the zoo that day, he did receive some unexpected guests.
2010: The Lion & the Mouse by Jerry Pinkney
---
In award-winning artist Jerry Pinkney's wordless adaptation of one of Aesop's most beloved fables, an unlikely pair learn that no act of kindness is ever wasted. After a ferocious lion spares a cowering mouse that he'd planned to eat, the mouse later comes to his rescue, freeing him from a poacher's trap. With vivid depictions of the landscape of the African Serengeti and expressively-drawn characters, Pinkney makes this a truly special retelling, and his stunning pictures speak volumes.
2009: The House in the Night, illustrated by Beth Krommes, written by Susan Swanson
---
Winner of the 2009 Caldecott Medal! A spare, patterned text and glowing pictures explore the origins of light that make a house a home in this bedtime book for young children. Naming nighttime things that are both comforting and intriguing to preschoolers – a key, a bed, the moon – this timeless book illuminates a reassuring order to the universe.
2008: The Invention of Hugo Cabret by Brian Selznick
---
Orphan, clock keeper, and thief, Hugo lives in the walls of a busy Paris train station, where his survival depends on secrets and anonymity. But when his world suddenly interlocks with an eccentric, bookish girl and a bitter old man who runs a toy booth in the station, Hugo's undercover life, and his most precious secret, are put in jeopardy. A cryptic drawing, a treasured notebook, a stolen key, a mechanical man, and a hidden message from Hugo's dead father form the backbone of this intricate, tender, and spellbinding mystery.
2007: Flotsam by David Wiesner
---
A bright, science-minded boy goes to the beach equipped to collect and examine flotsam–anything floating that has been washed ashore. Bottles, lost toys, small objects of every description are among his usual finds. But there's no way he could have prepared for one particular discovery: a barnacle-encrusted underwater camera, with its own secrets to share . . . and to keep. 
New Temporary Hours of Operation
Due to staffing shortages and until further notice our temporary hours will be:
Monday: 9:00 am – 6:00 pm
Tuesday - Wednesday: 9:00 am – 8:00 pm
Thursday: 11:00 am – 8:00 pm
Friday: 10:00 am – 6:00 pm
Saturday: 10:00 am – 2:00 pm
Sunday: CLOSED
Closures in 2023
January 2 – New Year's
January 16 – Martin Luther King, Jr., Day
February 20 – President's Day
March 24 – Staff Development Day
April 1 – Closed for Maintenance
May 27-29 – Memorial Day
June 19 – Juneteenth
July 4 – Independence Day
September 2-4 – Labor Day
September 28 – Library Conference (LCEI)
September 29-30 – Closed for Maintenance
November 10-11 – Veteran's Day
November 22 – Closing at 5:00 pm
November 23-25 – Thanksgiving
December 23-26 – Christmas
December 30-31, 2023 – New Year's
January 1, 2024 – New Year's Day
Address
73 North Center
Rexburg, Idaho 83440
We are located on Center Street, just north of Main Street, by the Historic Rexburg Tabernacle.