"U" is for umbrella! Umbrellas come in handy in all sorts of weather. Maybe you need a big one for shade at the beach or waiting for the parade. And of course you want to grab one for the rain, whether it is a little mist or big down pour. An umbrella can be useful when the snow starts to flurry, especially if you forgot your hat. Books about umbrellas can help introduce different topics: types of weather, how to be prepared, and even sharing.
Join us Tuesdays, and Wednesdays at 10:30 a.m. or Tuesdays at 6:30 p.m. in the Community Room.
Ages 2-5
Sing, Talk, Read, Write, Play
Tip
Weather and seasons are things that your children experience and can relate to. Try using their experiences to talk about the science behind weather, like thunder. Sometimes we ourselves don't know all the facts, but we can find out right along with our children by using the books in the library. Simple scientific knowledge about everyday events gives children a strong foundation for later school learning. – Lambert
Activity
Use hand movements to illustrate the song Come Under My Umbrella.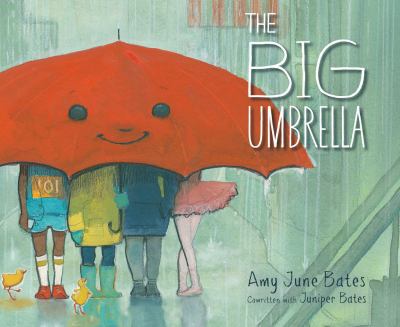 The Big Umbrella by Amy June Bates
A spacious umbrella welcomes anyone and everyone who needs shelter from the rain.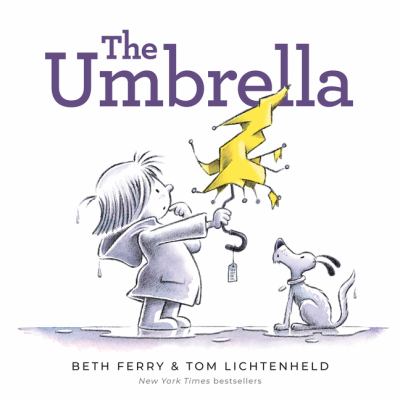 The Umbrella by Beth Ferry
A little girl and her dog unexpectedly discover a way to spread happiness and light in their dreary, rainy town.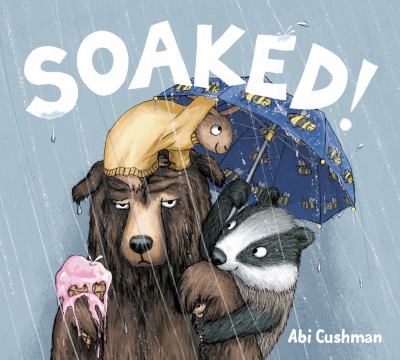 Soaked! by Abi Cushman
A hula-hooping moose, a badger with a bumblebee umbrella and a rabbit in a cashmere sweater, show their grumpy bear friend that a day of fun does not have to depend on sunshine and blue skies.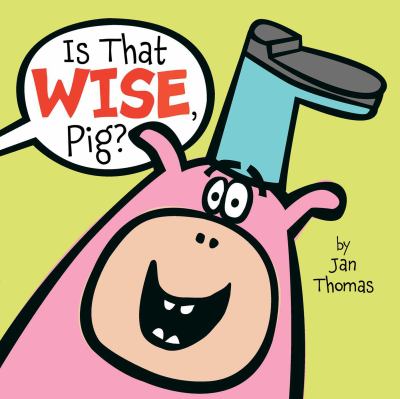 Is That Wise, Pig? by Jan Thomas
Mouse and Cow are making soup, but Pig keeps trying to add strange ingredients
Songs, Rhymes, and Fingerplays
New Umbrella
(Tune: I'm A Little Teapot)
Here's my new umbrella, (pretend to hold umbrella)
Wide and high. (open arms wide)
It keeps me cozy, warm, and dry. (hug yourself)
If the rain starts falling from the sky, (wiggle fingers like raindrops)
Just open me up and you'll stay dry. (pretend to open umbrella, twirl around)
Credit: Stratford Library
Come Under My Umbrella

(Tune: Here We are Together)
Come under my umbrella, umbrella, umbrella.
Come under my umbrella, it's starting to rain.
With thunder and lightning,
And thunder and lightning, 
Come under my umbrella, it's starting to rain.
Credit: King County Library System
These Are the Colors Over You
(Tune: Twinkle, Twinkle, Little Star)
Red and Yellow, Green and Blue,
These are the colors over you.
Red like an apple and Green like a tree,
Yellow like the sun and Blue like the sea.
Red and Yellow, Green and Blue,
These are the colors over you.
Credit: Jbrary
Five Umbrellas
Five umbrellas stood by the back door,
The red one went outside, then there were four.
Four umbrellas, pretty as could be,
The blue one went outside, then there were three.
Three umbrellas with nothing to do,
The green one went outside, then there were two.
Two umbrellas not having much fun,
The yellow one went outside, then there was one.
Just one umbrella alone in the hall,
The purple one went outside, and that was all.
Credit: Storytime Shenanigans
Umbrella Colors
We keep our umbrellas, so that we may,
Have them all ready for a rainy day.
Here is a green one to keep us dry
When we open it up and hold it up high.
Have you seen the umbrella that's ruby red?
It looks so regal held over our head.
We love the umbrella of sweet sky blue.
It's big enough for both me and you.
The yellow umbrella is bright like the sun.
It makes puddle- jumping seem so much fun.
Our umbrellas are fun and so nice to see.
Just look at them all, we're sure you'll agree.
Credit: Stratford Library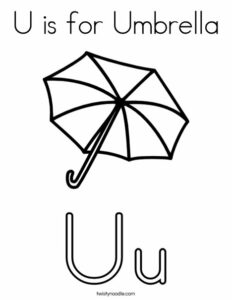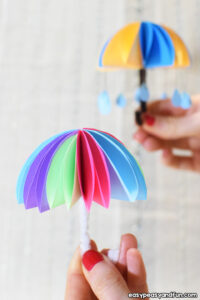 Paper Umbrella Craft
Make an umbrella out of paper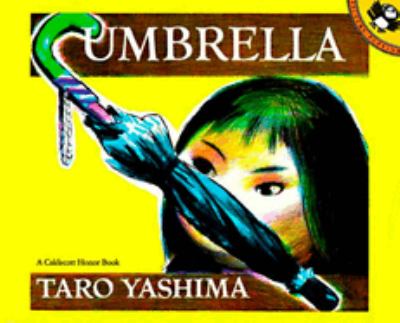 Umbrella by Taro Yashima
On her third birthday, Momo (whose name means "Peach" in her parents' native Japan) receives rubber boots and an umbrella. Impatiently she waits for a rainy day so she can try out her new apparel.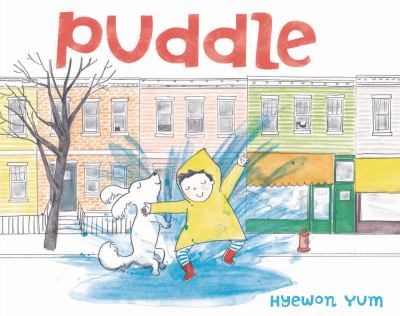 Puddle by Hyewon Yum
A mother and son use their imagination to have fun on a rainy day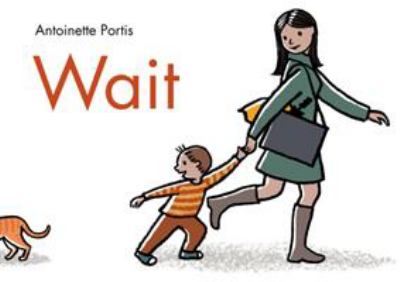 Wait by Antionette Portis
A … picture book about the joys of waiting and taking in what is around you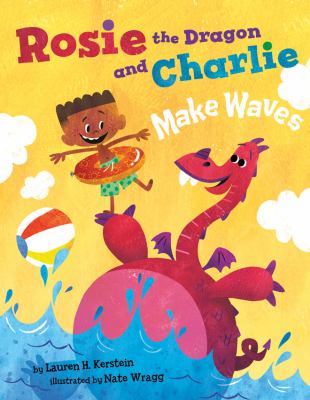 Rosie the Dragon and Charlie Make Waves by Lauren H. Kerstein
It's summertime, and you're invited for a rollicking day at the pool with Charlie and his pet dragon (and best friend!), Rosie. But be careful–swimming with a dragon can be, um, challenging. As Rosie and Charlie blow bubbles (don't forget your umbrella!), practice flutter kicks (watch out for tidal waves!), and offer shoulder rides (hang on tight!), Rosie proves that dragons make the most fun pets ever. Now if only Charlie can keep Rosie's attention focused on the rules at the pool and NOT on her gummy snacks (you know, the ones that cause stinky dragon breath!)…Grab your towels and sunscreen and join Rosie and Charlie for a fun-filled summer adventure