"Amid Stars and Darkness" by Chani Lynn Feener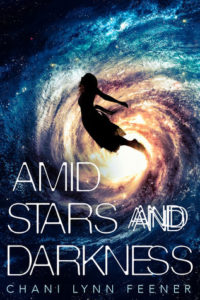 Delaney Grace is just a normal girl, living in a world where aliens have recently revealed their presence. They are very similar to humans in nature, but far more advanced in technology. Delaney's best friend Mariana is obsessed with these alien races and spends a lot of time learning about them. Now she's on her way to her first blind date, with Delaney as her wing man.
Unfortunately, while Mariana is busy with her new conquest, Delaney runs into trouble and ends up kidnapped by the Vakar and taken to their world. Now she must play the part of the missing alien princess to avoid intergalactic war. Which would be so much easier if everyone wasn't trying to kill her. Everyone except her own royal guard, Ruckus, that is. Soon they are feeling their own sparks, but as Delaney wants nothing more than to return to her own planet, will it be for naught?
While some of the characters were little more than stereotypes, for the most part they were believable and engaging. The world Feener has created here is one that lends itself to many adventures to come. Can't wait to see the rest of this series, and whatever else she comes up with as well.
This is a great new sci-fi romance, perfect for fans of These Broken Stars by Amie Kaufman and Megan Spooner. Fair warning though – this leaves readers with an awful cliffhanger ending, so be prepared to wait anxiously for book 2.