"The Tarantula Scientist" by Sy Montgomery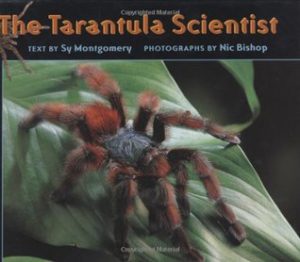 Tarantulas are amazing creatures. The information about the Goliath birdeater tarantula found in French Guiana in South America is one example of the uniqueness found in the varieties of tarantulas around the world.
In this book, Sy Montgomery presents an array of interesting facts about different species of tarantulas. She spent time with world experts studying these arachnids and learning more about how they interact with the world around them. There is information about mating habits and feeding behaviors, along with details about body structure and information about how they shed the outer layer of their body, the exoskeleton.
Spiders are regularly seen as creepy, dirty creatures, and Montgomery brings a new light to a topic that both fascinates and alarms most people.
Montgomery, S. (2004). The tarantula scientist. New York, NY: Houghton Mifflin Company.
I was introduced to Sy Montgomery and her work a couple of years ago at a conference, and I was extremely impressed with her and her method of research. She strives to provide as accurate of information as possible, and it shows in her writing. She spends her time traveling around for research, and she meets the most interesting people and finds some of the most interesting subjects imaginable. I think she could make anything exciting.
This book was no exception. I found myself both creeped out a little and at the same time awed and amazed at a creature that I knew very little about before reading this book. The tarantula is presented in such a fascinating way as to make it appealing to all who take the time to read this book. They are such unique creatures, and the information found here provides an open door to those who wish to learn more. Science comes alive when Montgomery writes for children.
Professional Reviews:
School Library Journal: Grade 5-10-Superb color photos abound in this spectacular series addition. Readers follow the career of Sam Marshall, tarantula scientist extraordinaire, from his "Spider Lab" at Hiram College in Ohio to the rain forests of French Guiana as he hunts for, finds, and studies the creatures he loves so well. The conversational text contains as much spider lore as scientific investigation and provides a cheerful look at a dedicated scientist. (The fact that he did not do well in school may encourage those late bloomers who have not yet found their passion in life or believe it to be far beyond their academic grasp.) Informative, yes, but even more important, this is a vivid look at an enthusiastic scientist energetically and happily at work, both in the field and in the lab, questioning, examining, testing, and making connections. A treat, even for arachnophobes.
Booklist: Gr. 4-7. Montgomery and Bishop, who worked together on Snake Scientist (1999), team up once again to deliver another fascinating slice of the natural world. This time they venture to the French Guiana rain forest, where they follow arachnologist Sam Marshall on his quest for his favorite quarry: tarantulas. Enthusiasm for the subject and respect for both Marshall and his eight-legged subjects come through on every page of the clear, informative, and even occasionally humorous text. Bishop's full-color photos, which concentrate on detail, not scale, are amazing–Marshall coaxing an elusive tarantula into the open or bringing readers literally face-to-face with a hairy spider. The section on students' research seems tacked on, but it adds an interesting sidelight to the book, which is longer and richer in both text and illustrations than others in the Scientists in the Field series. Readers will come away armed with facts about spiders in general and tarantulas in particular, but even more important, they'll have a clear understanding of how the answers derived from research become the roots of new, intriguing questions.