"The Forgetting" by Sharon Cameron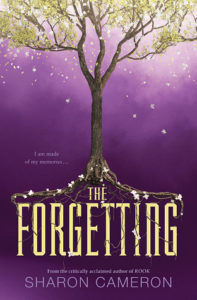 Nadia lives in a world where every twelve years everyone she knows forgets everything about their lives. Everything about their family. Everything about their neighbors and friends. Everything that isn't written down in a person's book is forgotten as if it never happened. Except for Nadia. She has never forgotten. Not the way the village officials dictate their every move. Not about the father who abandoned her family at the last Forgetting. Not about the woman who used to be a loving caring mother but is now just a shell of herself. Now the time has come for another Forgetting, and Nadia is determined to find out more about how the Forgetting works and why her society is so dependent upon the Archives and their leaders.
What looks like a dystopian novel soon turns into a post-apocalyptic sci-fi thriller as Nadia finds out more about where she and her people came from and why they are forced to live within the walls of the village. Nadia's growing relationship with Gray and the frictious relationship she has with her sister and mother give a lot of insight into her character. A great new tale from Sharon Cameron, this is great for fans of dystopian tales such as Caragh O'brien's Birthmarked series.
Awards: Autumn 2016 Kids' Indie Next List selection
Professional reviews:
* "Effective worldbuilding and strong characterization . . . A well-crafted fable for our time." — Kirkus Reviews, starred review
* "This fantasy is a marvelous achievement." — School Library Journal, starred review