"The Kiss of Deception" by Mary Pearson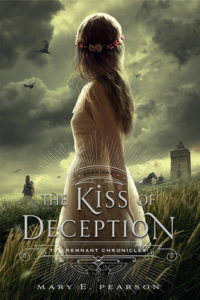 Lia has always felt pressure from her parents to keep up good appearances and serve her country. Now she is being married off to the prince of the neighboring kingdom for political purposes, and she has finally had enough. When she should be traveling to her wedding, she is instead fleeing her country with only her closest confidante, her lady's maid. Wanting only to seek personal freedom, she soon sets up a life in a small village, working in the boarding house to earn her keep. Unbeknownst to her, the prince who was to be her husband is now tracking her down, determined to make her pay for her actions that led to his embarrassment. She is also the target of an assassination attempt, and only time will tell if she will survive both of her hunters. It's either that, or fall in love with one of them. The thing is, she doesn't know who these men are, and for once, neither does the reader.
I loved this! I really liked not knowing who was who for the romance interests and trying to match up the different identities and figure out which was which. Pearson does a fantastic job keeping the identities separate from their actions, and for the first time ever I couldn't decide who I would rather have Lia end up with. They were both wonderful options. It was great not knowing which one was the prince because if I had known, it may have tipped the scale in his direction. The characters were well defined and relatable, and the setting was vivid without being overly descriptive.
Professional reviews:
"*The first in a marvelous new fantasy series that is sure to find an audience with devotees of Suzanne Collins's "The Hunger Games" . . . Romance, adventure, mysticism–this book has it all and it just may be the next YA blockbuster." ―School Library Journal, Starred Review