"Frostblood" by Elly Blake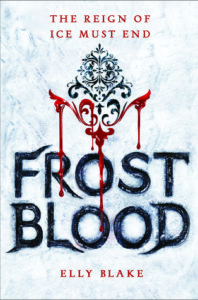 Ruby has spent her life hiding in the outskirts, trying to keep people from getting too close and discovering her secret – she is one of the few remaining Firebloods and one the king would pay to have hunted down. When soldiers come to her small village, she feels that all is lost, especially after her mother is murdered. After months kept captive in a cold, dark dungeon, where her guards keep her freezing and hungry, Ruby has resigned herself to her final fate. Then salvation appears. However, she's not sure who these mysterious men are or why they would want to save her. All too soon Ruby is learning to use her powers and wants nothing more than to seek her revenge on the king.
Blake, Elly. (2017). Frostblood. Little, Brown Books for Young Readers
The world building in this novel is perfect for fans of lighter fantasy. This has some excellent character development and a well-developed relationship between the two main characters. While it may not be for the faint-of-heart as there are plenty of gruesome descriptions of wounds and fighting tactics, it will make a great read for fans of Red Queen by Victoria Aveyard or Graceling by Kristin Cashore. Readers will be impatiently waiting for book two.
Professional reviews:
"This enchanting and fast-paced debut lights up the page with magic, romance, and action, all of which is expertly interwoven throughout the text. Readers will be eagerly anticipating the next book in the series."―Booklist
"This is an enjoyable, fast-paced debut that blends romance into a story of suspenseful battles, royal prisons, and rebel schemes…. perfect for fans of Red Queen and will delight those who love fantasy, adventure, and romance. A strong addition to any YA fantasy collection."―School Library Journal"Ruby's a spitfire who faces her challenges with grit…. A slow-burning, classic tale."―Kirkus Reviews
"A strong debut for Blake…. succeeds in laying down intriguing framework for the books to come."―Publishers Weekly
"With a fierce and vibrant world, richly-drawn characters, a steamy romance, and page-turning twists, Frostblood has all the elements of a great fantasy."―Morgan Rhodes, New York Times bestselling author of the Fallen Kingdoms Series
"Fast-paced and brimming with magic and intrigue, Frostblood will keep you frozen in place until the last page and then leave you burning for more."―Lori M. Lee, author of Gates of Thread and Stone