"Hunted" by Megan Spooner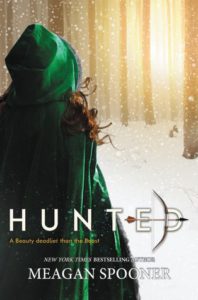 Beauty is the youngest daughter of a wealthy hunter turned merchant. When their family luck changes they are forced to relocate to their old hunting cottage, where her father spends his days hunting to support his girls. After he disappears, Beauty, trained from a young age as a skilled huntress, goes after him. What she discovers there changes her life forever.
This is a great retelling of Beauty and the Beast, complete with magical creatures, a growing love, and a spirited girl who will stop at nothing to get her revenge – at least until she finds out that wasn't what she wanted.
I really enjoyed the growing relationship with this one, though I do have to admit that Beauty and the Beast is my favorite tale, so almost any retelling will be a win for me. I also feel that extra bonus points should be awarded here for including a library in this version of the retelling, because Beauty is only a complete character when she has a love for reading. I would love for this to have a companion book, but so far this is slated as a stand-alone novel.
Great for fans of fairytale retellings, especially those who prefer this particular tale.
Professional reviews:
"Spooner creates a detailed world populated by complex characters… An elegant, classic, and vivid fairy tale." (Kirkus Reviews –starred review)