"Midwinterblood" by Marcus Sedgwick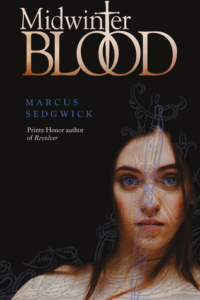 Told through seven different tales in reverse chronological order, Midwinterblood is a tale as old as time.
The first story, Midsummer Sun, is set in 2073. Eric travels to a mysterious island that is said to be a magical place where people are living far beyond a normal lifespan. Once there, he meets Tor and Merle, and is soon settled in. He explores the island, and as he does so, he begins to forget why he had come there to begin with.
The second tale, The Archaeologist, is set in 2011. Edward, an archaeologist, has traveled with his small digging team to hopefully unearth the remains of a Viking village. During his stay on the island, he meets a young boy named Eric, and his mother Merle. He feels as though he has known them all of his life.
The Airman, the third story, is set in 1944. When his plane is shot down, David manages to land his parachute on a small island, though he breaks his ankle in the process. It is the middle of World War II, and this island has so far removed itself from the fighting taking place throughout the rest of the world. David is rescued by a farmer, Erik, the farmer's wife, Rebecka, and the farmer's son, Benjamin. He stays with the family while his ankle heals, but the welcome is far from warm. When war comes to the island, David must try to escape the enemy soldiers.
The Painter is the fourth story in the book, and it is set in 1902. Merle is a young girl, living on a quiet island with her mother, who is known for making a special tea using the mysterious dragon flower found on the far side of the island. When Merle crosses to the other side of the island with her mother to harvest the flowers, she discovers a large house, where a very old man lives. Despite her mother's order to stay away, she returns to visit, making wonderful discoveries.
The fifth part of the book, The Unquiet Grave, is set in 1848. The Graf twins had a nanny, Laura, who told them a wonderful ghost story full of auspense, a romance about Merle and Eric. The children loved the story, and loved Laura too. But Laura was not who they thought she was.
The sixth tale, The Vampire, is set during the 10th century. The men were late returning from their yearly trip at sea, but return they did, and Eirik and Melle helped the rest of the villagers bring the Viking ships ashore for repair during the coming winter months. Unfortunately, their father didn't just bring home bounty from a successful Viking expedition – he also brought home a mysterious man, one whom their father is unhappy to have home.
The seventh and final story, Midwinterblood, is set before the record of time.  It has been many years of drought and crop failure, and the people have demanded a sacrifice – one only their king can fulfill. King Eirikr has been brought forth to sacrifice his life blood. Will his death be enough to bring about the desired change?
All seven stories tie neatly together into one overlaying theme. It is a tale of love, of death, and rebirth.
Awards: Michael L. Printz Award 2014, Carnegie Medal Nominee 2013
Sedgwick, M. (2013). MIdwinterblood. New York, NY: Roaring Brook Press.
Midwinterblood is a fairly quick read, with short chapters within the short stories. While confusing at first, once a few of the stories are read, it is easy to get a feel for the writing and following the story backwards through time. It is not often that a book is written in reverse chronological order, so this is a fairly unique concept, and one that makes for a new and interesting reading experience.
I liked the book, and I have several people in mind to recommend it to. I think this is a book that can be enjoyed by all ages, teens and adults. There are a lot of different themes and topics in this book that can be used as discussion points, from Viking lore to reincarnation beliefs to different times throughout the history of the world. It is easy to see why it was awarded the Printz award.
Professional Review:
"*Starred Review* In the year 2073, a reporter named Eric is sent to Blessed Island to research a rare flower called the Dragon Orchid. There he finds an insular community of mysterious villagers, a delicious tea that has him losing days at a time, and a beguiling girl named Merle. In just 50 pages, we reach a shattering conclusion—and then start anew in 2011. An archaeologist is digging on Blessed Island, where he meets a quiet boy named Eric and his mother, Merle. So begins this graceful, confounding, and stirring seven-part suite about two characters whose identities shift as they are reborn throughout the ages. Sedgwick tells the story in reverse, introducing us to a stranded WWII pilot, a painter trying to resurrect his career in 1901, two children being told a ghost story in 1848, and more, all the way back to a king and queen in a Time Unknown. It is a wildly chancy gambit with little in the way of a solid throughline, but Sedgwick handles each story with such stylistic control that interest is not just renewed each time but intensified. Part love story, part mystery, part horror, this is as much about the twisting hand of fate as it is about the mutability of folktales. Its strange spell will capture you. Grades 9-12."
Kraus, D. (2012, December 1). Midwinterblood [Review of the book Midwinterblood by Marcus Sedgwick]. Booklist, 109(7), 52.