November Adult Activities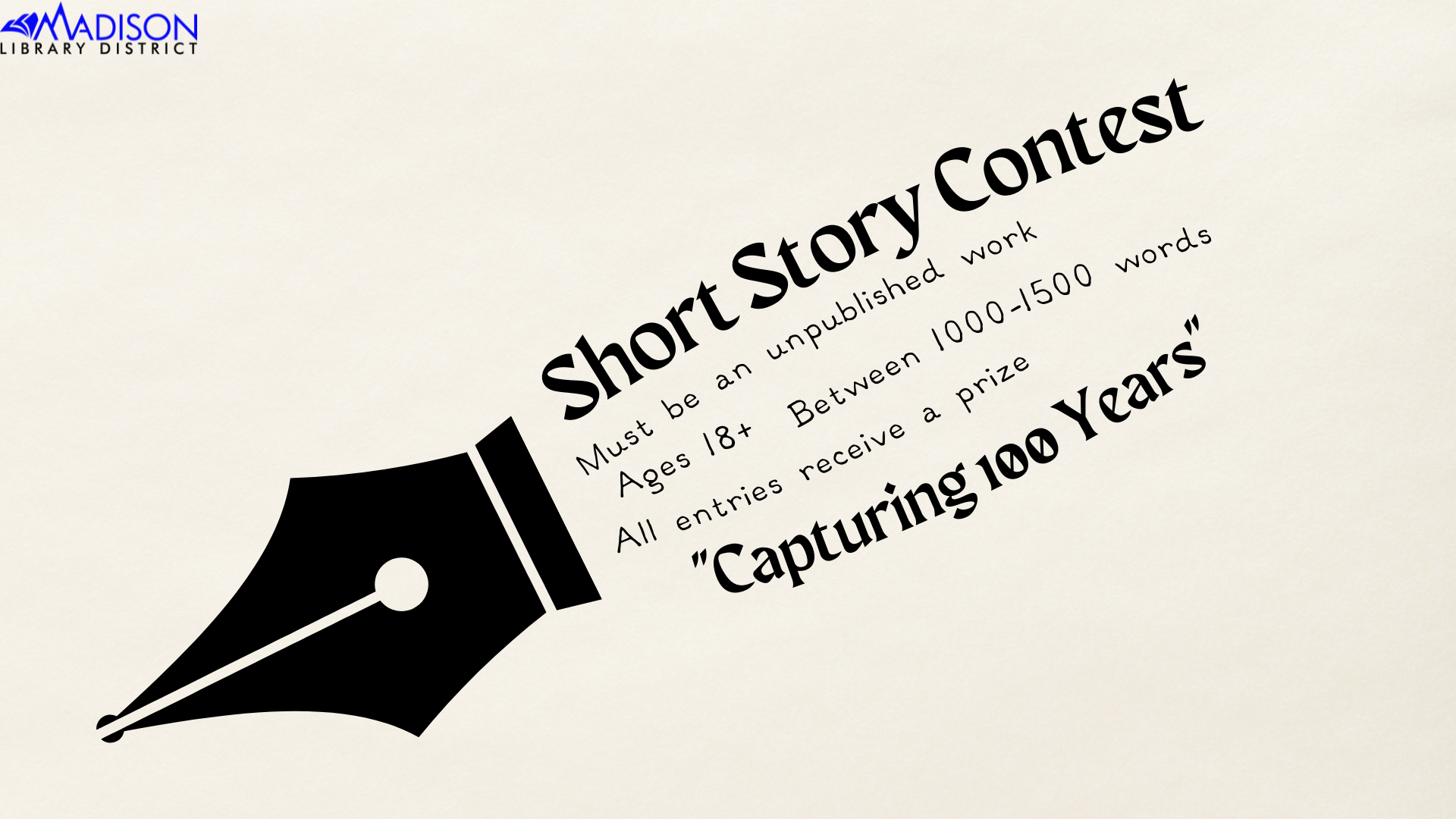 SHORT STORY CONTEST
Do you love writing?
Enter the Madison Library District's short story writing contest! The theme is "Capturing 100 years". Give us your impression of what that means to you; fiction or non-fiction are accepted.
All entries receive a prize! 1st prize winner will be awarded their choice of either a $50 gift card to Barnes and Noble or a feather quill pen and ink set.
Email submissions accepted ONLY. Send to programs@madisonlib.org
Entries accepted October 1-December 1.
PHOTOGRAPHY CONTEST
Help us celebrate our first 100 years by participating in our photography contest! Our theme is: "Capturing 100 years". Submit an original photo and see if you win! All forms and rules are available below.
October 17th – December 10th
Ages 6+.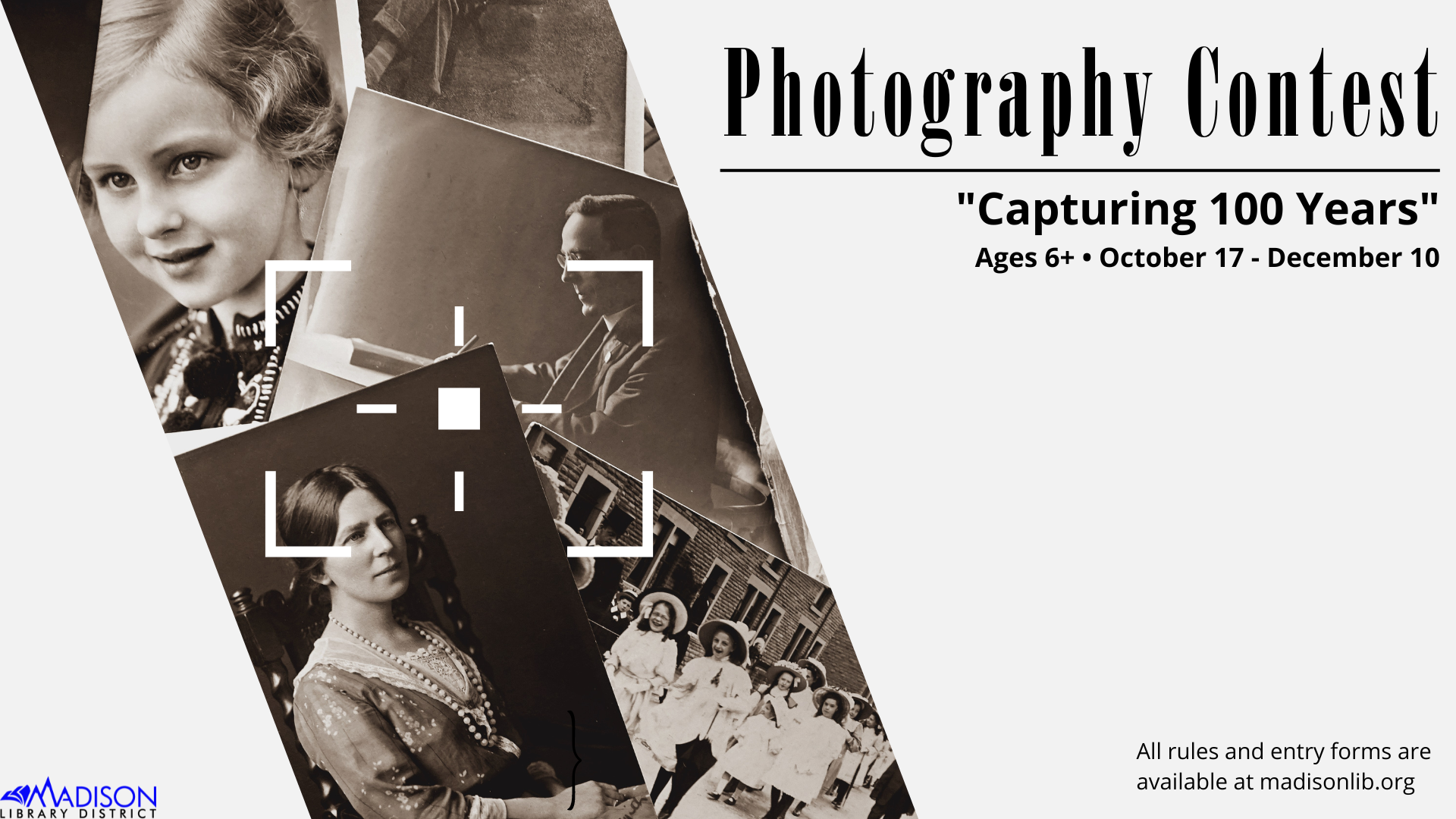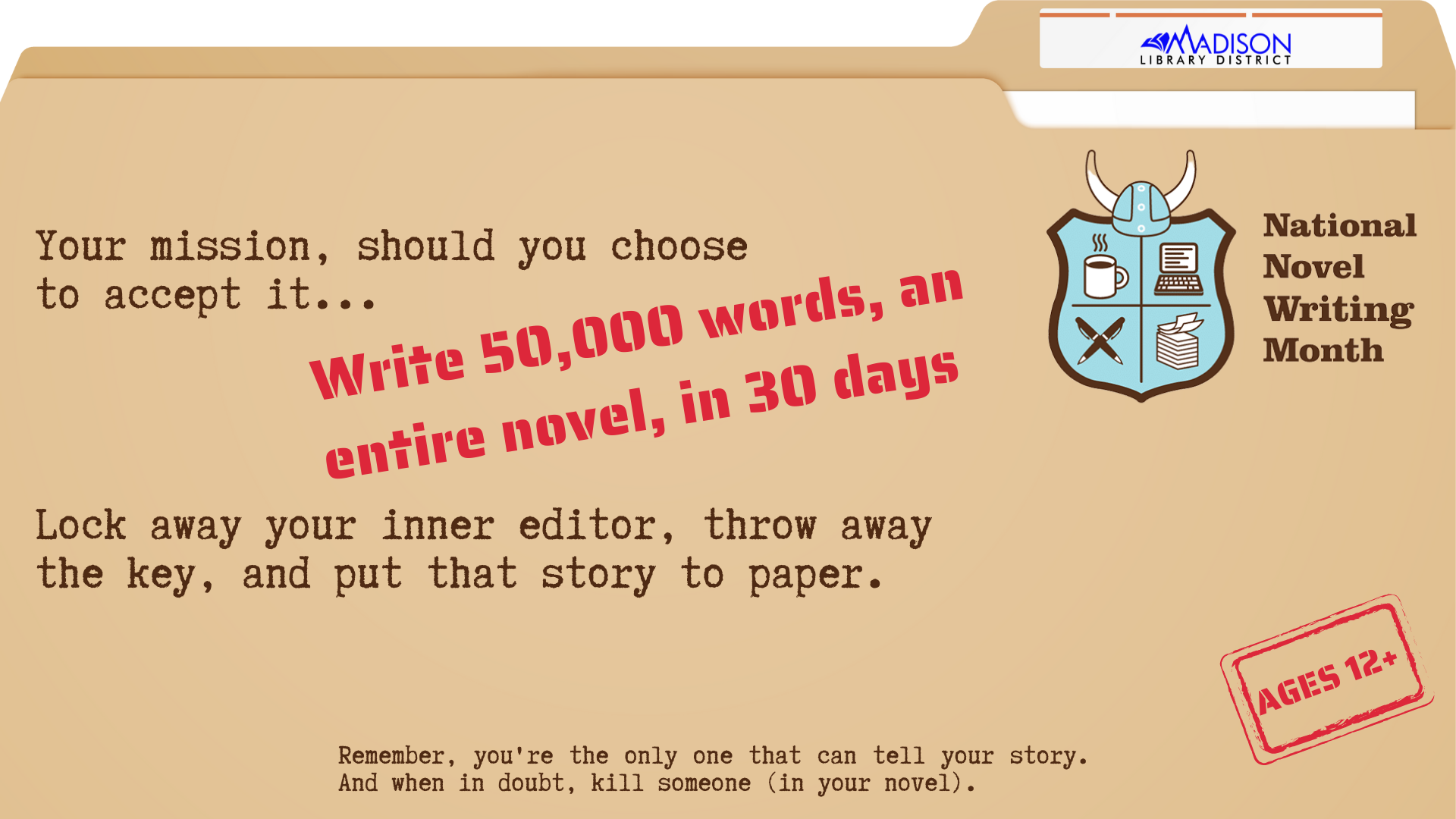 CREATIVE WRITING CLUB – NaNoWriMo
Do you have a story mulling around in your mind that's aching to find its way to a page or computer screen? Then join us for NaNoWriMo!
"National Novel Writing Month is a fun, empowering approach to creative writing. The challenge: draft an entire novel in just one month. For 30 wild, exciting, surprising days, you get to lock away your inner editor, let your imagination take over, and just create!"
The library will provide the prizes and incentives for every milestone you complete towards your final goal!
Join us for our write-ins!
Wednesdays, November 2nd, 9th, 16th*, and 30th, at 5:30 pm
in the Community Room/*Activity Room
Ages 12+.
ADULT MAKERS – LEGOMANIA CHALLENGE
Leave the kiddies at home tonight for some creativity and competition with your fellows adults. We'll divide into teams and see who can create the best barnyard themed creation with the Legos on hand. May the best geek win!
Friday, November 4th, at 7:00 pm
in the Community Room
Ages 18+.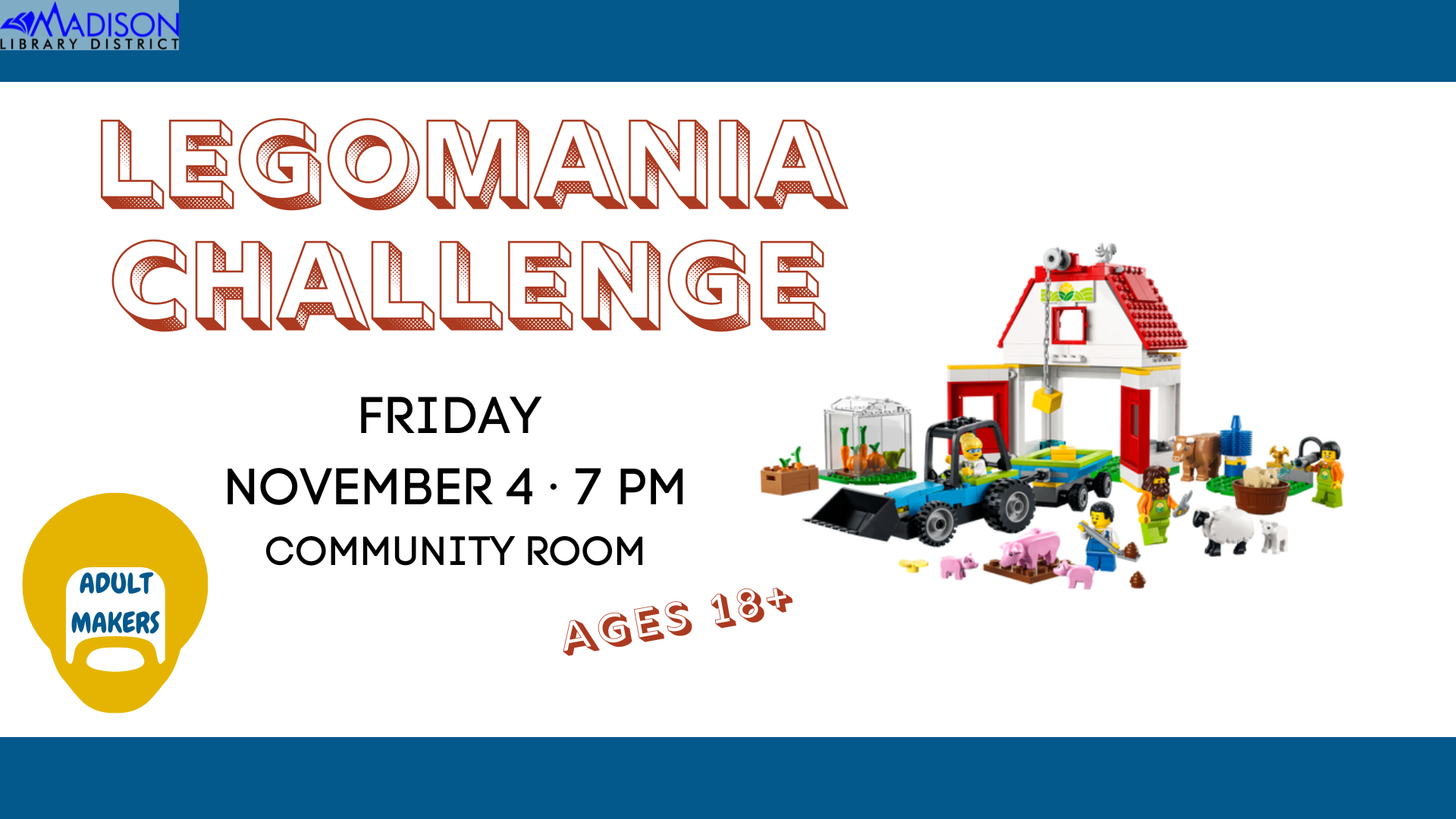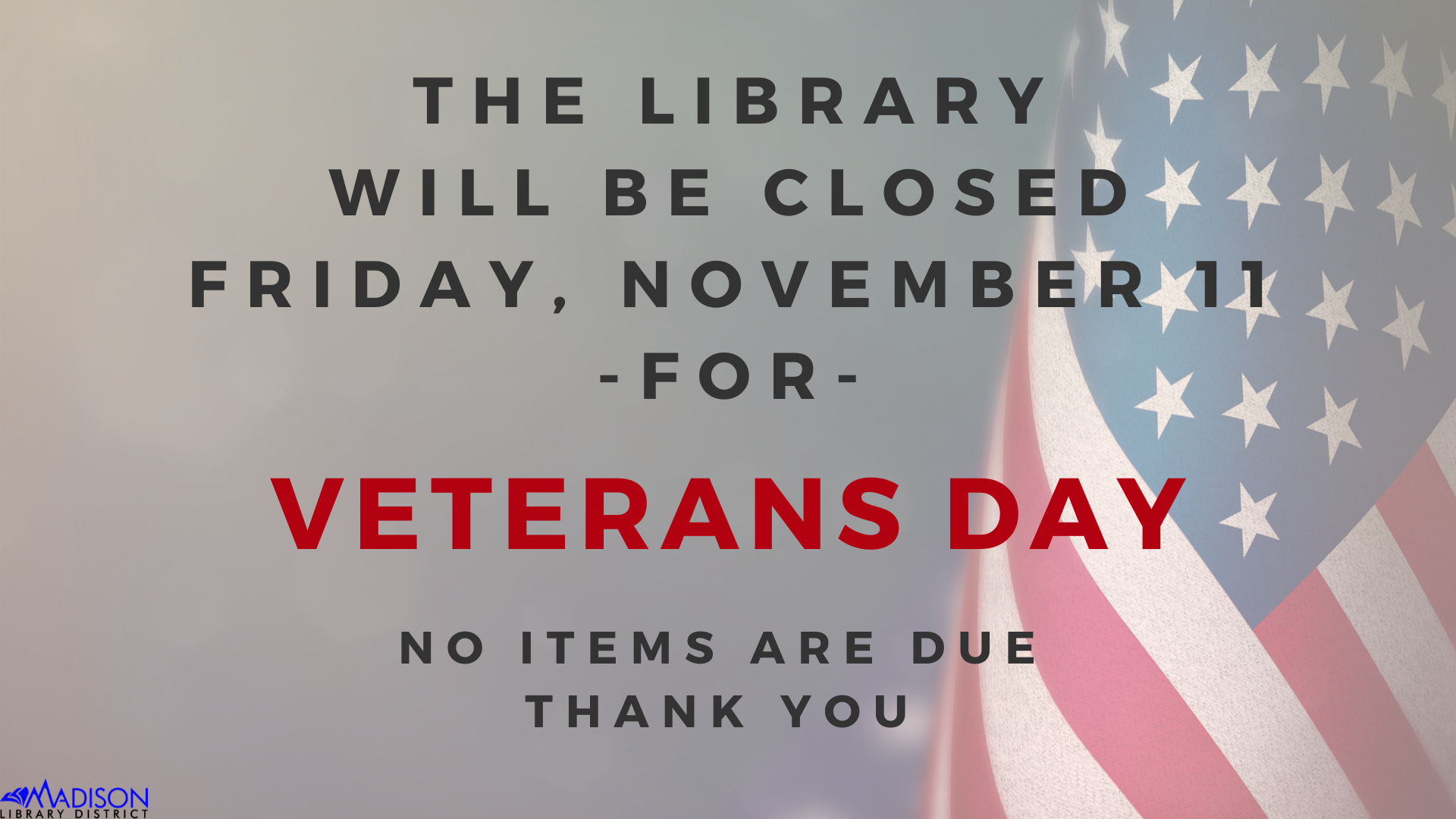 VETERANS DAY CLOSURE
The Library will be closed Friday, November 11 in observance of Veterans Day.
No items will be due but the book drop will remain open. Thank you!
JOSI KILPACK AUTHOR TALK
Calling all romance readers! One of our favoritess, Josi Kilpack, will be joining us to talk about her newest book, The Valet's Secret and do a Q&A with the audience! Come meet this best selling author here at our Library!
Ms. Kilpack will be participating in a book signing at the Rexburg Deseret Book later that evening.
Monday, November 14th, 12:00 pm
in the Community Room.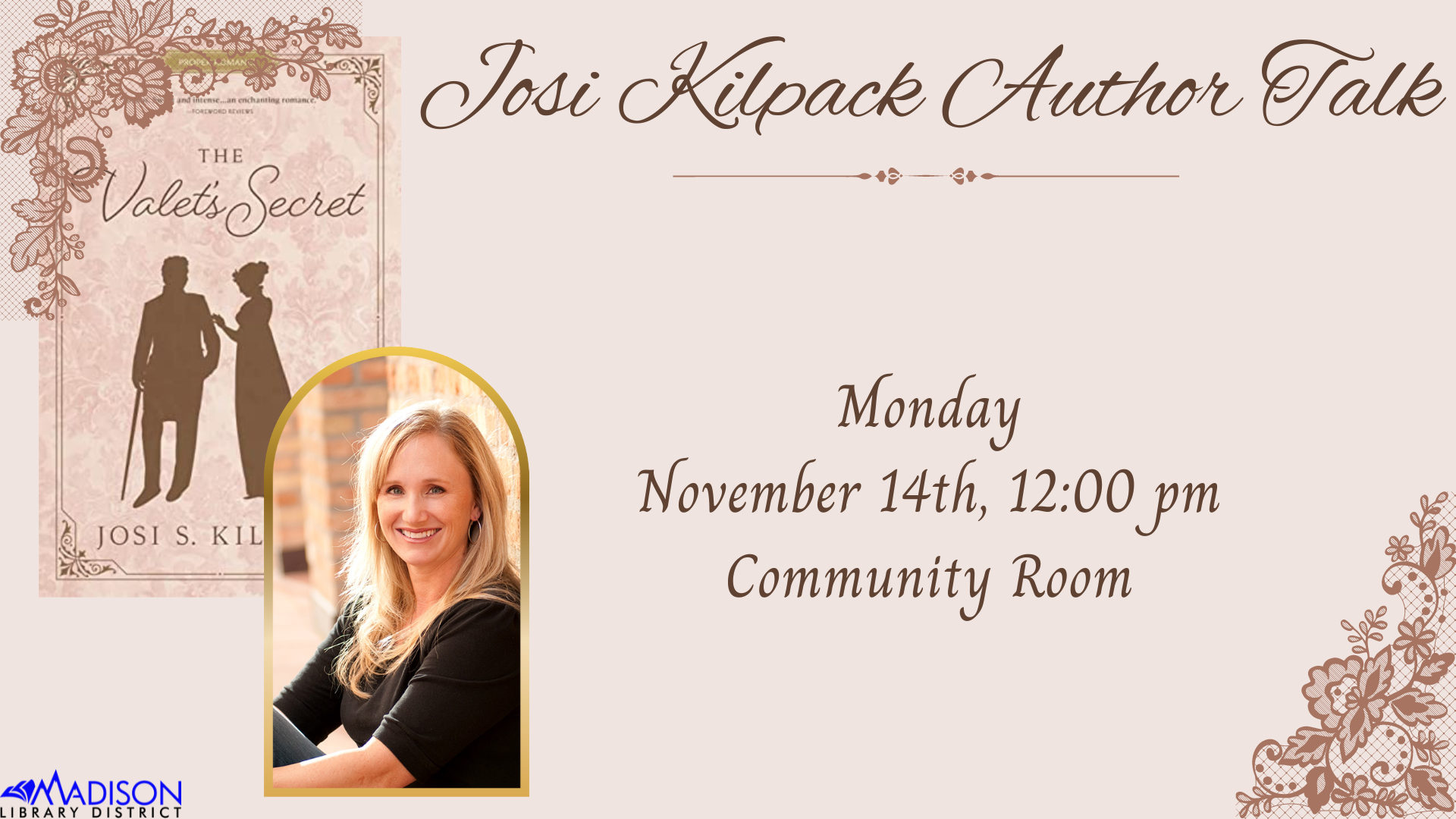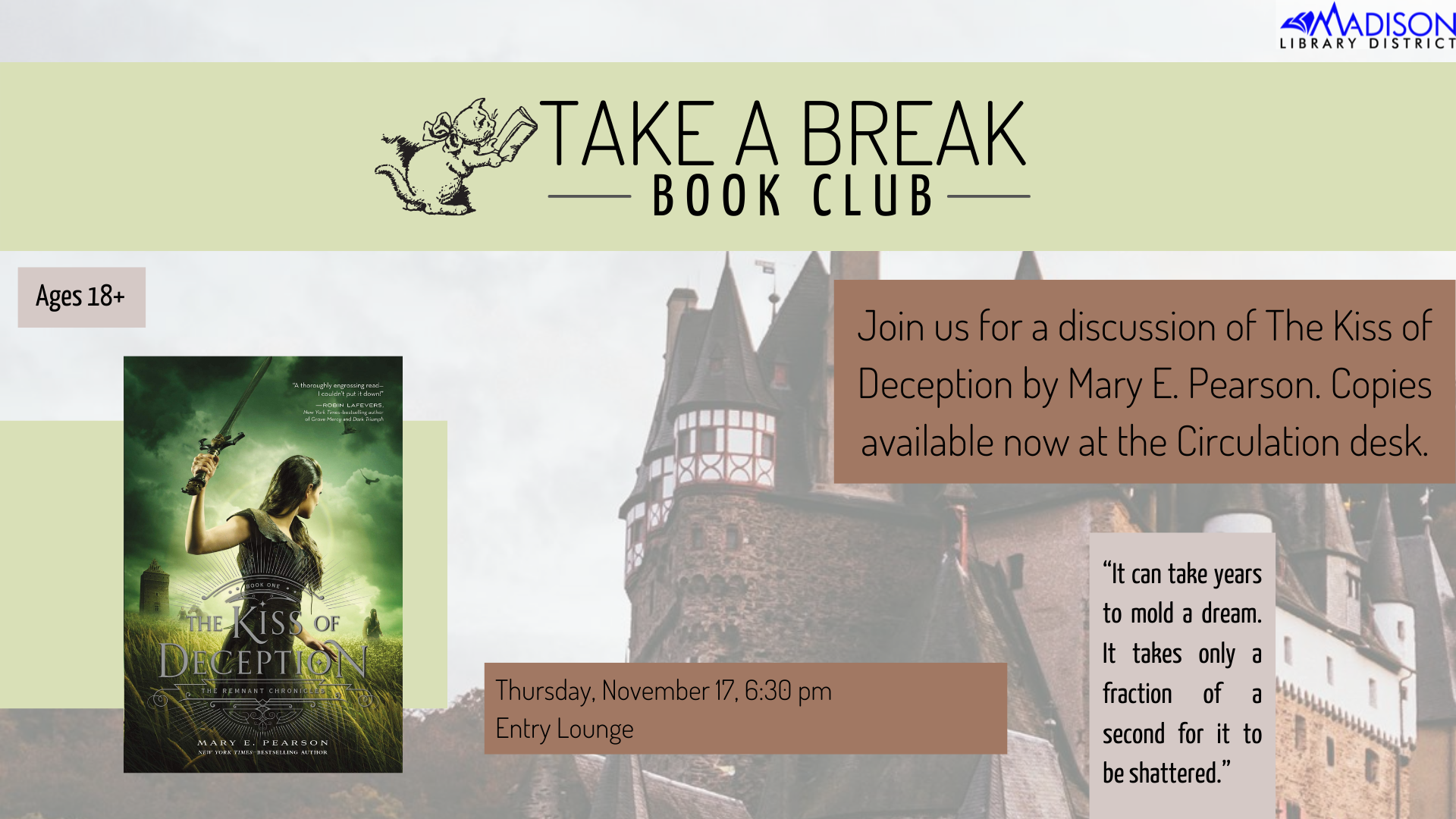 TAKE A BREAK BOOK CLUB
We will be reading The Kiss of Deception by Mary E. Pearson.
From Goodreads:
"In a society steeped in tradition, Princess Lia's life follows a preordained course. As First Daughter, she is expected to have the revered gift of sight—but she doesn't—and she knows her parents are perpetrating a sham when they arrange her marriage to secure an alliance with a neighboring kingdom—to a prince she has never met.
On the morning of her wedding, Lia flees to a distant village. She settles into a new life, hopeful when two mysterious and handsome strangers arrive—and unaware that one is the jilted prince and the other an assassin sent to kill her. Deception abounds, and Lia finds herself on the brink of unlocking perilous secrets—even as she finds herself falling in love."
Thursday, November 17th, at 6:30 pm,
in the Entry Lounge.
Book copies are available the the Circulation Desk while supplies last.
Ages 18+
ADULT MAKERS – BURNED WOOD BOOKSMARKS
We'll be using a wood burner to create fun, personalized bookmarks! Friends don't let friends dogear books; instead, they help them make bookmarks.
Friday, November 18th, at 7:00 pm,
in the Community Room.
Ages 18+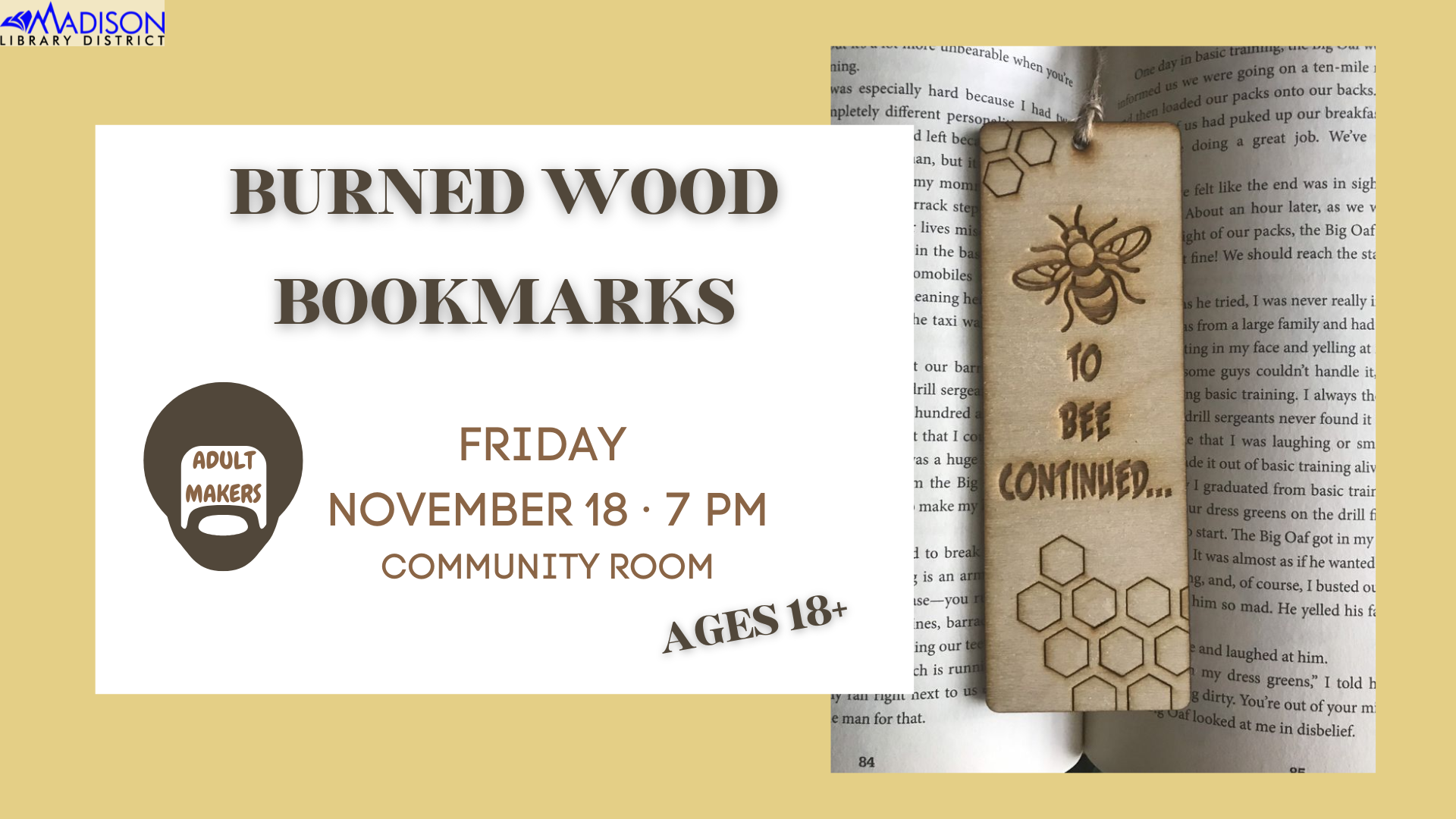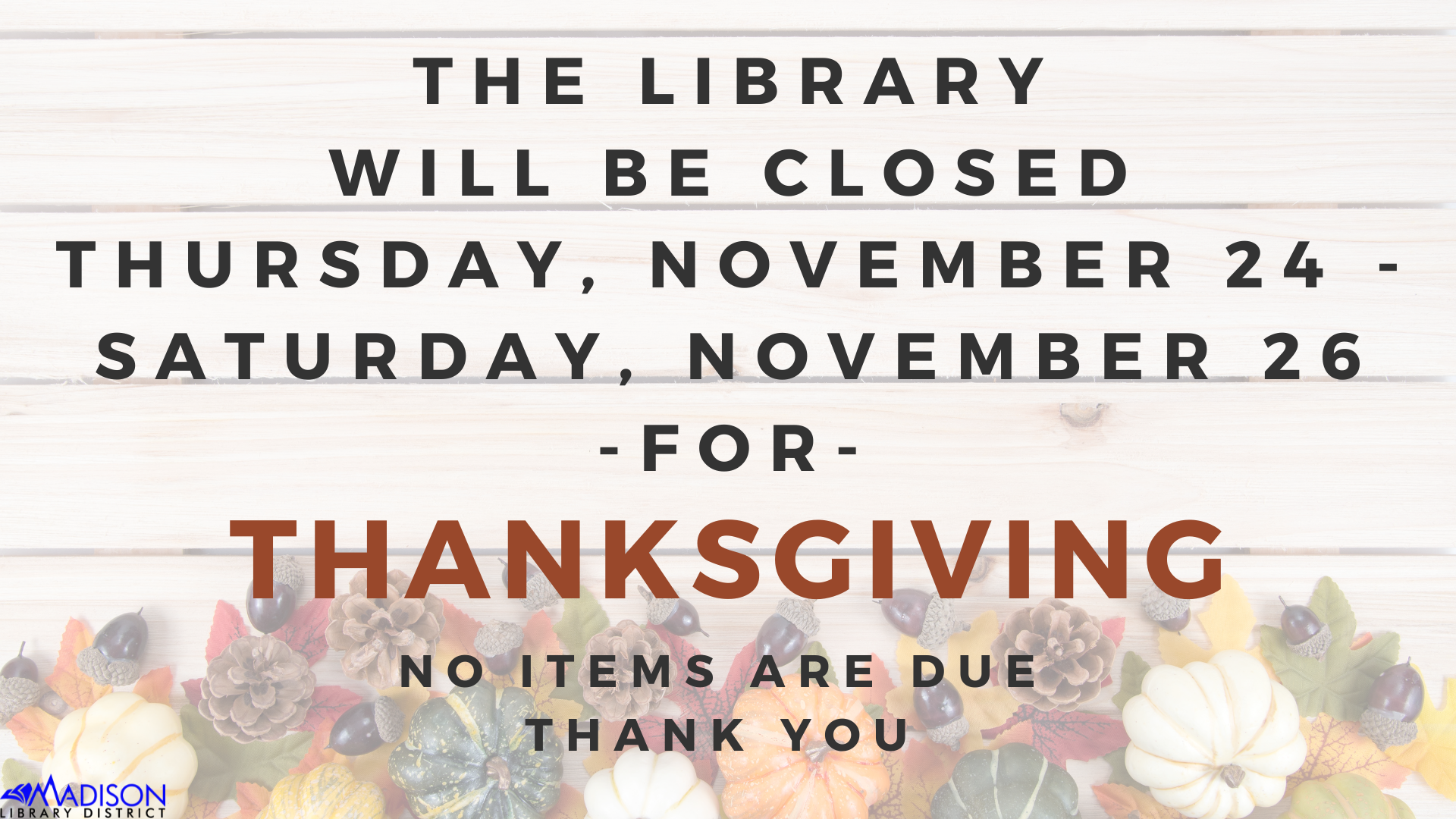 THANKSGIVING CLOSURE
The Library will be closing at 5:00 pm on Wednesday, November 23, and will be closed Thursday, November 24 – Saturday, November 26 for Thanksgiving.
No items will be due and the book drop will remain open. Thank you!
FAMILY FRIENDLY FILMS
Come watch a movie at the library! Every other Friday at 3:30 pm in the Community Room.
November 4th: Coco (2017; PG)
Children under 12 must be accompanied by someone 14 or older.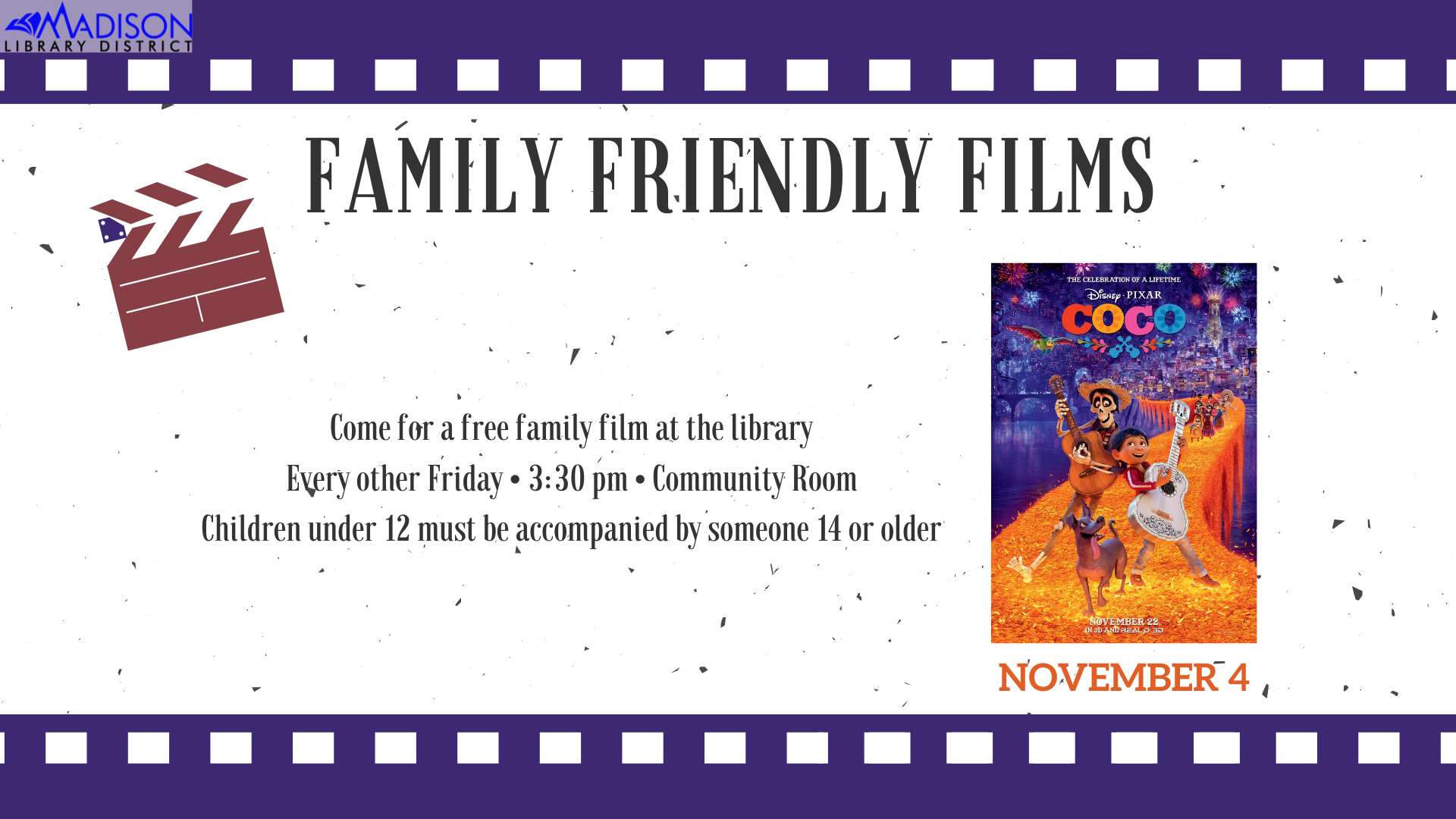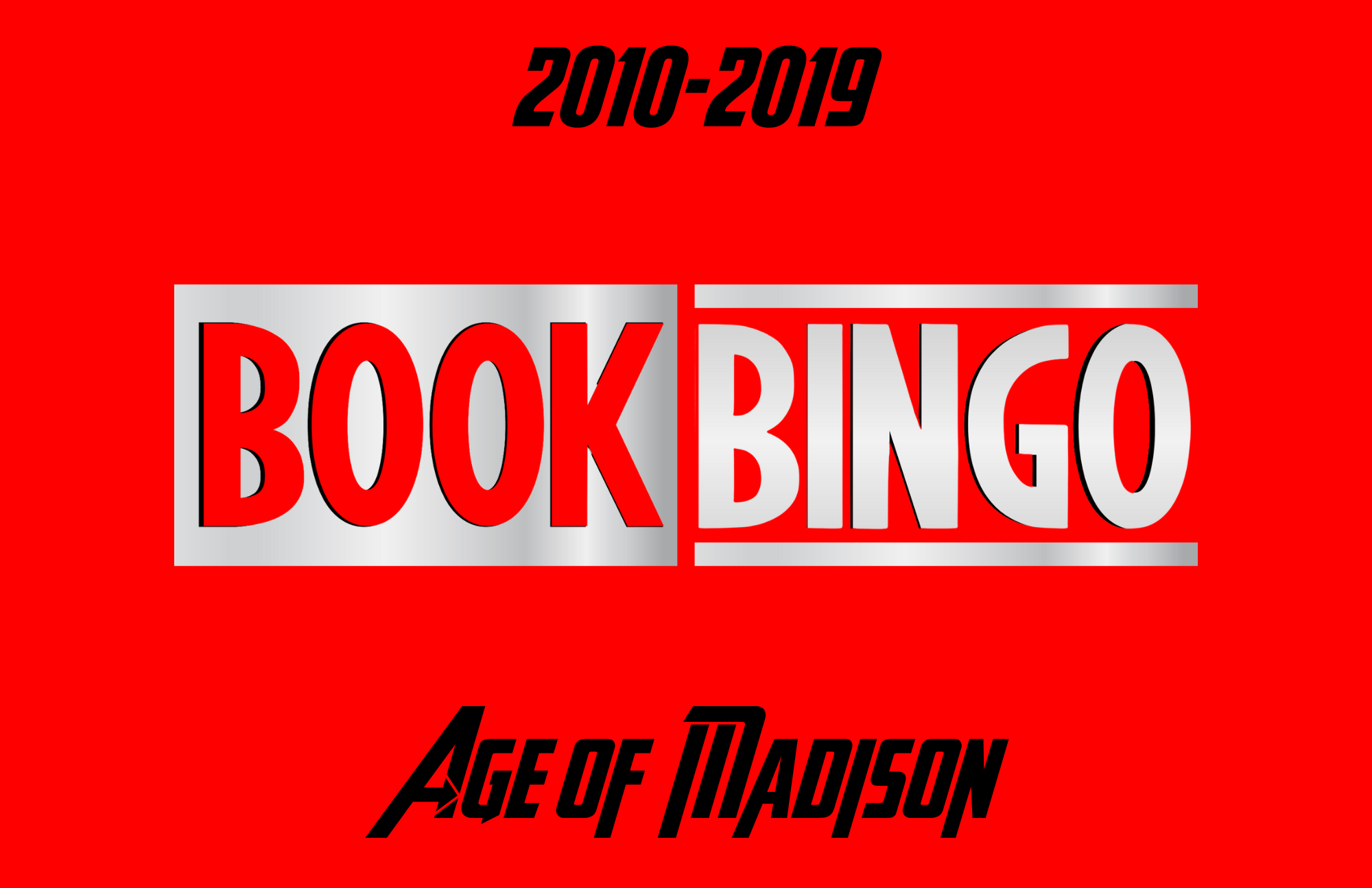 BOOK BINGO
New book challenges each month with BINGO! Pick up a bingo sheet from the library or print one off from online. Read books to complete challenges. Get a Bingo, get a prize!
The theme will be the 2010s.
 ADULT EXPLORATION KITS
The Adult Exploration Kits are back on the shelves! AND we have added some new and exciting topics!
Each kit is built to take you on a journey of learning. There are a myriad of subjects to choose from, including US Beginnings, Shakespeare, Cake, Bob Ross, National Parks, and more.
Some of the new options include Writing, Arthurian Legend, Egypt, and Leonardo da Vinci.
Exploration kits may be checked out for three weeks.
To make it even easier on yourself, search our catalogue to put one on hold!  Simply use the catalogue search function and type in "Adult exploration kits" to view our many options.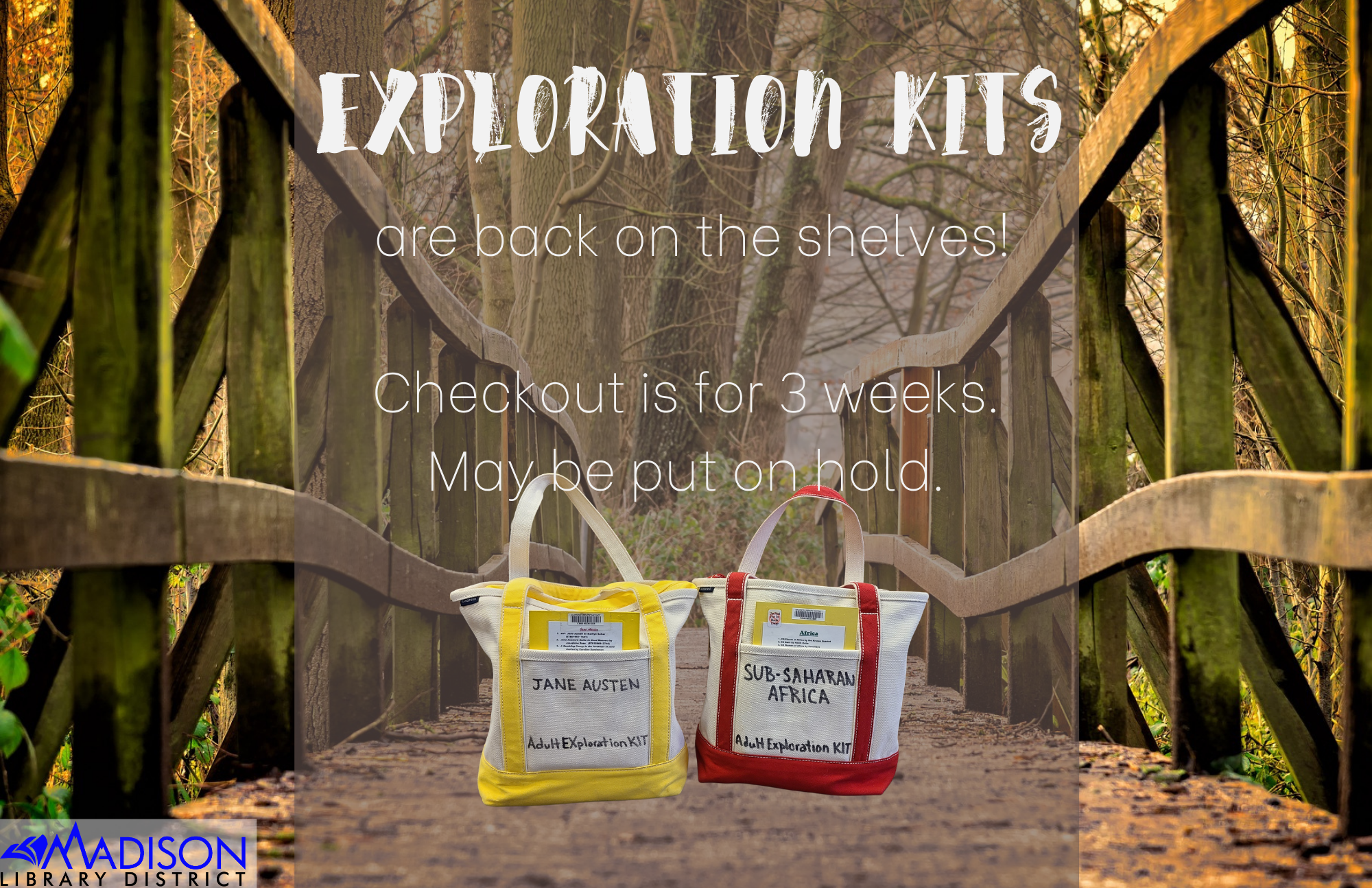 PUZZLE + CHESS
The puzzle table is open to the public! Sit down and relax with our community puzzle. Contribute what you want and come back another day.
CHESS is located in the glass enclosure. Request a set from the Reference Desk.