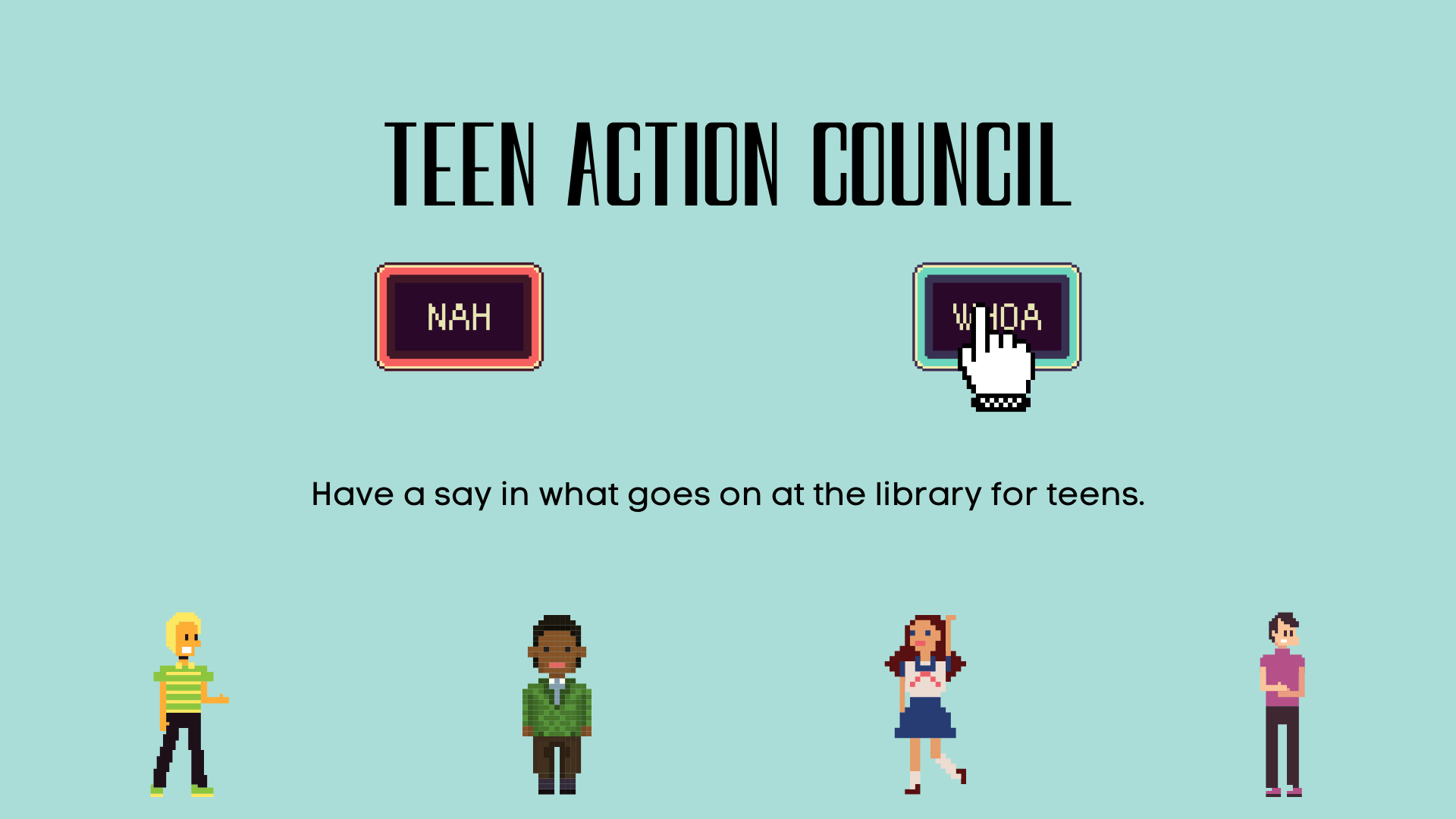 TEEN ACTION COUNCIL
Wednesday, May 4th. 4-5:30pm. 
For ages 12-18. Come and have a say in what activities Teens do at the Library and meet new friends.
MAY THE FOURTH BE WITH YOU: STAR WARS TRIVIA NIGHT
Test your fandom level at our Star Wars Trivia Night!

Wednesday, May 4th, @ 6pm in the Community Room.
For ages 19+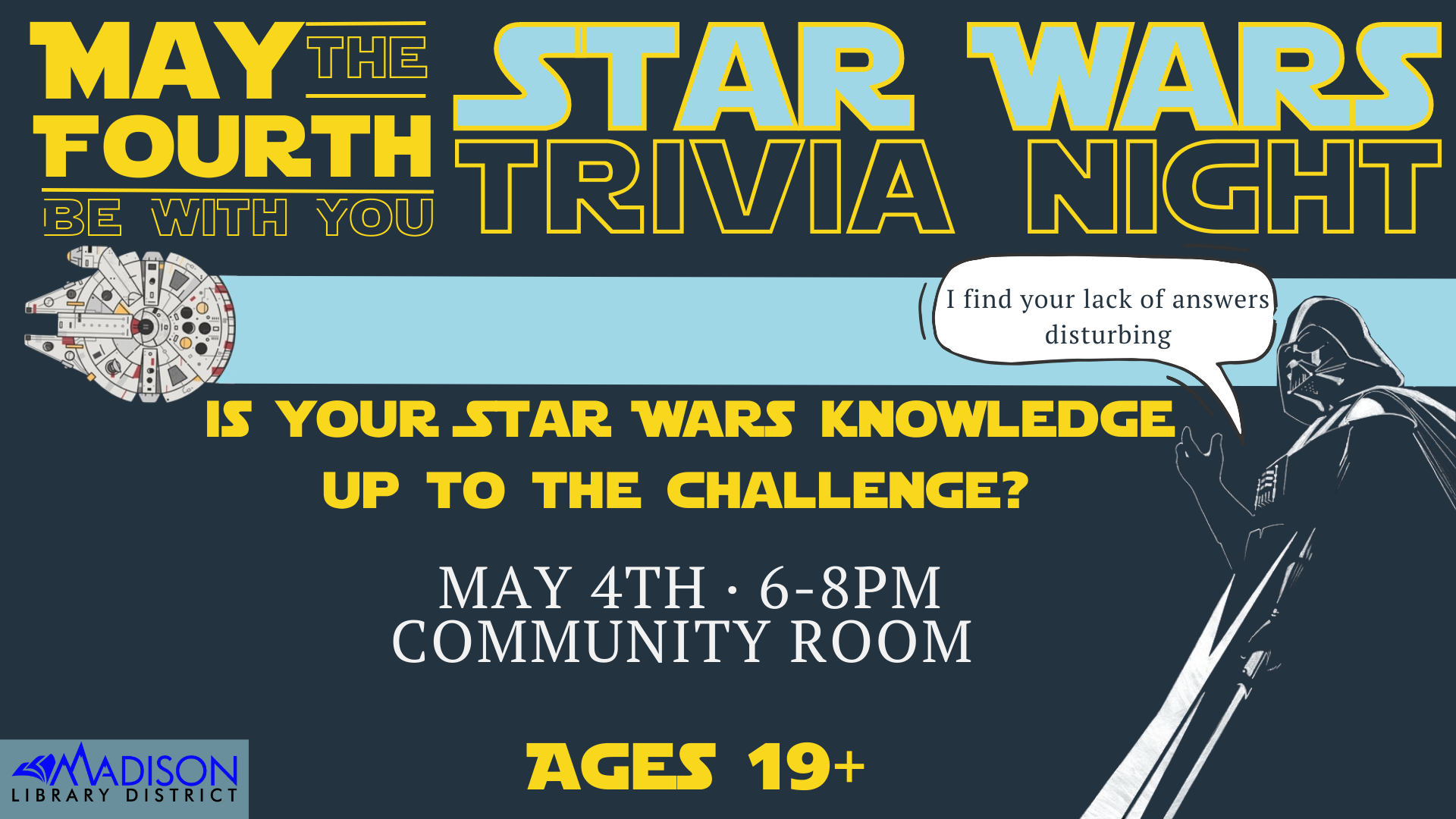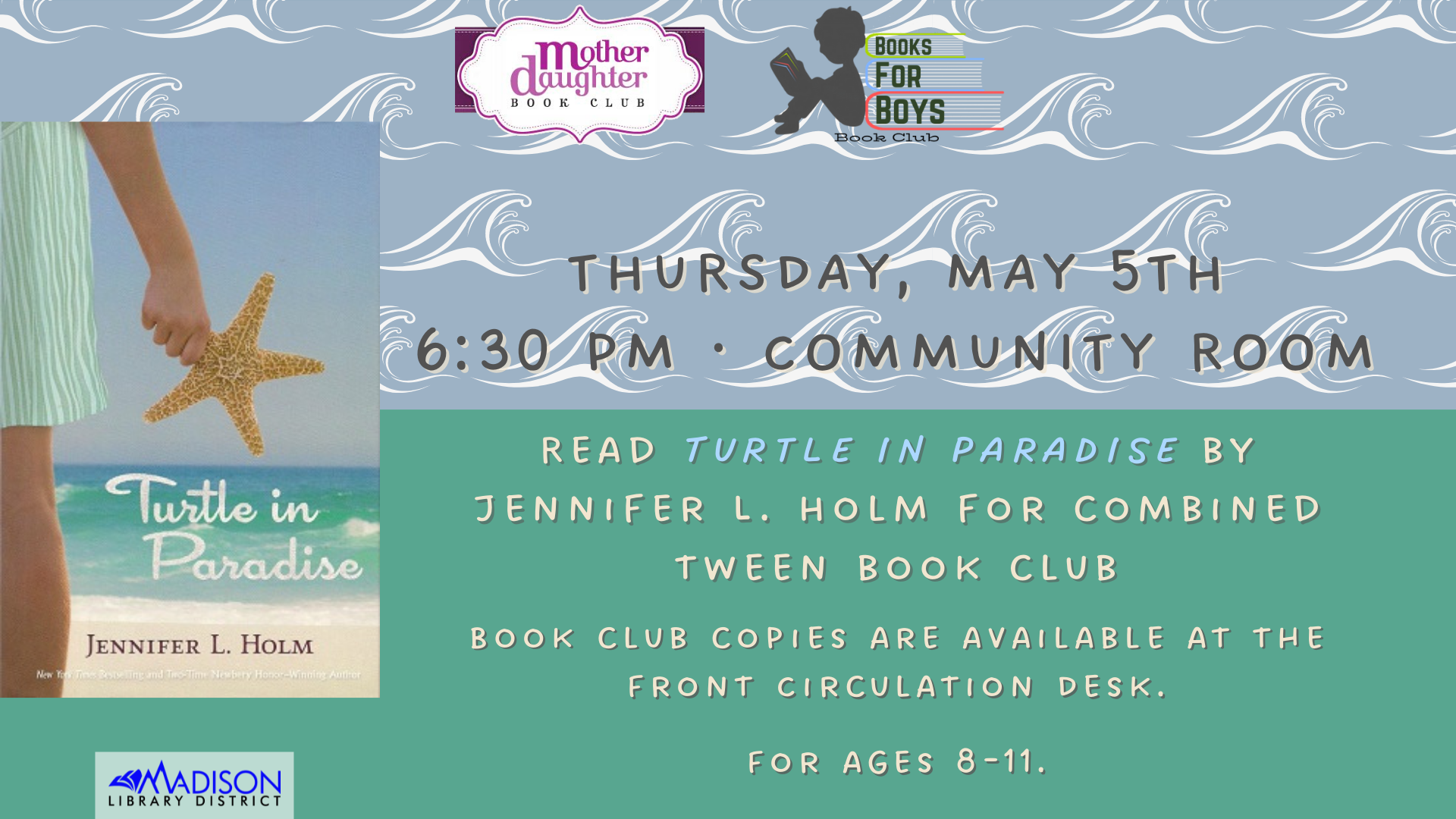 COMBINED TWEEN BOOK CLUB
 
Discuss the book Turtle in Paradise by Jennifer L. Holm while having lots of fun! 
Thursday, May 5th at 6:30pm in the Community Room. 
For ages 8-11.
Books for Boys and Mother Daughter Book Club will return in the Fall! Enjoy the Summer Reading challenges!
CREATIVE WRITING CLUB
Share your writing with other storytelling enthusiasts or join to make friends!
Due to popular demand, this will now be a bi-monthly activity.
Wednesday, May 11th. 6pm in the Community Room
Wednesday, May 18th. 6pm in the Activity Room 
For ages 19+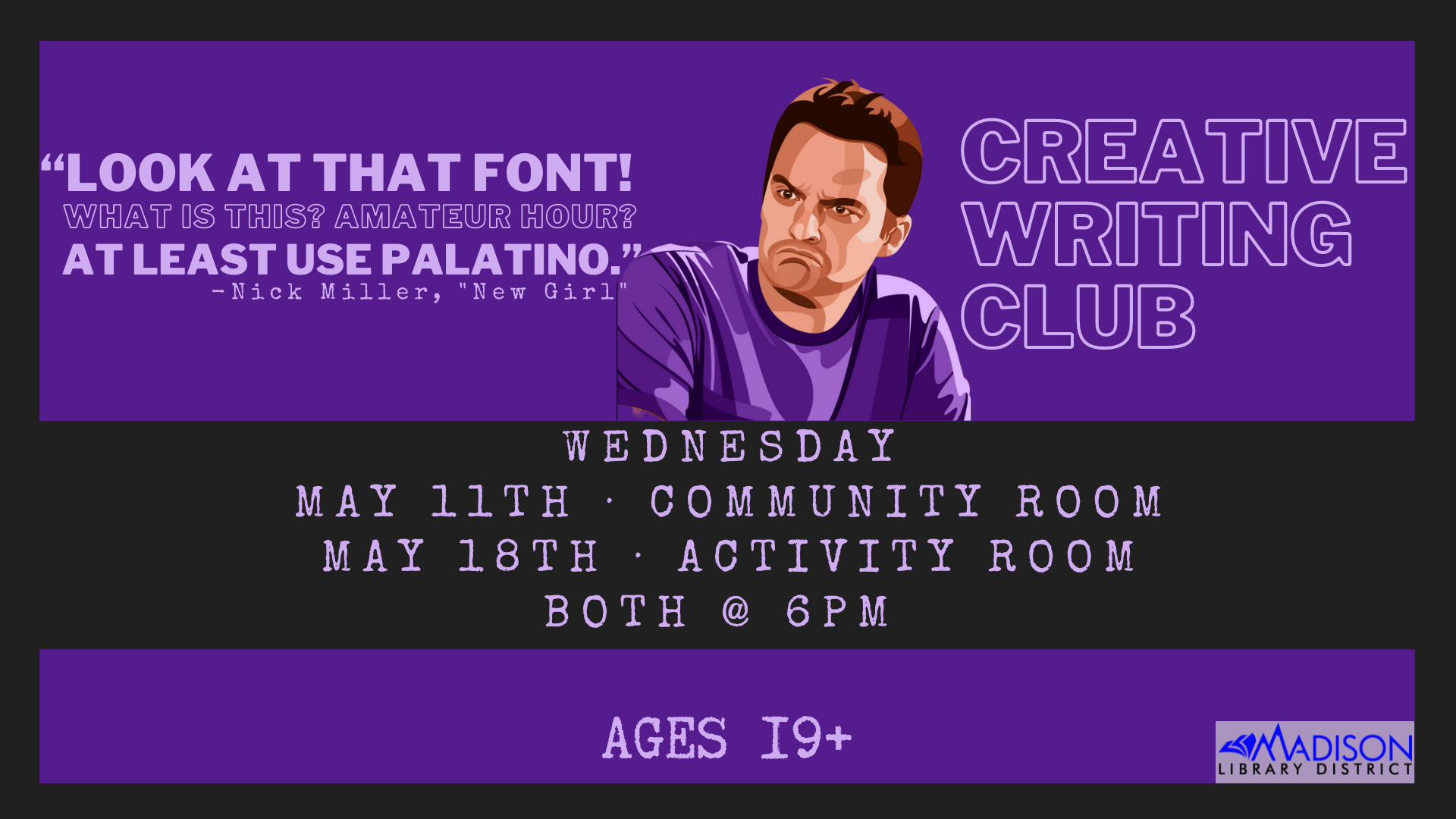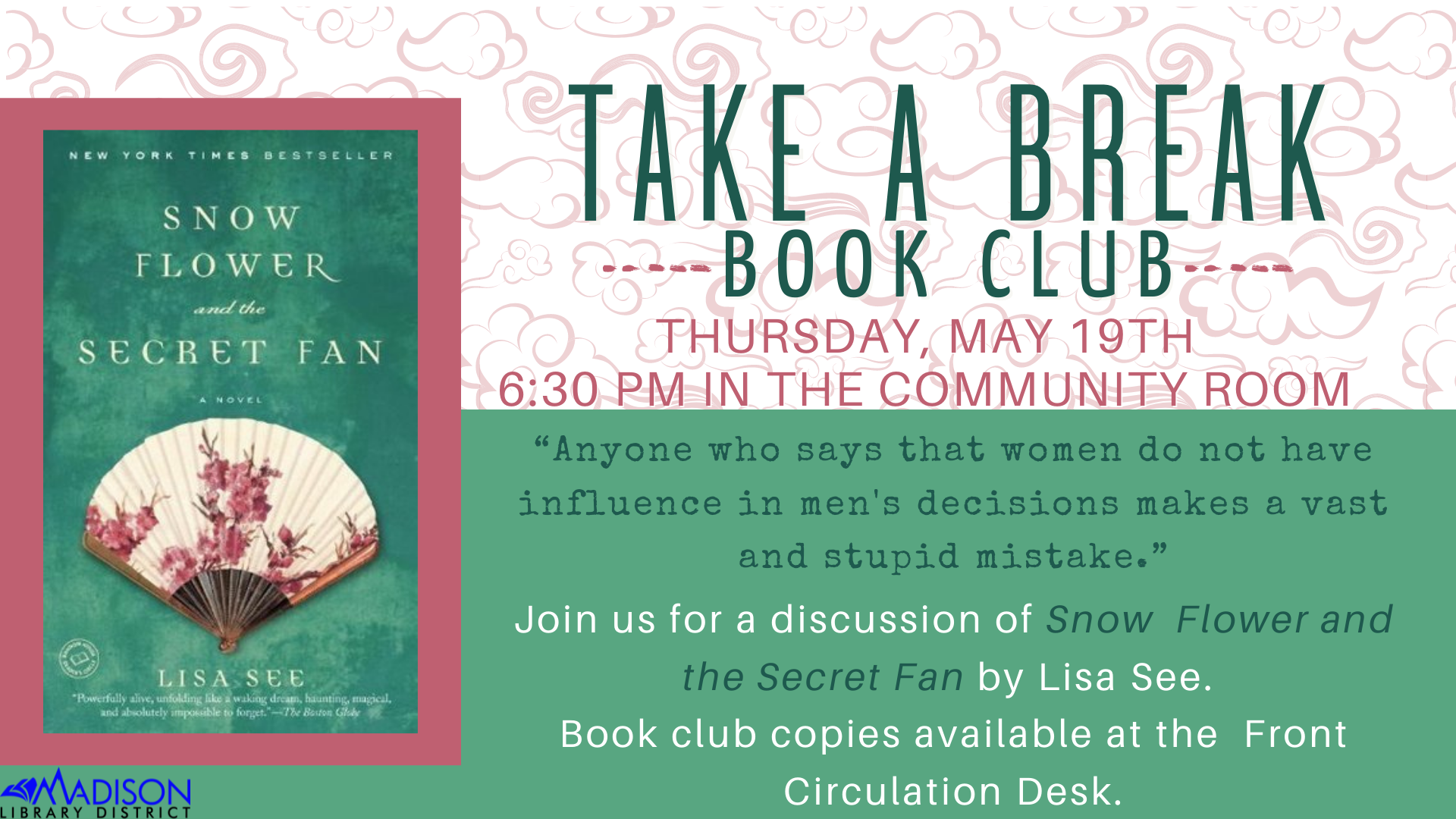 TAKE A BREAK BOOK CLUB
Read Snow Flower and the Secret Fan, by Lisa See. From Goodreads:
 "In nineteenth-century China, in a remote Hunan county, a girl named Lily, at the tender age of seven, is paired with a laotong, "old same," in an emotional match that will last a lifetime. The laotong, Snow Flower, introduces herself by sending Lily a silk fan on which she's painted a poem in nu shu, a unique language that Chinese women created in order to communicate in secret, away from the influence of men.
As the years pass, Lily and Snow Flower send messages on fans, compose stories on handkerchiefs, reaching out of isolation to share their hopes, dreams, and accomplishments. Together, they endure the agony of foot-binding, and reflect upon their arranged marriages, shared loneliness, and the joys and tragedies of motherhood. The two find solace, developing a bond that keeps their spirits alive. But when a misunderstanding arises, their deep friendship suddenly threatens to tear apart."
Meet Thursday May 19th at 6:30pm. Book copies are available at the Front Circulation Desk, while supplies last.
Next month's Take A Break Book Club will be Bloody Jack by L.A. Meyer.
MEMORIAL DAY CLOSURE
The Library will be closed from Saturday, May 28th, until Monday, May 30th, for Memorial Day.
No items will be due and the book drop will remain open.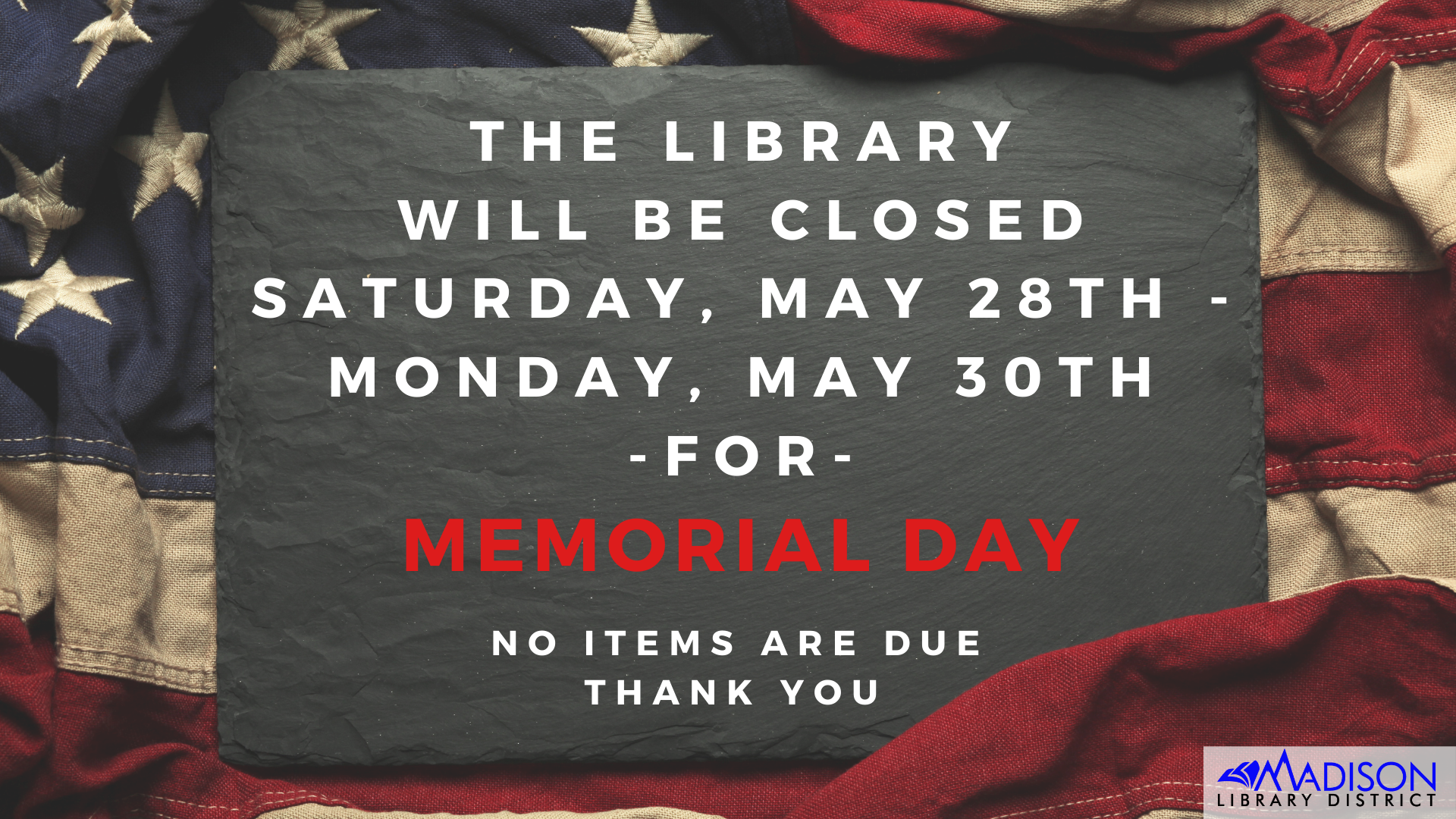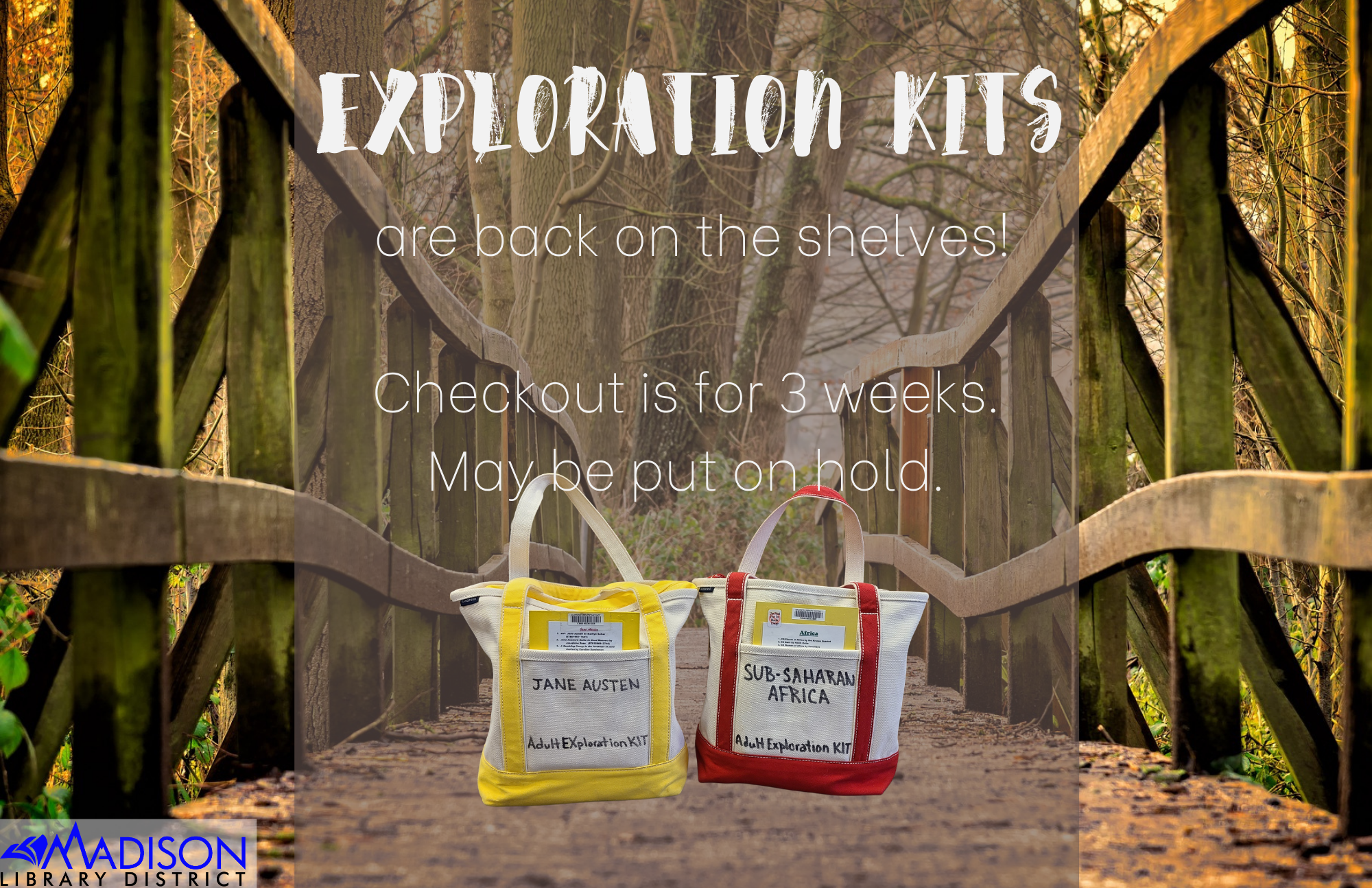 EXPLORATION KITS
The Adult Exploration Kits are back on the shelves! AND we have added some new and exciting topics!
Each kit is built to take you on a journey of learning. There are a myriad of subjects to choose from, including US Beginnings, Shakespeare, Cake, Bob Ross, National Parks, and more.
Some of the new options include Writing, Arthurian Legend, Egypt, and Leonardo da Vinci. 
Exploration kits may be checked out for three weeks.
To make it even easier on yourself, search our catalogue to put one on hold!  Simply use the catalogue search function and type in "Adult exploration kits" to view our many options.
PUZZLE + CHESS
The puzzle table is open to the public! Sit down and relax with our community puzzle. Contribute what you want and come back another day.
CHESS is located in the glass enclosure. Request a set from the Reference Desk.