"Illuminae" by Aimee Kaufman and Jay Kristoff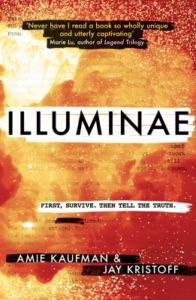 Written through IM, email, and classified reports, this book tells the story of Kady and her fight to save her ship (and maybe her very recently ex-boyfriend, if she can swing it). When her mining outpost is attacked by a competitor, only a few thousand people make it to the three ships fleeing for safety. Those ships head for the nearest location with a transport portal, more than six months away. They are stalked by the enemy, a well armed attack vessel. Throw in a twist with a rogue AI and a killer virus, and this makes for one great story.
When you read a 600 pg book in 1 day, you know it was good! I loved These Broken Stars, and this has that same feel to it. The uniqueness comes in the style it was written in, including the wonderful pages with the ships flying through space. It also includes schematics of the ship and the distance the characters have to travel in order to make it out alive. All of this works together along with the text itself to create a great visual story. If you enjoy this one, book two, Gemina, is also available (and just as fantastic). Book three should be available late 2017.
Professional reviews:
 "Hints of romance and references to Stanley Kubrick's 2001: A Space Odyssey interweave with the text, itself an arresting visual experience that weds form with expression and content."
–Booklist, starred review