The wait is over! 
The official Teens' Top Ten list is now available.  Did your favorite make the list?
Read full descriptions and find the books in our catalog!

The voting has ended, and you've made your choice.  Now see if your favorites ended up on the winner's list!
Find the full list on our website, and read the ones you missed.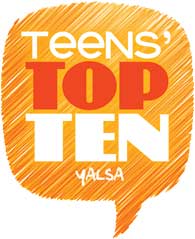 Voting is now open for the 2018 Teens' Top Ten!
There you can see the full list of nominees and see if they're checked in or not.  Did you read them all? Which ones were your favorites?
(Teens only please! Other ages will be able to vote for our Madison Choice Awards shortly!)
Watch YALSA's Video announcement of the nominees: