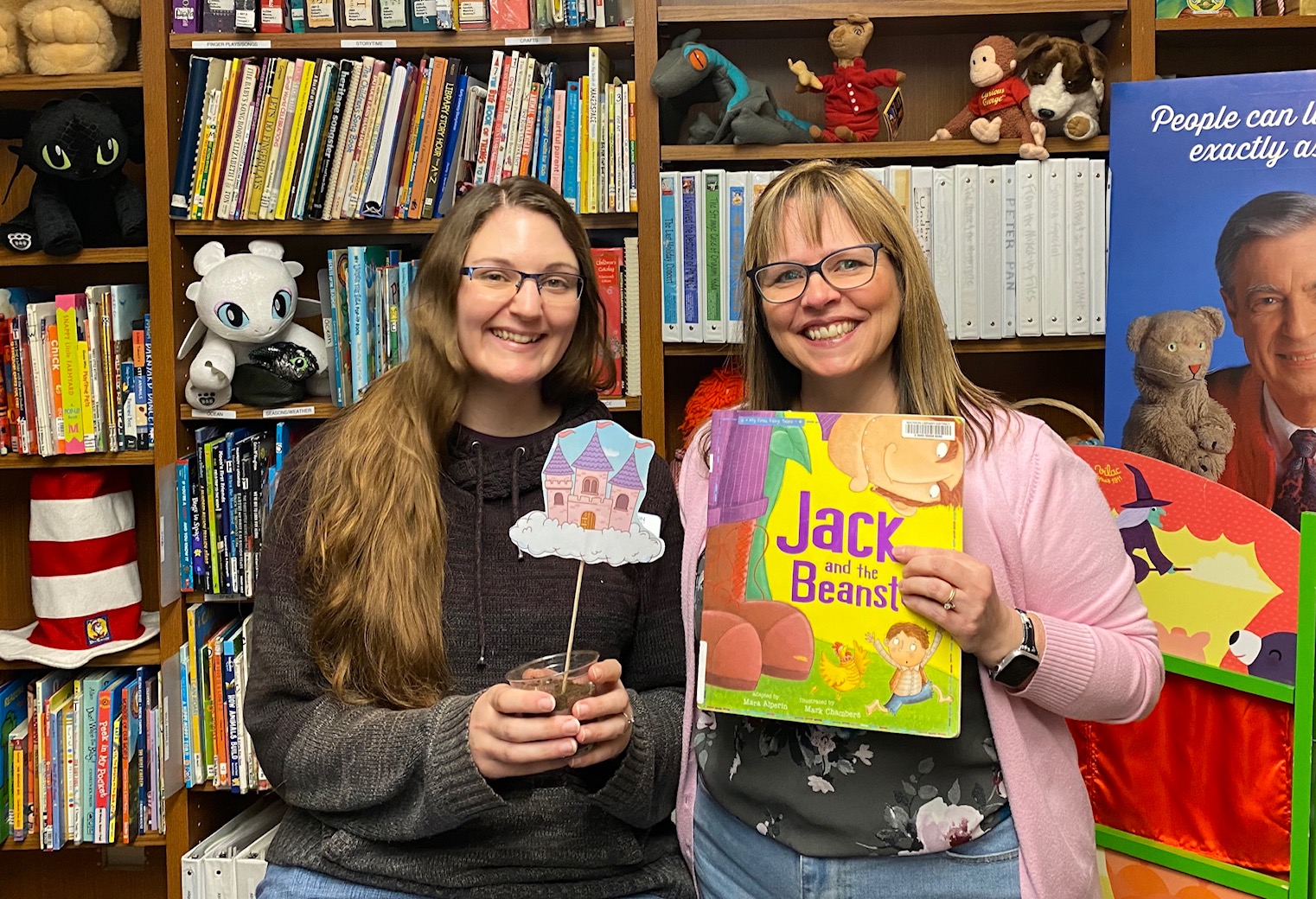 Story Time – June 30, 2020
Story Time – June 30, 2020
Has your child seen the giant beanstalk here in the library? We grew one in story time, too! Jack and the Beanstalk is a great story to talk about the things that a seed needs to grow, and it's not just magic! There are also seeds like kindness, or anger, which will also grow if we feed them. Try some of the activities and books below with your child to see what kind of seeds you can grow.
Early Literacy Tip and Activity:
Tip
Some Nursery Rhymes help children develop narrative skills. Those skills will later help them understand what they read. Giving children aids, like flannel board pieces, help them to remember the sequence of a story and makes it easier for them to retell the story in the correct order. Try this at home!
Activity
Print off and cut out Jack and the Beanstalk flannel pieces. Velcro or magnet tape makes it easy to place them on a board, or you can tape them to a straw. Then read Jack and the Beanstalk with your child from a book or online, and have them retell the story in their own words using the flannel pictures as a prompt.
Jack and the Beanstalk
adapted by Mara Alperin
When Jack climbs up an enormous beanstalk, he discovers a giant's castle high up in the clouds. But the giant like to eat little boys … How will Jack ever escape?
Find it in Our Catalog
From Seed to Plant
by Gail Gibbons
Explores the intricate relationship between seeds and the plants which they produce.
Find it in Our Catalog
Seeds
by Carme Lemniscates
Seeds harbor immense potential. Like seeds, we can cultivate and nurture something wonderful.
Find it in Our Catalog
We Are Growing!
by Laurie Keller
Walt is not the tallest or the curliest or the pointiest or even the crunchiest. A confounded blade of grass searches for his 'est' in this hilarious story about growing up.
Find it in Our Catalog
Songs, Rhymes and Fingerplays
If You're Jack and You Know it
If you're Jack and you know it climb the beanstalk
If you're Jack and you know it grab the hen (ba-kaw!)
If you're Jack and you know it run away
If you're Jack and you know it use your axe (chop chop!)
If you're Jack and you know it take a rest
– Librarybonanza.com
Two Little Blackbirds
Two little blackbirds sitting on a hill,
One named Jack and the other named Jill
Fly away Jack, fly away Jill,
Come back Jack and come back Jill!
– Pasadena-library.net
Here is a Giant
Here is a giant who is tall, tall, tall.
And here is an elf who is small, small small.
The elf who is small will try, try, try
To reach the giant who is high, high, high.
– Storytimesecrets.blogspot.com
The Grand Old Duke of York
The Grand Old Duke of York
The Grand Old Duke of York
He had ten thousand men.
He marched them up to the top of the hill
And marched them down again!
And when they're up, they're up.
And when they're down, they're down.
And when they're only half-way up,
They're neither up nor down!
He marched them to the left
He marched them to the right.
He marched them to the top of the hill
And marched them out of sight.
– Traditional
Five Fat Peas
Five fat peas in a pea pod pressed (hold up five fingers)
One grew (hold up one finger)
Two grew (hold up two fingers)
And so did the rest (hold up the rest of your fingers)
They grew and they grew and they did not stop (open and shut hands)
Until one day, the pod went pop! (clap hands together on pop)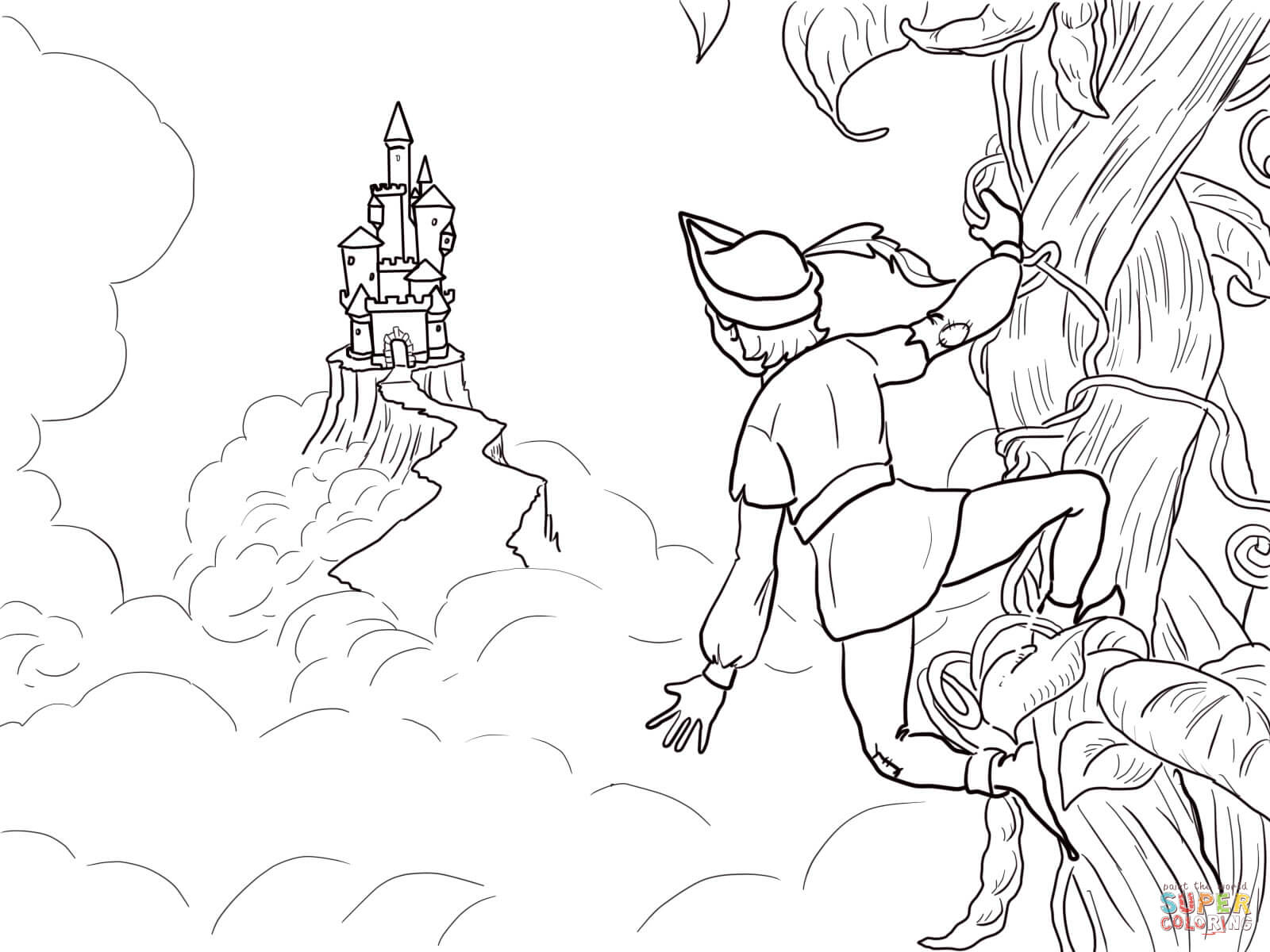 Print out this Jack and the Beanstalk coloring page or color online!
This craft is a fun combination of a fairy tale and science experiment! It's a great opportunity to teach children about what plants need in order to grow.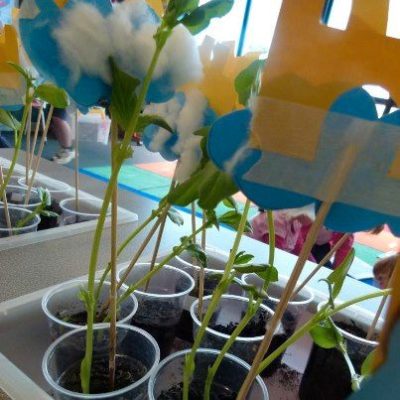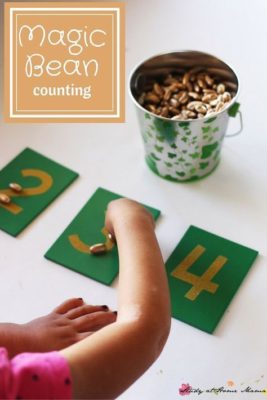 Count magic beans in this fun math activity!
There's a Hole in my Garden
by James Stewart
A little boy shows what happens when he drops larger and larger objects, both in terms of size and imagination, down a mysterious hole that grows throughout the year in his garden.
Find it in Our Catalog
So You Want to Grow a Taco?
by Bridget Heos
A young boy learns about the many ingredients needed to make a taco, including how to grow corn and make tortillas.
Find it in Our Catalog
A Bean, a Stalk, and a Boy Named Jack
by William Joyce
A magic bean and an ordinary boy solve a royal problem for King Blah Blah Blah.
Find it in Our Catalog
Stinky Jack and the Beanstalk
by Steve Smallman
Learn the importance of being clean with this hilarious story about smelly Jack!
Find it in Our Catalog