Story Time – Goldilocks Measures Things
Story Time – Goldilocks Measures Things
This week for story time we had a special guest – Goldilocks! Goldilocks loves to measure things. We learned how to use different units of measurement to see whether things are small, medium, or large.
Early Literacy Tip and Activity:
Tip
Learning through play is relaxed, fun & creative. Through a single enjoyable activity. you child can learn about following directions, taking turns, and showing appreciation to others, all skills that are necessary for healthy development.
Activity
Recite the "Hickory, Dickory, Dare," rhyme while holding a small, stuffed bear or a beanbag. Throw the bear up in the air and catch it. Then give your child a chance to toss the bear. Very young children might need a parent to guide their hands as they toss the animal. Make sure to clap and congratulate her efforts. This is a great family activity where everyone can clap for and encourage each other.
The Three Bears
by Paul Galdone
Three bears return from a walk and find a little girl asleep in the little wee bear's bed.
Find it in Our Catalog
I Thought This was a Bear Book
by Tara Lazar
Prince Zilch from Planet Zero crash lands in the Three Bears story, and it is up to baby bear to figure out a way to get him back to his own book.
Find it in Our Catalog
  The little mouse, the red ripe strawberry, and the big hungry bear / El ratoncito, la fresa roja y madura y el gran oso hambriento

por Don y Audrey Wood; traducido por Teresa Mlawer
El ratoncito hara cualquier cosa para evitar que el gran oso hambriento le quite su fresa.
Encuéntralo en nuestro catálogo
The Little Mouse, the Red Ripe Strawberry, and the Big Hungry Bear
by Don and Audrey Wood
Little Mouse worries that the big, hungry bear will take his freshly picked, ripe, red strawberry for himself.
Find it in Our Catalog
A Den is a Bed for a Bear
by Becky Baines
Welcome to the snug world of bear dens. Kids will explore these intriguing places, and find our how, when, and why they are used.
Find it in Our Catalog
Songs, Rhymes and Fingerplays
Zoom, Zoom, Zoom
Zoom, zoom, zoom, We're going to the moon
If you want to take a trip, Climb aboard my rocket ship
Zoom, zoom, zoom I'm going to the moon!
Far, far far, We're going to the stars…
Fun, fun, fun, We're going to the sun…
Hickory Dickory Dare
Hickory Dickory Dare.
The bear flew up in the air!
The man in brown soon brought him down,
Hickory Dickory Dare.
– Traditional
Three Brown Bears
(To the tune of Three Blind Mice)
Three brown bears, three brown bears.
See all their beds, see all their chairs.
The mommy cooked in a big brown pot.
The daddy's porridge was much too hot,
The baby bear always cried a lot.
Three brown bears.
– Jocolibrary.org

Assemble this Goldilocks and the Three Bears puzzle online!
Create your own Goldilocks story with the template available below!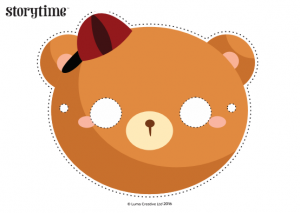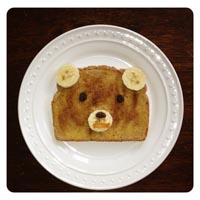 Make and eat this tasty bear toast snack!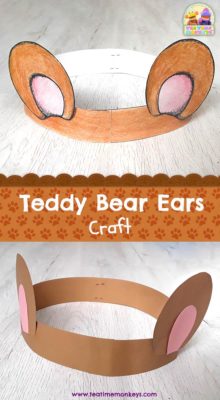 Goldilocks and the Three Dinosaurs
as retold by Mo Willems
Once upon a time, there were three hungry Dinosaurs. They were definitely not setting a trap for some succulent, unsupervised little girl. Definitely not!
Find it in Our Catalog
Explorers of the Wild
by Cale Atkinson
A bear and a boy who both love exploring learn to share their adventures together.
Find it in Our Catalog