Family Friendly Film Nights
Come watch a movie at the library! Every Tuesday at 4pm in the Community Room.
Oct 5th: Boss Baby: Family Business
Oct 12th: Scooby-Doo: Straight Outta Nowhere
Oct 19th: Space Jam: A New Legacy
Oct 26th: Hocus Pocus
Children under 12 must be accompanied by someone 14 or older.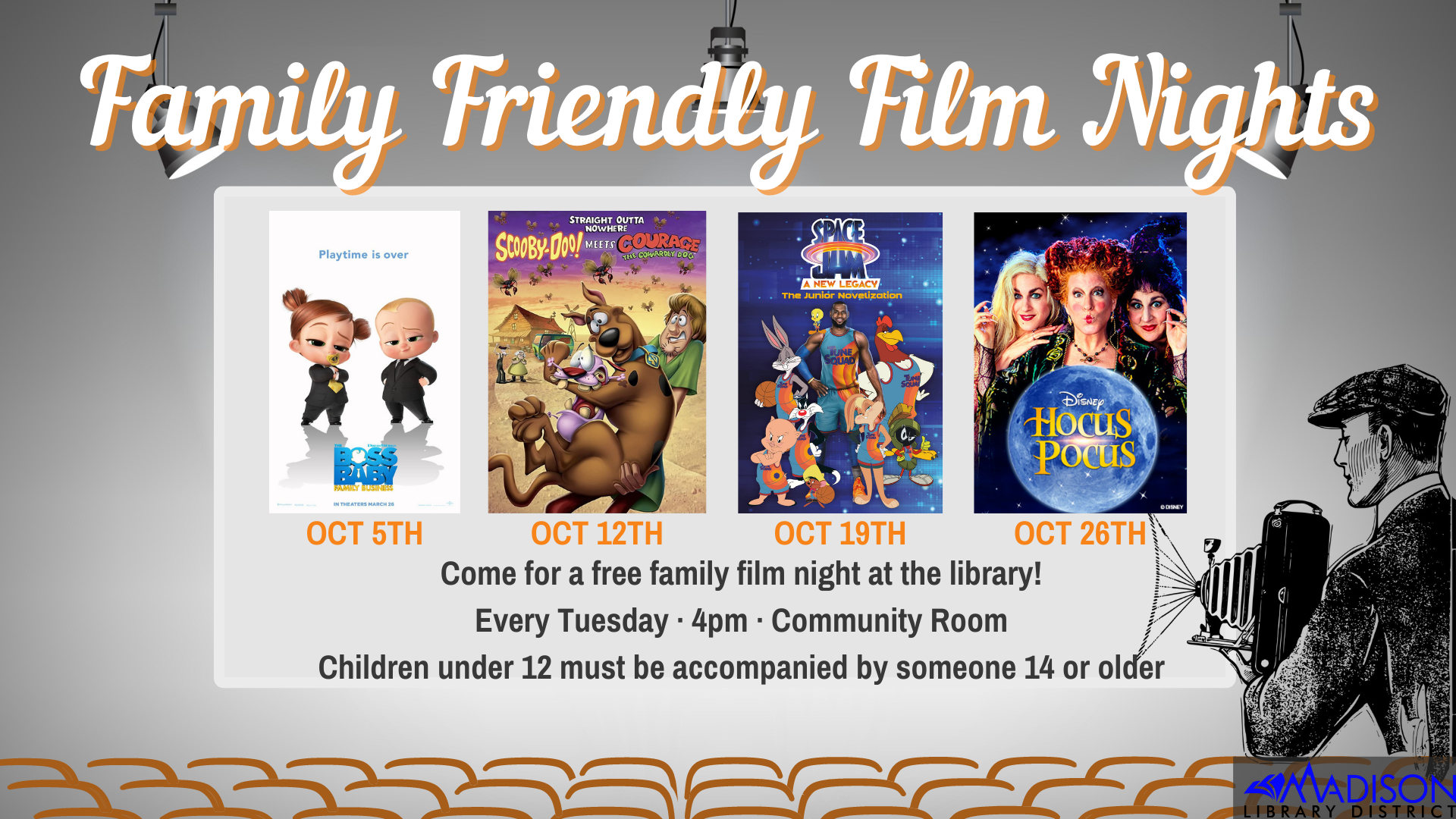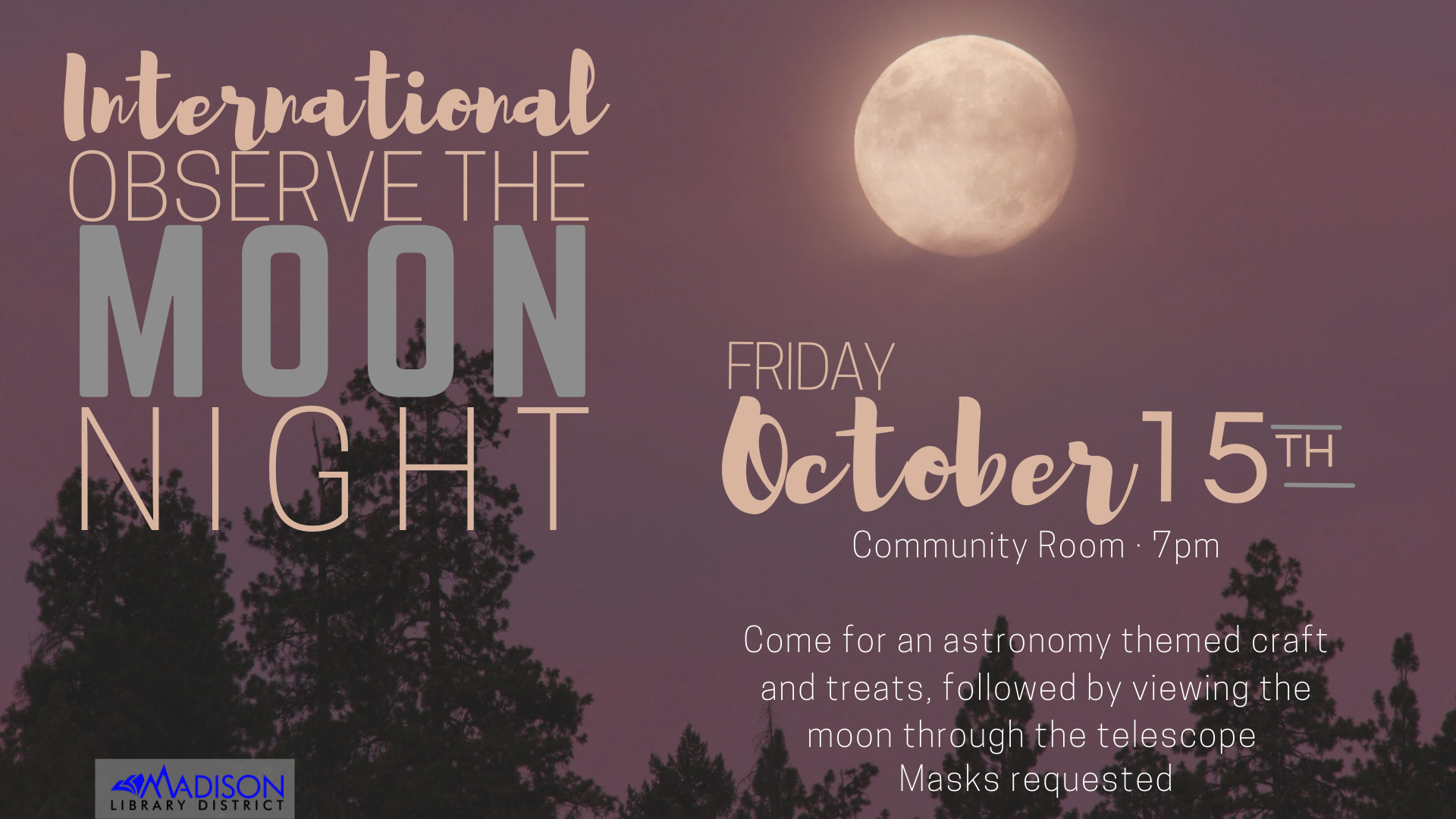 International Observe the Moon Night

Join fellow moon lovers (or Selenophiles) to observe the moon. 
Friday, October 15th, at 7pm. Masks are requested.
From NASA: "International Observe the Moon Night occurs annually in September or October, when the Moon is around first quarter ― a great phase for evening observing. Furthermore, a first-quarter Moon offers excellent viewing opportunities along the terminator (the line between night and day), where shadows enhance the Moon's cratered landscape."
The Library Book Club will next meet on Thursday, October 21st, at 6:30pm. 
The book will be The Sweetness at the Bottom of the Pie by Alan Bradley:
It is the summer of 1950–and at the once-grand mansion of Buckshaw, young Flavia de Luce, an aspiring chemist with a passion for poison, is intrigued by a series of inexplicable events: A dead bird is found on the doorstep, a postage stamp bizarrely pinned to its beak. Then, hours later, Flavia finds a man lying in the cucumber patch and watches him as he takes his dying breath.
For Flavia, who is both appalled and delighted, life begins in earnest when murder comes to Buckshaw. "I wish I could say I was afraid, but I wasn't. Quite the contrary. This was by far the most interesting thing that had ever happened to me in my entire life."

Copies are available at the Front Circulation Desk.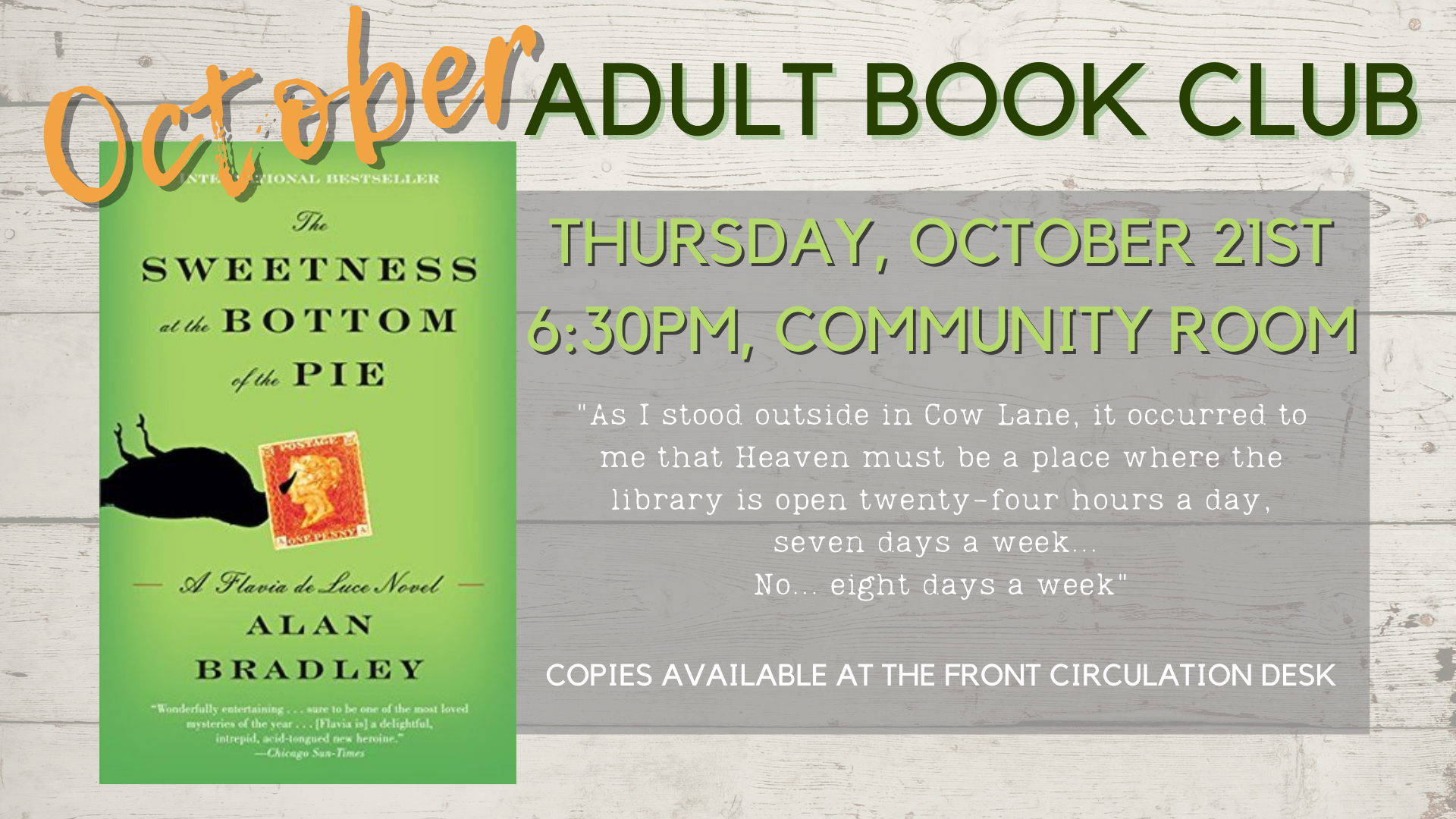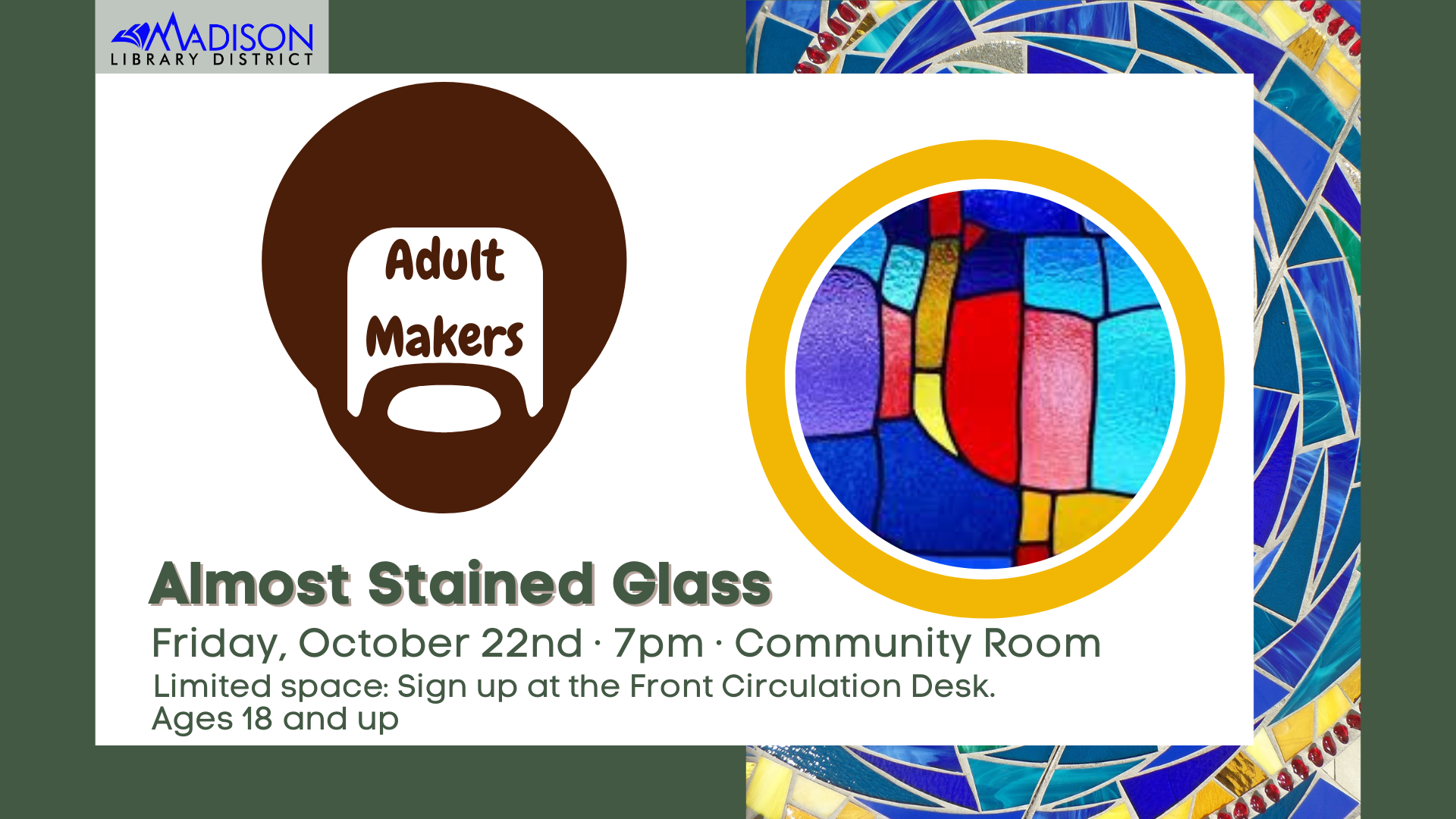 Adult Makers: Almost Stained Glass

Friday, October 22nd at 7pm in the Community Room

Make a fake stained glass piece with specialty paints and liquid leading on Plexiglass.
LIMITED SPACE: SIGN UP at the Front Circulation Desk
Masks encouraged
Make It @ Your Library – Cardboard Day
What can you make with a carboard box? A cat? A castle? Or perhaps you've got you mind set on something huge and incredible like a dragon!
What ever your imagination inspires, we've got the tools, and some you can keep, too! So come one and all for our cardboard challenge day!
Saturday, October 23rd at 11am to 3pm.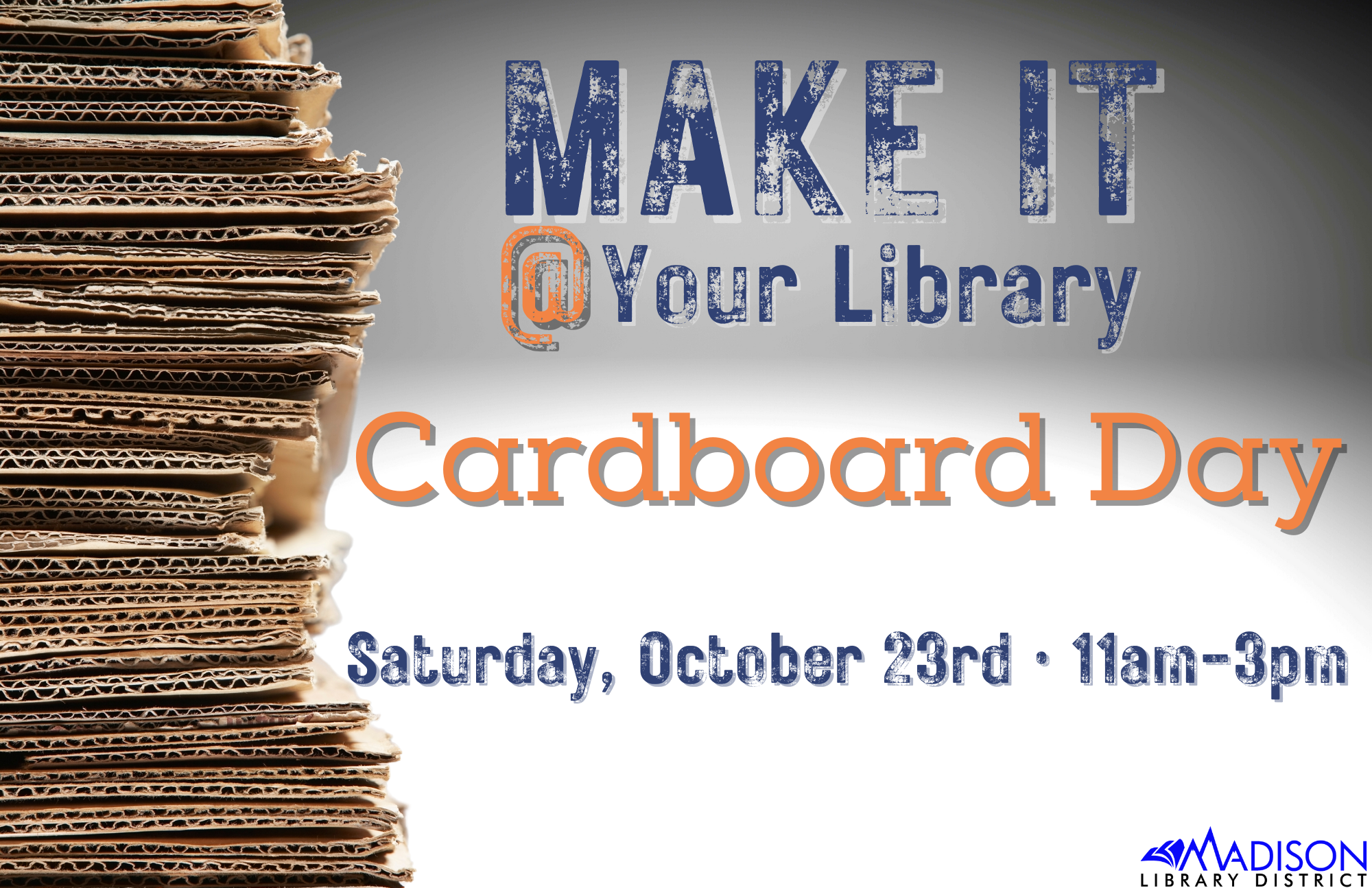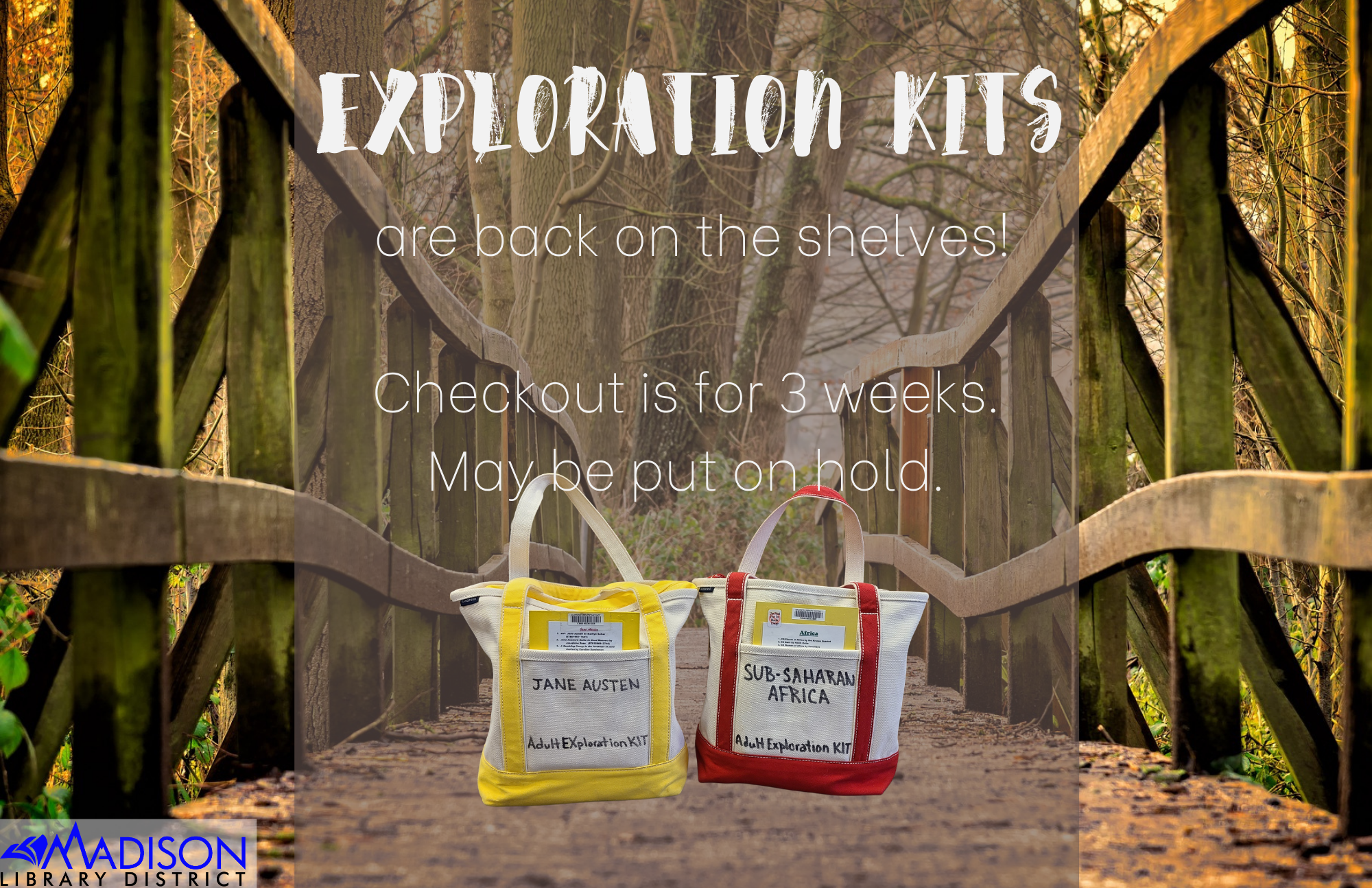 EXPLORATION KITS
The Adult Exploration Kits are back on the shelves!
Each kit is built to take you on a journey of learning. There are a myriad of subjects to choose from, including US Beginnings, Shakespeare, Cake, Bob Ross, National Parks, and more.
Exploration kits may be checked out for three weeks.
To make it even easier on yourself, search our catalogue to put one on hold!  Simply use the catalogue search function and type in "Adult exploration kits" to view our many options.
PUZZLE + CHESS
The puzzle table is open to the public! Sit down and relax with our community puzzle. Contribute what you want and come back another day.
CHESS is located in the glass enclosure. Request a set from the Reference Desk.