"New Boy" by Tracy Chevalier
Wow!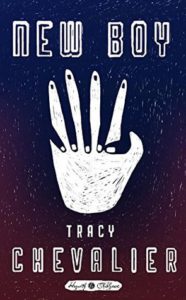 I've had reservations about Othello in the past. How could such a brave, wise, worldly man be so completely gullible? Emilia seems like a decent human being. How could she have possibly married Iago and why would she ever help him?
In Tracy Chevalier's retelling, it all makes sense. Immature, insecure twelve year olds? Early 70's? Yes, this fits and is gripping, powerful. The ending was a jolt. OK, Osei doesn't physically kill sweet little Dee, but there's no happy, playground ending here. It is Othello, after all.
I have to add that this is the third of the Hogarth Shakespeare retellings that I've read and all of them have been incredibly well done, the right authors paired with tales appropriate to their talents. I look forward to many more.