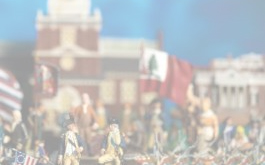 "Lafayette in the Somewhat United States" by Sarah Vowell
I'd never read any Sarah Vowell before this book. What a wasted life.
Here is a summary of the book from Goodreads:  On August 16, 1824, an elderly French gentlemen sailed into New York Harbor and giddy Americans were there to welcome him. Or, rather, to welcome him back. It had been thirty years since the Revolutionary War hero the Marquis de Lafayette had last set foot in the United States, and he was so beloved that 80,000 people showed up to cheer for him. The entire population of New York at the time was 120,000. 
Lafayette's arrival in 1824 coincided with one of the most contentious presidential elections in American history, Congress had just fought its first epic battle over slavery, and the threat of a Civil War loomed. But Lafayette, belonging to neither North nor South, to no political party or faction, was a walking, talking reminder of the sacrifices and bravery of the revolutionary generation and what they wanted this country to be. His return was not just a reunion with his beloved Americans, it was a reunion for Americans with their own astonishing singular past. 
Reading Lafayette in the Somewhat United States is like hanging out with an intelligent, insightful and snarky friend. Vowell's history is well researched, drawing heavily on primary resources. Her telling of it shows us rounded human beings rather than glorified works of venerated sculpture and draws enough parallels with contemporary culture to give pause. This book is as full of "Oh, my heck, I never realized that!'s" as it is with full out guffaws.
I'm starting Unfamiliar Fishes right now.