"Steelheart" by Brandon Sanderson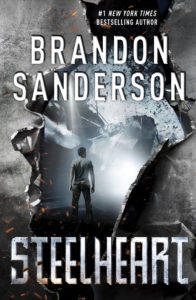 This is my very first sci-fi read and it went surprisingly well. I have always placed sci-fi on this horrible top shelf in the back of my mind where I know I will never bother looking. Thankfully, my husband has great taste in books and insisted I read this book (or anything by Brandon Sanderson, really). I started this book three times before actually committing to it, mostly because I was sure I wouldn't find it interesting. However, Brandon Sanderson wastes no time in introducing the world of Newcago to the reader. Once I really gave it a chance, I was hooked.
After a quick preface, you get right into the action. The book follows orphaned teenager David who yearns to join a rebel group known as the Reckoners and aid in their efforts to end the Epics rule in Newcago. The constant action and forward pace of the book don't disappoint and, to my surprise, left me wondering why I had waited so long to read this book. Steelheart caught my attention with humorous characters, unexpected twists, and a "leave-you-wanting-more" cliffhanger.
If you love sci-fi, read this book. If you don't love sci-fi, read it anyway; it will change your mind.