"A Darker Shade of Magic" by V.E. Schwab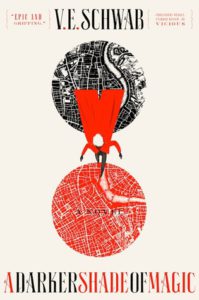 In this fantasy series, instead of one London, there are four: Black, Red, White, and Grey. Each London had it's own magic source, and travelers could move freely between the different cities. Now that has changed. Many years ago, the magic of Black London overcame its people, and that city was sealed off to protect the other three. The results of that action was to create three very different cities that only a few people can travel between. Red London still has its amazing power source and is full of magic. Grey London lost all access to magic and has forgotten about its existence. And White London, the barrier between Black London and the others, has become corrupt and overrun by tyrants. All of this was accepted and stable until Kell, the traveler for Red London, makes a horrible error in judgement, sending him on a life and death adventure. Along the way, he meets Lila, self-proclaimed pirate and street thief. Can this mismatched pair save the world?
This book has so much going on. A strong hero and heroine. Plenty of action and suspense. And a unique premise that really makes the reader think.
I loved what Schwab did with the parallel cities and how they could interact. The world building was well done and everything was explained nicely. Lila and Kell are awesome characters, each with their faults and strengths. Can't wait for book 2 of this series to see what happens next!
Professional Review:
"Schwab (Vicious) creates an ingenious set of nesting alternate Londons in this imaginative, well-crafted fantasy. Confident prose and marvelous touches-a chameleon coat, a scarlet river of magic, a piratical antiheroine-bring exuberant life to an exhilarating adventure among the worlds." ―Publishers Weekly, starred review