"The Last Days of Night" by Graham Moore is an Electrifying Read
Everyone should read this book! What are you looking for in a novel?
Legal thriller? – check.
Espionage? – check
Romance? – check
Techno suspense? – check
Dastardly villains? – check
Truly innocent souls? – check
Laugh out loud humor? – check
Gasps of horror? – check
Social commentary? – check
History? – check
Science? – check
A book that makes you smarter? – check
And doesn't hurt while doing it? – check
An incredibly well written bit of historical faction surrounding legendary figures that most of us know little about. Only a story based in reality could be this weird. Edison vs. Westinghouse joining with Tesla – and sure, why not, let's get Bell involved as well! I really appreciated Mr.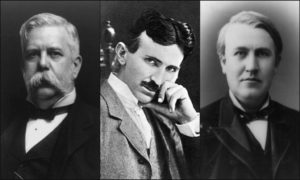 Graham's brief end notes explaining what was and was not real. (Almost all of it was. The biggest change was condensing the timeline of the events.) This book is a mind-blowing page turner that I would recommend to, literally, everyone! An electrifying read! (Sorry, couldn't help myself – but it really is.)