"The Hot Bread Kitchen Cookbook" by Jessamyn Rodriguez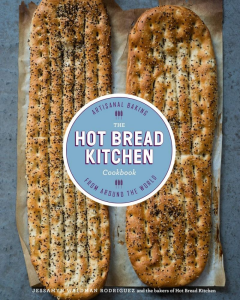 I almost hate to draw attention to this book – because then someone else will want it, and I'll have to bring it back.
For the past few weeks, I've been having a great time hovering around my oven and trying recipes from The Hot Bread Kitchen by Jessamyn Rodriguez and Julia Turshen. Rodriguez and Turshen operate a bakery in New York City where they hire immigrant women to share the secrets of their homelands. This book is loaded with amazing recipes from around the world. So far, I've made focaccia (much easier than I would have thought,) pita bread (very tasty but much messier than I would have imagined,) naan-e qandi (an Iranian sweet bread that is definitely going into the "keep" file in spite of the eight hour rise time,) and Guyanese coconut buns (which are so good and so easy that I'll probably make them far too frequently for my waistline.) I think Moroccan m'smen may be next, or maybe sesame lavash. Just nobody request this book until I work my way entirely through! Ahhhh, OK, I'll share. Do yourself a favor and try the coconut buns. Really, your waistline will curse you for it, but the rest of you will dance with joy.