Story Time – April 7, 2020
Story Time – April 7, 2020
This week, we had fun with our family!
We listened to books, sang songs, learned a fingerplay about the members in our family, and saw how to make a My Hand Family Tree with things you might have at home! Below you will find not only the books presented, but links to other online books that you can share with each other. For the "read along" book videos, try muting the volume and reading the text with your child.
Also, if you haven't already done so, now would be a good time to sit down with your child/ children and fill out the 2020 Census (we have included a link.) You might talk about how important the Census is for finding ancestors in your family tree. Have a happy family week!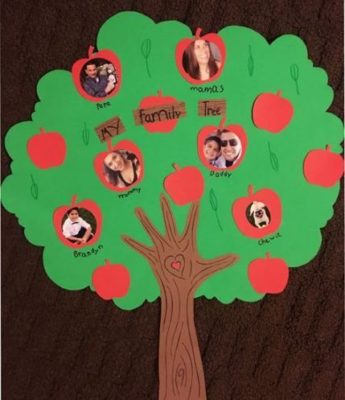 Use your child's hand and arm to create the trunk of a Family Tree out of paper.  Cut more paper for the tree leaves.  Paper apples can be made for each member of the family.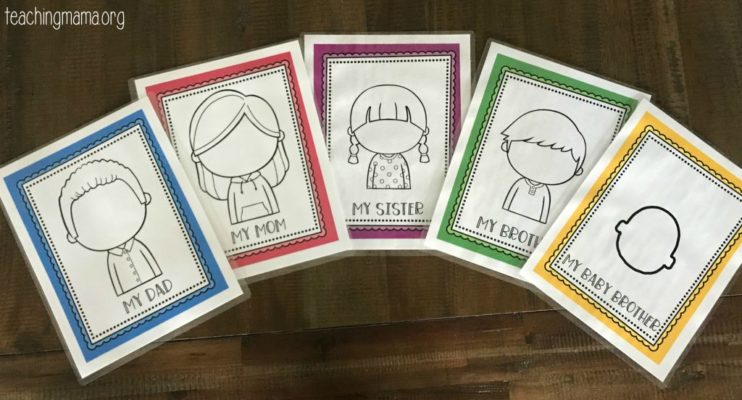 Use these fun templates to make a face for each family member.  Your child can then use play dough to fill in the features for each person.
Fingerplays and Movement Songs
A House for Me
This is a nest for Mr. Bluebird (cup hands together)
This is a hive for Mrs. Bee (make a fist)
This is a hole for bunny rabbit (make a circle with thumb and forefinger)
And this is a house for me (place fingertips together to form a roof peak over head).
-www.notimeforflashcards.com
With My Family
(Sung to the tune of The Muffin Man)
Tell me what you like to do
Like to do, like to do.
Tell me what you like to do
With your family.
(Sally*) likes to (clap her hands**)
Clap her hands, clap her hands.
Sally likes to clap her hands
With her family.
* insert child's name
** insert chosen activity
–www.notimeforflashcards.com
These are Grandma's Glasses
Recite first verse in a high pitched voice:
These are Grandma's glasses (Make glasses over eyes with fingers)
This is Grandma's hat (Place hands on top of head)
And this is the way she folds her hands (Clasp hands together)
And lays them in her lap (Place hands in lap).
Recite second verse in a deep voice:
These are Grandpa's glasses (Make bigger glasses shapes over eyes with fingers)
This is Grandpa's hat (Place hands over head to form a large hat)
And this is the way he folds his arms (Cross arms)
And takes a little nap (Place head on arms as if sleeping).
–www.notimeforflashcards.com
Baking Day at Grandma's
by Anika Denise
Three bouncing little bear siblings, wrapped tight in their winter clothes, can't wait to tromp through the snow for Baking Day at Grandma's!
Find it in our Catalog
Bark, George
by Jules Feiffer
"Bark, George," says George's mother, and George goes: "Meow," which definitely isn't right, because George is a dog. What's going on with George?
Find it in our Catalog
Splat and the New Baby
by Rob Scotton
Splat the Cat can't wait to be a big brother. So when his mom brings home a special little guest, Splat races from his room, only to find his mom holding . . . a crocodile?!
Hair Love
by Matthew A. Cherry
Zuri's hair has a mind of its own. When mommy does Zuri's hair, she feels like a superhero. But when mommy is away, it's up to daddy to step in!
Find it in our Catalog
Dog Breath
by Dav Pilkey
Hally, the Tosis family dog, has such bad breath that Mr. and Mrs. Tosis plan to give her away, until she proves to be an invaluable watchdog.
Find it in our Catalog
No Mirrors in My Nana's House
by Ysaye Maria Barnwell
A little girl discovers the beauty in herself–and the beauty of the world around her–not by looking in the mirror but by looking in her Nana's eyes.
Mama, Do You Love Me?
by Barbara M. Joosse
In this universal story, a child tests the limits of independence and comfortingly learns that a parent's love is unconditional and everlasting.
Find it in our Catalog
Jazz Baby
by Lisa Wheeler
With a simple clap of hands, an itty-bitty beboppin' baby gets his whole family singing and dancing.
My Rotten Redheaded Older Brother
by Patricia Polacco
There's nothing worse than a rotten redheaded older brother who can do everything you can do better!
Dad and the Dinosaur
by Gennifer Choldenko
Nicholas wants to be as brave as his dad, but he needs help. That's why he needs a dinosaur.
Find it in our Catalog
Lucky Pennies and Hot Chocolate
by Carol Diggory Shields
A grandfather and his grandson enjoy sharing knock-knock jokes, playing games, hot chocolate, watching movies, reading books, playing baseball and just spending time together.
Find it in our Catalog
The 2020 Census
Make Sure You're Counted!
The results of the 2020 Census will help determine how hundreds of billions of dollars in federal funding flow into communities every year for the next decade. That funding shapes many different aspects of every community, no matter the size, no matter the location. 
Over the next decade, lawmakers, business owners, and many others will use 2020 Census data to make critical decisions. The results will show where communities need new schools, new clinics, new roads, and more services for families, older adults, and children. The results will also inform how hundreds of billions of dollars in federal funding are allocated to more than 100 programs, including Medicaid, Head Start, block grants for community mental health services, and the Supplemental Nutrition Assistance Program, also known as SNAP. The results of this once-a-decade count determine the number of seats each state has in the House of Representatives. They are also used to draw congressional and state legislative districts.
Early Literacy Tip and Activity:
Tip
During the first years of life, an important set of skills known as problem solving abilities are developed. Get into the habit of asking questions during your daily story time that develop higher-order thinking skills. Instead of just reading and your child passively listening, ask questions throughout, concentrating on solving problems.
Activity
Help your child find a favorite book in your collection, or an e-book or "read along" video, and ask him questions similar to these:
Why do you think the bear did that?
Do you think his friend will be happy? Why?
What would you do if you were the monkey?
How do you think Peter can make things better with his friend?
If the crocodile had decided not to eat the rabbit, how could the story have ended?