"Lincoln in the Bardo" by George Saunders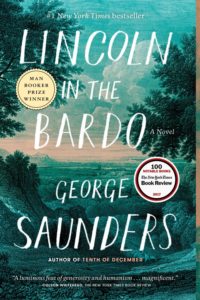 SUMMARY FROM GOODREADS:
February 1862. The Civil War is less than one year old. The fighting has begun in earnest, and the nation has begun to realize it is in for a long, bloody struggle. Meanwhile, President Lincoln's beloved eleven-year-old son, Willie, lies upstairs in the White House, gravely ill. In a matter of days, despite predictions of a recovery, Willie dies and is laid to rest in a Georgetown cemetery. "My poor boy, he was too good for this earth," the president says at the time. "God has called him home." Newspapers report that a grief-stricken Lincoln returned to the crypt several times alone to hold his boy's body.
From that seed of historical truth, George Saunders spins an unforgettable story of familial love and loss that breaks free of its realistic, historical framework into a thrilling, supernatural realm both hilarious and terrifying. Willie Lincoln finds himself in a strange purgatory, where ghosts mingle, gripe, commiserate, quarrel, and enact bizarre acts of penance. Within this transitional state—called, in the Tibetan tradition, the bardo—a monumental struggle erupts over young Willie's soul.
My Review: ★★★★★
This was absolutely not what I was expecting, and it took me a little while to get into the book and its rhythms. I had heard a lot about how good the audiobook was, so I started with that, but got too confused to follow the narrative. I started following the book along with the audiobook, then just dropped the audio altogether. This book is so unique, I don't really know how to describe it. Yet the story it tells fits in with the best of literary tradition. I found the characters throughout to be striking and original, yet with an understandable humanity that made them both relatable and sympathetic. The story has stayed with me since I finished it. I would strongly recommend this book, with the caveat that you stick with it until you get into the flow of the piece. This would be an easy book to give up on, and think that nothing is happening. However, I think you'll discover that everything is happening. This is a literary experience not to be missed.
Professional Reviews: 
"A luminous feat of generosity and humanism."—Colson Whitehead, The New York Times Book Review
"An extended national ghost story…As anyone who knows Saunders's work would expect, his first novel is a strikingly original production."—The Washington Post
"Saunders's beautifully realized portrait of Lincoln…attests to the author's own fruitful transition from the short story to the long-distance form of the novel."—Michiko Kakutani, The New York Times
"Devastatingly moving."—People
"Profound, funny and vital…the work of a great writer."—Chicago Tribune
"Heartbreaking and hilarious…For all its divine comedy, Lincoln in the Bardo is also deep and moving."—USA Today
"Along with the wonderfully bizarre, empathy abounds in Lincoln in the Bardo."—Time
"There are moments that are almost transcendentally beautiful, that will come back to you on the edge of sleep. And it is told in beautifully realized voices, rolling out with precision or with stream-of-consciousness drawl."—NPR