Michael L. Printz Award Winners
The Best Literature for Young Adults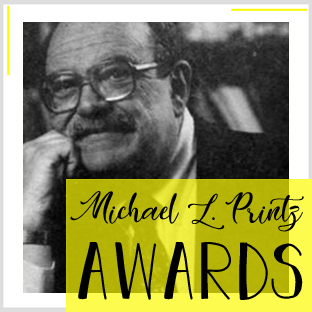 The Michael L. Printz Award is an award for a book that exemplifies literary excellence in young adult literature. It is named for a Topeka, Kansas school librarian who was a long-time active member of the Young Adult Library Services Association.  The award is sponsored by 
Booklist
, a publication of the American Library Association.
The winners and honor books are selected from books published in the preceding year. The winners are typically announced in February.
2023: All My Rage by Sabaa Tahir
---
Lahore, Pakistan. Then.
Misbah is a dreamer and storyteller, newly married to Toufiq in an arranged match. After their young life is shaken by tragedy, they come to the United States and open the Cloud's Rest Inn Motel, hoping for a new start.
Juniper, California. Now.
Salahudin and Noor are more than best friends; they are family. Growing up as outcasts in the small desert town of Juniper, California, they understand each other the way no one else does. Until The Fight, which destroys their bond with the swift fury of a star exploding.
Now, Sal scrambles to run the family motel as his mother Misbah's health fails and his grieving father loses himself to alcoholism. Noor, meanwhile, walks a harrowing tightrope: working at her wrathful uncle's liquor store while hiding the fact that she's applying to college so she can escape him—and Juniper—forever.
When Sal's attempts to save the motel spiral out of control, he and Noor must ask themselves what friendship is worth—and what it takes to defeat the monsters in their pasts and the ones in their midst.
2022: Firekeeper's Daughter by Angeline Boulley
---
As a biracial, unenrolled tribal member and the product of a scandal, eighteen-year-old Daunis Fontaine has never quite fit in, both in her hometown and on the nearby Ojibwe reservation. Daunis dreams of studying medicine, but when her family is struck by tragedy, she puts her future on hold to care for her fragile mother.
The only bright spot is meeting Jamie, the charming new recruit on her brother Levi's hockey team. Yet even as Daunis falls for Jamie, certain details don't add up and she senses the dashing hockey star is hiding something. Everything comes to light when Daunis witnesses a shocking murder, thrusting her into the heart of a criminal investigation.
Reluctantly, Daunis agrees to go undercover, but secretly pursues her own investigation, tracking down the criminals with her knowledge of chemistry and traditional medicine. But the deceptions—and deaths—keep piling up and soon the threat strikes too close to home.
Now, Daunis must learn what it means to be a strong Anishinaabe kwe (Ojibwe woman) and how far she'll go to protect her community, even if it tears apart the only world she's ever known.
2021: Everything Sad is Untrue (A True Story) by Daniel Nayeri
---
At the front of a middle school classroom in Oklahoma, a boy named Khosrou (whom everyone calls "Daniel") stands, trying to tell a story. His story. But no one believes a word he says. To them he is a dark-skinned, hairy-armed boy with a big butt whose lunch smells funny; who makes things up and talks about poop too much.
But Khosrou's stories, stretching back years, and decades, and centuries, are beautiful, and terrifying, from the moment his family fled Iran in the middle of the night with the secret police moments behind them, back to the sad, cement refugee camps of Italy.and further back to the fields near the river Aras, where rain-soaked flowers bled red like the yolk of sunset burst over everything, and further back still to the Jasmine-scented city of Isfahan.
We bounce between a school bus of kids armed with paper clip missiles and spitballs to the heroines and heroes of Khosrou's family's past, who ate pastries that made people weep and cry "Akh, Tamar!" and touched carpets woven with precious gems.
Like Scheherazade in a hostile classroom, Daniel weaves a tale to save his own life: to stake his claim to the truth. And it is (a true story).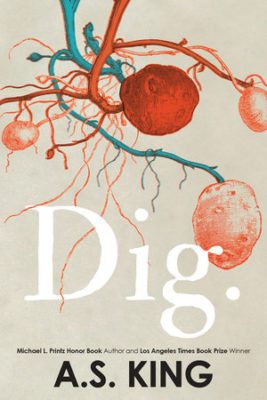 2020: Dig by A.S. King
---
The Shoveler, the Freak, CanIHelpYou?, Loretta the Flea-Circus Ring Mistress, and First-Class Malcolm. These are the five teenagers lost in the Hemmings family's maze of tangled secrets. Only a generation removed from being simple Pennsylvania potato farmers, Gottfried and Marla Hemmings managed to trade digging spuds for developing subdivisions and now sit atop a seven-figure bank account, wealth they've declined to pass on to their adult children or their teenage grandchildren.
"Because we want them to thrive," Marla always says.
What does thriving look like? Like carrying a snow shovel everywhere. Like selling pot at the Arby's drive-thru window. Like a first class ticket to Jamaica between cancer treatments. Like a flea-circus in a doublewide. Like the GPS coordinates to a mound of dirt in a New Jersey forest.
As the rot just beneath the surface of the Hemmings precious white suburban respectability begins to spread, the far flung grand children gradually find their ways back to each other, just in time to uncover the terrible cost of maintaining the family name.
2019: The Poet X by Elizabeth Acevedo
---
Xiomara Batista feels unheard and unable to hide in her Harlem neighborhood. Ever since her body grew into curves, she has learned to let her fists and her fierceness do the talking.
But Xiomara has plenty she wants to say, and she pours all her frustration and passion onto the pages of a leather notebook, reciting the words to herself like prayers—especially after she catches feelings for a boy in her bio class named Aman, who her family can never know about. With Mami's determination to force her daughter to obey the laws of the church, Xiomara understands that her thoughts are best kept to herself.
So when she is invited to join her school's slam poetry club, she doesn't know how she could ever attend without her mami finding out, much less speak her words out loud. But still, she can't stop thinking about performing her poems.
Because in the face of a world that may not want to hear her, Xiomara refuses to be silent.
2018: We Are Okay by Nina LaCour
---
You go through life thinking there's so much you need…
Until you leave with only your phone, your wallet, and a picture of your mother.
Marin hasn't spoken to anyone from her old life since the day she left everything behind. No one knows the truth about those final weeks. Not even her best friend, Mabel. But even thousands of miles away from the California coast, at college in New York, Marin still feels the pull of the life and tragedy she's tried to outrun. Now, months later, alone in an emptied dorm for winter break, Marin waits. Mabel is coming to visit, and Marin will be forced to face everything that's been left unsaid and finally confront the loneliness that has made a home in her heart.
2017: March: Book Three by John Lewis
---
Welcome to the stunning conclusion of the award-winning and best-selling MARCH trilogy. Congressman John Lewis, an American icon and one of the key figures of the civil rights movement, joins co-writer Andrew Aydin and artist Nate Powell to bring the lessons of history to vivid life for a new generation, urgently relevant for today's world.
book 3 in the March series
2016: Bone Gap by Laura Ruby
---
Everyone knows Bone Gap is full of gaps—gaps to trip you up, gaps to slide through so you can disappear forever. So when young, beautiful Roza went missing, the people of Bone Gap weren't surprised. After all, it wasn't the first time that someone had slipped away and left Finn and Sean O'Sullivan on their own. Just a few years before, their mother had high-tailed it to Oregon for a brand new guy, a brand new life. That's just how things go, the people said. Who are you going to blame?
Finn knows that's not what happened with Roza. He knows she was kidnapped, ripped from the cornfields by a dangerous man whose face he cannot remember. But the searches turned up nothing, and no one believes him anymore. Not even Sean, who has more reason to find Roza than anyone, and every reason to blame Finn for letting her go.
As we follow the stories of Finn, Roza, and the people of Bone Gap—their melancholy pasts, their terrifying presents, their uncertain futures—acclaimed author Laura Ruby weaves a heartbreaking tale of love and loss, magic and mystery, regret and forgiveness—a story about how the face the world sees is never the sum of who we are.
2015: I'll Give You the Sun by Jandy Nelson
---
At first, Jude and her twin brother Noah, are inseparable. Noah draws constantly and is falling in love with the charismatic boy next door, while daredevil Jude wears red-red lipstick, cliff-dives, and does all the talking for both of them. 
Years later, they are barely speaking. Something has happened to change the twins in different yet equally devastating ways . . . but then Jude meets an intriguing, irresistible boy and a mysterious new mentor. 
The early years are Noah's to tell; the later years are Jude's. But they each have only half the story, and if they can only find their way back to one another, they'll have a chance to remake their world. 
This radiant, award-winning novel from the acclaimed author of The Sky Is Everywhere will leave you breathless and teary and laughing—often all at once. 
2014: Midwinterblood by Marcus Sedgwick
---
Have you ever had the feeling that you've lived another life? Been somewhere that has felt totally familiar, even though you've never been there before, or felt that you know someone well, even though you are meeting them for the first time? It happens. 
In a novel comprising seven parts, each influenced by a moon – the flower moon, the harvest moon, the hunter's moon, the blood moon – this is the story of Eric and Merle whose souls have been searching for each other since their untimely parting.
2013: In Darkness by Nick Lake
---
In darkness I count my blessings like Manman taught me. One: I am alive. Two: there is no two.
In the aftermath of the Haitian earthquake a boy is trapped beneath the rubble of a ruined hospital: thirsty, terrified and alone. 'Shorty' is a child of the slums, a teenage boy who has seen enough violence to last a lifetime, and who has been inexorably drawn into the world of the gangsters who rule Site Soleil: men who dole out money with one hand and death with the other.
But Shorty has a secret: a flame of revenge that blazes inside him and a burning wish to find the twin sister he lost five years ago. And he is marked. Marked in a way that links him with Toussaint L'Ouverture, the Haitian rebel who two-hundred years ago led the slave revolt and faced down Napoleon to force the French out of Haiti.
As he grows weaker, Shorty relives the journey that took him to the hospital, a bullet wound in his arm. In his visions and memories he hopes to find the strength to survive, and perhaps then Toussaint can find a way to be free …
2012: Where Things Come Back by John Corey Whaley
---
Just when seventeen-year-old Cullen Witter thinks he understands everything about his small and painfully dull Arkansas town, it all disappears. . . . 
In the summer before Cullen's senior year, a nominally-depressed birdwatcher named John Barling thinks he spots a species of woodpecker thought to be extinct since the 1940s in Lily, Arkansas. His rediscovery of the so-called Lazarus Woodpecker sparks a flurry of press and woodpecker-mania. Soon all the kids are getting woodpecker haircuts and everyone's eating "Lazarus burgers." But as absurd as the town's carnival atmosphere has become, nothing is more startling than the realization that Cullen's sensitive, gifted fifteen-year-old brother Gabriel has suddenly and inexplicably disappeared. 
While Cullen navigates his way through a summer of finding and losing love, holding his fragile family together, and muddling his way into adulthood, a young missionary in Africa, who has lost his faith, is searching for any semblance of meaning wherever he can find it. As distant as the two stories seem at the start, they are thoughtfully woven ever closer together and through masterful plotting, brought face to face in a surprising and harrowing climax. 
2011: Ship Breaker by Paolo Bacigalupi
---
In America's Gulf Coast region, where grounded oil tankers are being broken down for parts, Nailer, a teenage boy, works the light crew, scavenging for copper wiring just to make quota–and hopefully live to see another day. But when, by luck or chance, he discovers an exquisite clipper ship beached during a recent hurricane, Nailer faces the most important decision of his life: Strip the ship for all it's worth or rescue its lone survivor, a beautiful and wealthy girl who could lead him to a better life…
book 1 in the Ship Breaker series
2010: Going Bovine by Libba Bray
---
Can Cameron find what he's looking for?
All 16-year-old Cameron wants is to get through high school—and life in general—with a minimum of effort. It's not a lot to ask. But that's before he's given some bad news: he's sick and he's going to die. Which totally sucks. Hope arrives in the winged form of Dulcie, a loopy punk angel/possible hallucination with a bad sugar habit. She tells Cam there is a cure—if he's willing to go in search of it. With the help of a death-obsessed, video-gaming dwarf and a yard gnome, Cam sets off on the mother of all road trips through a twisted America into the heart of what matters most.
2009: Jellicoe Road by Melina Marchetta
---
I'm dreaming of the boy in the tree. I tell him stories. About the Jellicoe School and the Townies and the Cadets from a school in Sydney. I tell him about the war between us for territory. And I tell him about Hannah, who lives in the unfinished house by the river. Hannah, who is too young to be hiding away from the world. Hannah, who found me on the Jellicoe Road six years ago.
Taylor is leader of the boarders at the Jellicoe School. She has to keep the upper hand in the territory wars and deal with Jonah Griggs—the enigmatic leader of the cadets, and someone she thought she would never see again.
And now Hannah, the person Taylor had come to rely on, has disappeared. Taylor's only clue is a manuscript about five kids who lived in Jellicoe eighteen years ago. She needs to find out more, but this means confronting her own story, making sense of her strange, recurring dream, and finding her mother—who abandoned her on the Jellicoe Road.
2008: The White Darkness by Geraldine McCaughrean
---
I have been in love with Titus Oates for quite a while now–which is ridiculous, since he's been dead for ninety years. But look at it this way. In ninety years I'll be dead, too, and the age difference won't matter.
Sym is not your average teenage girl. She is obsessed with the Antarctic and the brave, romantic figure of Captain Oates from Scott's doomed expedition to the South Pole. In fact, Oates is the secret confidant to whom she spills all her hopes and fears.
But Sym's uncle Victor is even more obsessed–and when he takes her on a dream trip into the bleak Antarctic wilderness, it turns into a nightmarish struggle for survival that will challenge everything she knows and loves.
New Temporary Hours of Operation
Due to staffing shortages and until further notice our temporary hours will be:
Monday: 9:00 am – 6:00 pm
Tuesday - Wednesday: 9:00 am – 8:00 pm
Thursday: 11:00 am – 8:00 pm
Friday: 10:00 am – 6:00 pm
Saturday: 10:00 am – 2:00 pm
Sunday: CLOSED
Closures in 2023
January 2 – New Year's
January 16 – Martin Luther King, Jr., Day
February 20 – President's Day
March 24 – Staff Development Day
April 1 – Closed for Maintenance
May 27-29 – Memorial Day
June 19 – Juneteenth
July 4 – Independence Day
September 2-4 – Labor Day
September 28 – Library Conference (LCEI)
September 29-30 – Closed for Maintenance
November 10-11 – Veteran's Day
November 22 – Closing at 5:00 pm
November 23-25 – Thanksgiving
December 23-26 – Christmas
December 30-31, 2023 – New Year's
January 1, 2024 – New Year's Day
Address
73 North Center
Rexburg, Idaho 83440
We are located on Center Street, just north of Main Street, by the Historic Rexburg Tabernacle.