Newbery Medal Winners
The Best Literature for Children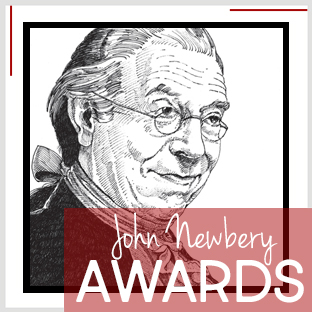 The Newbery Medal was named for eighteenth-century British bookseller John Newbery. It is awarded annually by the Association for Library Service to Children, a division of the American Library Association, to the author of the most distinguished contribution to American literature for children.
The winners and honor books are selected from books published in the preceding year. The winners are typically announced in February.
2023: Freewater by Amina Luqman-Dawson
---
Under the cover of night, twelve-year-old Homer flees Southerland Plantation with his little sister Ada, unwillingly leaving their beloved mother behind. Much as he adores her and fears for her life, Homer knows there's no turning back, not with the overseer on their trail. Through tangled vines, secret doorways, and over a sky bridge, the two find a secret community called Freewater, deep in the swamp.
In this society created by formerly enslaved people and some freeborn children, Homer finds new friends, almost forgetting where he came from. But when he learns of a threat that could destroy Freewater, he crafts a plan to find his mother and help his new home.
2022: The Last Cuentista by Donna Barba Higuera
---
There lived a girl named Petra Peña, who wanted nothing more than to be a storyteller, like her abuelita.
But Petra's world is ending. Earth has been destroyed by a comet, and only a few hundred scientists and their children – among them Petra and her family – have been chosen to journey to a new planet. They are the ones who must carry on the human race.
Hundreds of years later, Petra wakes to this new planet – and the discovery that she is the only person who remembers Earth. A sinister Collective has taken over the ship during its journey, bent on erasing the sins of humanity's past. They have systematically purged the memories of all aboard – or purged them altogether.
Petra alone now carries the stories of our past, and with them, any hope for our future. Can she make them live again?
2021: When You Trap a Tiger by Tae Keller
---
Some stories refuse to stay bottled up…
When Lily and her family move in with her sick grandmother, a magical tiger straight out of her halmoni's Korean folktales arrives, prompting Lily to unravel a secret family history. Long, long ago, Halmoni stole something from the tigers. Now, the tigers want it back. And when one of those tigers offers Lily a deal–return what Halmoni stole in exchange for Halmoni's health–Lily is tempted to accept. But deals with tigers are never what they seem! With the help of her sister and her new friend Ricky, Lily must find her voice… and the courage to face a tiger.
2020: New Kid by Jerry Craft
---
Seventh grader Jordan Banks loves nothing more than drawing cartoons about his life. But instead of sending him to the art school of his dreams, his parents enroll him in a prestigious private school known for its academics, where Jordan is one of the few kids of color in his entire grade.
As he makes the daily trip from his Washington Heights apartment to the upscale Riverdale Academy Day School, Jordan soon finds himself torn between two worlds—and not really fitting into either one. Can Jordan learn to navigate his new school culture while keeping his neighborhood friends and staying true to himself?
book 1 in the New Kid series
2019: Merci Suárez Changes Gears by Meg Medina
---
Merci Suárez knew that sixth grade would be different, but she had no idea just how different. For starters, Merci has never been like the other kids at her private school in Florida, because she and her older brother, Roli, are scholarship students. They don't have a big house or a fancy boat, and they have to do extra community service to make up for their free tuition. So when bossy Edna Santos sets her sights on the new boy who happens to be Merci's school-assigned Sunshine Buddy, Merci becomes the target of Edna's jealousy. Things aren't going well at home, either: Merci's grandfather and most trusted ally, Lolo, has been acting strangely lately — forgetting important things, falling from his bike, and getting angry over nothing. No one in her family will tell Merci what's going on, so she's left to her own worries, while also feeling all on her own at school. In a coming-of-age tale full of humor and wisdom, award-winning author Meg Medina gets to the heart of the confusion and constant change that defines middle school — and the steadfast connection that defines family.
book 1 in the Merci Suárez series
2018: Hello, Universe by Erin Entrada Kelly
---
In one day, four lives weave together in unexpected ways. Virgil Salinas is shy and kindhearted and feels out of place in his loud and boisterous family. Valencia Somerset, who is deaf, is smart, brave, and secretly lonely, and loves everything about nature. Kaori Tanaka is a self-proclaimed psychic, whose little sister Gen is always following her around. And Chet Bullens wishes the weird kids would just act normal so that he can concentrate on basketball. They aren't friends — at least not until Chet pulls a prank that traps Virgil and his pet guinea pig at the bottom of a well. This disaster leads Kaori, Gen, and Valencia on an epic quest to find the missing Virgil. Through luck, smarts, bravery, and a little help from the universe, a rescue is performed, a bully is put in his place, and friendship blooms.
2017: The Girl Who Drank the Moon by Kelly Barnhill 
---
Every year, the people of the Protectorate leave a baby as an offering to the witch who lives in the forest. They hope this sacrifice will keep her from terrorizing their town. But the witch in the forest, Xan, is kind and gentle. She shares her home with a wise Swamp Monster named Glerk and a Perfectly Tiny Dragon, Fyrian. Xan rescues the abandoned children and delivers them to welcoming families on the other side of the forest, nourishing the babies with starlight on the journey. 
One year, Xan accidentally feeds a baby moonlight instead of starlight, filling the ordinary child with extraordinary magic. Xan decides she must raise this enmagicked girl, whom she calls Luna, as her own. To keep young Luna safe from her own unwieldy power, Xan locks her magic deep inside her. When Luna approaches her thirteenth birthday, her magic begins to emerge on schedule — but Xan is far away. Meanwhile, a young man from the Protectorate is determined to free his people by killing the witch. Soon, it is up to Luna to protect those who have protected her — even if it means the end of the loving, safe world she's always known.
2016: Last Stop on Market Street by Matt de la Peña 
---
Every Sunday after church, CJ and his grandma ride the bus across town. But today, CJ wonders why they don't own a car like his friend Colby. Why doesn't he have an iPod like the boys on the bus? How come they always have to get off in the dirty part of town? Each question is met with an encouraging answer from grandma, who helps him see the beauty—and fun—in their routine and the world around them.
This energetic ride through a bustling city highlights the wonderful perspective only grandparent and grandchild can share, and comes to life through Matt de la Pena's vibrant text and Christian Robinson's radiant illustrations.
2015: The Crossover by Kwame Alexander 
---
"With a bolt of lightning on my kicks . . .The court is SIZZLING. My sweat is DRIZZLING. Stop all that quivering. Cuz tonight I'm delivering," announces dread-locked, 12-year old Josh Bell. He and his twin brother Jordan are awesome on the court. But Josh has more than basketball in his blood, he's got mad beats, too, that tell his family's story in verse, in this fast and furious middle grade novel of family and brotherhood.
Josh and Jordan must come to grips with growing up on and off the court to realize breaking the rules comes at a terrible price, as their story's heart-stopping climax proves a game-changer for the entire family.
book 1 in The Crossover series
2014: Flora & Ulysses by Kate DiCamillo
---
It begins, as the best superhero stories do, with a tragic accident that has unexpected consequences. The squirrel never saw the vacuum cleaner coming, but self-described cynic Flora Belle Buckman, who has read every issue of the comic book Terrible Things Can Happen to You!, is the just the right person to step in and save him. What neither can predict is that Ulysses (the squirrel) has been born anew, with powers of strength, flight, and misspelled poetry—and that Flora will be changed too, as she discovers the possibility of hope and the promise of a capacious heart. From #1 New York Times best-selling author Kate DiCamillo comes a laugh-out-loud story filled with eccentric, endearing characters and featuring an exciting new format—a novel interspersed with comic-style graphic sequences and full-page illustrations, all rendered in black-and-white by up-and-coming artist K. G. Campbell.
2013: The One and Only Ivan by Katherine Applegate
---
Ivan is an easygoing gorilla. Living at the Exit 8 Big Top Mall and Video Arcade, he has grown accustomed to humans watching him through the glass walls of his domain. He rarely misses his life in the jungle. In fact, he hardly ever thinks about it at all.
Instead, Ivan thinks about TV shows he's seen and about his friends Stella, an elderly elephant, and Bob, a stray dog. But mostly Ivan thinks about art and how to capture the taste of a mango or the sound of leaves with color and a well-placed line.
Then he meets Ruby, a baby elephant taken from her family, and she makes Ivan see their home—and his own art—through new eyes. When Ruby arrives, change comes with her, and it's up to Ivan to make it a change for the better.
book 1 in The One and Only Ivan series
2012: Dead End in Norvelt by Jack Gantos
---
Melding the entirely true and the wildly fictional, Dead End in Norvelt is a novel about an incredible two months for a kid named Jack Gantos, whose plans for vacation excitement are shot down when he is "grounded for life" by his feuding parents, and whose nose spews bad blood at every little shock he gets.
But plenty of excitement (and shocks) are coming Jack's way once his mom loans him out to help a feisty old neighbor with a most unusual chore—typewriting obituaries filled with stories about the people who founded his Utopian town. As one obituary leads to another, Jack is launched on a strange adventure involving molten wax, Eleanor Roosevelt, twisted promises, a homemade airplane, Girl Scout cookies, a man on a trike, a dancing plague, voices from the past, Hells Angels . . . and possibly murder.
2011: Moon over Manifest by Clare Vanderpool
---
Abilene Tucker feels abandoned. Her father has put her on a train, sending her off to live with an old friend for the summer while he works a railroad job. Armed only with a few possessions and her list of universals, Abilene jumps off the train in Manifest, Kansas, aiming to learn about the boy her father once was.
Having heard stories about Manifest, Abilene is disappointed to find that it's just a dried-up, worn-out old town. But her disappointment quickly turns to excitement when she discovers a hidden cigar box full of mementos, including some old letters that mention a spy known as the Rattler. These mysterious letters send Abilene and her new friends, Lettie and Ruthanne, on an honest-to-goodness spy hunt, even though they are warned to "Leave Well Enough Alone."
Abilene throws all caution aside when she heads down the mysterious Path to Perdition to pay a debt to the reclusive Miss Sadie, a diviner who only tells stories from the past. It seems that Manifest's history is full of colorful and shadowy characters—and long-held secrets. The more Abilene hears, the more determined she is to learn just what role her father played in that history. And as Manifest's secrets are laid bare one by one, Abilene begins to weave her own story into the fabric of the town.
2010: When You Reach Me by Rebecca Stead
---
Four mysterious letters change Miranda's world forever. 
By sixth grade, Miranda and her best friend, Sal, know how to navigate their New York City neighborhood. They know where it's safe to go, like the local grocery store, and they know whom to avoid, like the crazy guy on the corner. 
But things start to unravel. Sal gets punched by a new kid for what seems like no reason, and he shuts Miranda out of his life. The apartment key that Miranda's mom keeps hidden for emergencies is stolen. And then Miranda finds a mysterious note scrawled on a tiny slip of paper: 
I am coming to save your friend's life, and my own. 
I must ask two favors. First, you must write me a letter. 
The notes keep coming, and Miranda slowly realizes that whoever is leaving them knows all about her, including things that have not even happened yet. Each message brings her closer to believing that only she can prevent a tragic death. Until the final note makes her think she's too late. 
2009: The Graveyard Book by Neil Gaiman
---
After the grisly murder of his entire family, a toddler wanders into a graveyard where the ghosts and other supernatural residents agree to raise him as one of their own.
Nobody Owens, known to his friends as Bod, is a normal boy. He would be completely normal if he didn't live in a sprawling graveyard, being raised and educated by ghosts, with a solitary guardian who belongs to neither the world of the living nor of the dead. There are dangers and adventures in the graveyard for a boy. But if Bod leaves the graveyard, then he will come under attack from the man Jack—who has already killed Bod's family… 
2008: Good Masters! Sweet Ladies! Voices from a Medieval Village by Laura Amy Schlitz
---
Step back to medieval 1255 England and meet 22 villagers, illustrated in pen and ink, inspired by the Munich-Nuremberg manuscript, an illuminated poem from thirteenth-century Germany. 
Hugo, the lord's nephew, proves his manhood by hunting a wild boar. Sharp-tongued Nelly supports her family by selling live eels. Peasant Mogg gets a clever lesson in how to save a cow from a greedy landlord. Barbary slings mud on noble Jack. Alice is the singing shepherdess. And many more . . . .
New Temporary Hours of Operation
Due to staffing shortages and until further notice our temporary hours will be:
Monday: 9:00 am – 6:00 pm
Tuesday - Wednesday: 9:00 am – 8:00 pm
Thursday: 11:00 am – 8:00 pm
Friday: 10:00 am – 6:00 pm
Saturday: 10:00 am – 2:00 pm
Sunday: CLOSED
Closures in 2023
January 2 – New Year's
January 16 – Martin Luther King, Jr., Day
February 20 – President's Day
March 24 – Staff Development Day
April 1 – Closed for Maintenance
May 27-29 – Memorial Day
June 19 – Juneteenth
July 4 – Independence Day
September 2-4 – Labor Day
September 28 – Library Conference (LCEI)
September 29-30 – Closed for Maintenance
November 10-11 – Veteran's Day
November 22 – Closing at 5:00 pm
November 23-25 – Thanksgiving
December 23-26 – Christmas
December 30-31, 2023 – New Year's
January 1, 2024 – New Year's Day
Address
73 North Center
Rexburg, Idaho 83440
We are located on Center Street, just north of Main Street, by the Historic Rexburg Tabernacle.