William C. Morris YA Debut Award Winners
The Best New Literature for Young Adults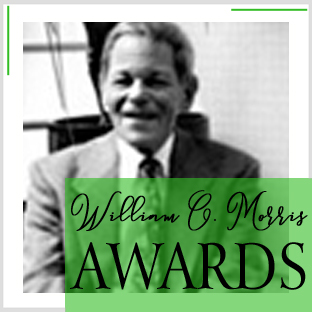 The William C. Morris YA Debut Award honors a book published by a first-time author writing for teens and celebrating impressive new voices in young adult literature. It is named for an influential innovator in the publishing world and an advocate for marketing books for children and young adults.
The winners and finalists are selected from books published in the preceding year. The winners are typically announced in February.
2023: The Life and Crimes of Hoodie Rosen by

Isaac Blum
---
Hoodie Rosen's life isn't that bad. Sure, his entire Orthodox Jewish community has just picked up and moved to the quiet, mostly non-Jewish town of Tregaron, but Hoodie's world hasn't changed that much. He's got basketball to play, studies to avoid, and a supermarket full of delicious kosher snacks to eat. The people of Tregaron aren't happy that so many Orthodox Jews are moving in at once, but that's not Hoodie's problem.
That is, until he meets and falls for Anna-Marie Diaz-O'Leary—who happens to be the daughter of the headstrong mayor trying to keep Hoodie's community out of the town. And things only get more complicated when Tregaron is struck by a series of antisemitic crimes that quickly escalate to deadly violence.
As his community turns on him for siding with the enemy, Hoodie finds himself caught between his first love and the only world he's ever known.
2022: Firekeeper's Daughter by Angeline Boulley
---
As a biracial, unenrolled tribal member and the product of a scandal, eighteen-year-old Daunis Fontaine has never quite fit in, both in her hometown and on the nearby Ojibwe reservation. Daunis dreams of studying medicine, but when her family is struck by tragedy, she puts her future on hold to care for her fragile mother.
The only bright spot is meeting Jamie, the charming new recruit on her brother Levi's hockey team. Yet even as Daunis falls for Jamie, certain details don't add up and she senses the dashing hockey star is hiding something. Everything comes to light when Daunis witnesses a shocking murder, thrusting her into the heart of a criminal investigation.
Reluctantly, Daunis agrees to go undercover, but secretly pursues her own investigation, tracking down the criminals with her knowledge of chemistry and traditional medicine. But the deceptions—and deaths—keep piling up and soon the threat strikes too close to home.
Now, Daunis must learn what it means to be a strong Anishinaabe kwe (Ojibwe woman) and how far she'll go to protect her community, even if it tears apart the only world she's ever known.
2021: If These Wings Could Fly by Kyrie McCauley
---
Tens of thousands of crows invading Auburn, Pennsylvania, is a problem for everyone in town except seventeen-year-old Leighton Barnes. For Leighton, it's no stranger than her house, which inexplicably repairs itself every time her father loses his temper and breaks things.
Leighton doesn't have time for the crows–it's her senior year, and acceptance to her dream college is finally within reach. But grabbing that lifeline means abandoning her sisters, a choice she's not ready to face.
With her father's rage worsening and the town in chaos over the crows, Leighton allows herself a chance at happiness with Liam, her charming classmate, even though falling in love feels like a revolutionary act.
Balancing school, dating, and survival under the shadow of sixty thousand feathered wings starts to feel almost comfortable, but Leighton knows that this fragile equilibrium can only last so long before it shatters.
2020: The Field Guide to the North American Teenager by Ben Philippe
---
Norris Kaplan is clever, cynical, and quite possibly too smart for his own good. A black French Canadian, he knows from watching American sitcoms that those three things don't bode well when you are moving to Austin, Texas. Plunked into a new high school and sweating a ridiculous amount from the oppressive Texas heat, Norris finds himself cataloging everyone he meets: the Cheerleaders, the Jocks, the Loners, and even the Manic Pixie Dream Girl. Making a ton of friends has never been a priority for him, and this way he can at least amuse himself until it's time to go back to Canada, where he belongs.
Yet, against all odds, those labels soon become actual people to Norris. Be it loner Liam, who makes it his mission to befriend Norris, or Madison the beta cheerleader, who is so nice that it has to be a trap. Not to mention Aarti the Manic Pixie Dream Girl, who might, in fact, be a real love interest in the making. He even starts playing actual hockey with these Texans.
But the night of the prom, Norris screws everything up royally. As he tries to pick up the pieces, he realizes it might be time to stop hiding behind his snarky opinions and start living his life—along with the people who have found their way into his heart.
2019: Darius the Great is Not Okay by Adib Khorram
---
Darius Kellner speaks better Klingon than Farsi, and he knows more about Hobbit social cues than Persian ones. He's about to take his first-ever trip to Iran, and it's pretty overwhelming–especially when he's also dealing with clinical depression, a disapproving dad, and a chronically anemic social life. In Iran, he gets to know his ailing but still formidable grandfather, his loving grandmother, and the rest of his mom's family for the first time. And he meets Sohrab, the boy next door who changes everything.
Sohrab makes sure people speak English so Darius can understand what's going on. He gets Darius an Iranian National Football Team jersey that makes him feel like a True Persian for the first time. And he understands that sometimes, best friends don't have to talk. Darius has never had a true friend before, but now he's spending his days with Sohrab playing soccer, eating rosewater ice cream, and sitting together for hours in their special place, a rooftop overlooking the Yazdi skyline.
Sohrab calls him Darioush–the original Persian version of his name–and Darius has never felt more like himself than he does now that he's Darioush to Sohrab. When it's time to go home to America, he'll have to find a way to be Darioush on his own.
book 1 in the Darius the Great series
2018: The Hate U Give by Angie Thomas
---
Sixteen-year-old Starr Carter moves between two worlds: the poor neighborhood where she lives and the fancy suburban prep school she attends. The uneasy balance between these worlds is shattered when Starr witnesses the fatal shooting of her childhood best friend Khalil at the hands of a police officer. Khalil was unarmed.
Soon afterward, his death is a national headline. Some are calling him a thug, maybe even a drug dealer and a gangbanger. Protesters are taking to the streets in Khalil's name. Some cops and the local drug lord try to intimidate Starr and her family. What everyone wants to know is: what really went down that night? And the only person alive who can answer that is Starr.
But what Starr does or does not say could upend her community. It could also endanger her life.
book 1 in The Hate U Give series
2017: The Serpent King by Jeff Zentner
---
Dill has had to wrestle with vipers his whole life—at home, as the only son of a Pentecostal minister who urges him to handle poisonous rattlesnakes, and at school, where he faces down bullies who target him for his father's extreme faith and very public fall from grace.
The only antidote to all this venom is his friendship with fellow outcasts Travis and Lydia. But as they are starting their senior year, Dill feels the coils of his future tightening around him. The end of high school will lead to new beginnings for Lydia, whose edgy fashion blog is her ticket out of their rural Tennessee town. And Travis is happy wherever he is thanks to his obsession with the epic book series Bloodfall and the fangirl who may be turning his harsh reality into real-life fantasy. Dill's only escapes are his music and his secret feelings for Lydia—neither of which he is brave enough to share. Graduation feels more like an ending to Dill than a beginning. But even before then, he must cope with another ending—one that will rock his life to the core.
2016: Simon vs. the Homo Sapiens Agenda by Becky Albertalli
---
Sixteen-year-old and not-so-openly gay Simon Spier prefers to save his drama for the school musical. But when an email falls into the wrong hands, his secret is at risk of being thrust into the spotlight. Now Simon is actually being blackmailed: if he doesn't play wingman for class clown Martin, his sexual identity will become everyone's business. Worse, the privacy of Blue, the pen name of the boy he's been emailing, will be compromised.
With some messy dynamics emerging in his once tight-knit group of friends, and his email correspondence with Blue growing more flirtatious every day, Simon's junior year has suddenly gotten all kinds of complicated. Now, change-averse Simon has to find a way to step out of his comfort zone before he's pushed out—without alienating his friends, compromising himself, or fumbling a shot at happiness with the most confusing, adorable guy he's never met.
book 1 in the Creekwood series
2015: Gabi, a Girl in Pieces by Isabel Quintero
---
Gabi Hernandez chronicles her last year in high school in her diary: college applications, Cindy's pregnancy, Sebastian's coming out, the cute boys, her father's meth habit, and the food she craves. And best of all, the poetry that helps forge her identity.
July 24
My mother named me Gabriella, after my grandmother who, coincidentally, didn't want to meet me when I was born because my mother was unmarried, and therefore living in sin. My mom has told me the story many, many, MANY, times of how, when she confessed to my grandmother that she was pregnant with me, her mother beat her. BEAT HER! She was twenty-five. That story is the basis of my sexual education and has reiterated why it's important to wait until you're married to give it up. So now, every time I go out with a guy, my mom says, "Ojos abiertos, piernas cerradas." Eyes open, legs closed. That's as far as the birds and the bees talk has gone. And I don't mind it. I don't necessarily agree with that whole wait until you're married crap, though. I mean, this is America and the 21st century; not Mexico one hundred years ago. But, of course, I can't tell my mom that because she will think I'm bad. Or worse: trying to be White.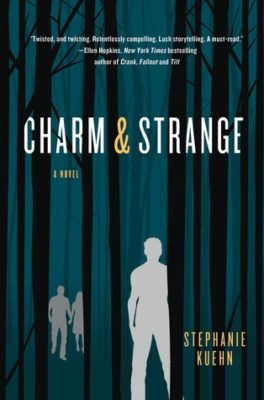 2014: Charm & Strange by Stephanie Kuehn
---
When you've been kept caged in the dark, it's impossible to see the forest for the trees. It's impossible to see anything, really. Not without bars . . .
Andrew Winston Winters is at war with himself.
He's part Win, the lonely teenager exiled to a remote Vermont boarding school in the wake of a family tragedy. The guy who shuts all his classmates out, no matter the cost.
He's part Drew, the angry young boy with violent impulses that control him. The boy who spent a fateful, long-ago summer with his brother and teenage cousins, only to endure a secret so monstrous it led three children to do the unthinkable.
Over the course of one night, while stuck at a party deep in the New England woods, Andrew battles both the pain of his past and the isolation of his present.
Before the sun rises, he'll either surrender his sanity to the wild darkness inside his mind or make peace with the most elemental of truths—that choosing to live can mean so much more than not dying.
2013: Seraphina by Rachel Hartman
---
Four decades of peace have done little to ease the mistrust between humans and dragons in the kingdom of Goredd. Folding themselves into human shape, dragons attend court as ambassadors, and lend their rational, mathematical minds to universities as scholars and teachers. As the treaty's anniversary draws near, however, tensions are high.
Seraphina Dombegh has reason to fear both sides. An unusually gifted musician, she joins the court just as a member of the royal family is murdered—in suspiciously draconian fashion. Seraphina is drawn into the investigation, partnering with the captain of the Queen's Guard, the dangerously perceptive Prince Lucian Kiggs. While they begin to uncover hints of a sinister plot to destroy the peace, Seraphina struggles to protect her own secret, the secret behind her musical gift, one so terrible that its discovery could mean her very life.
book 1 in the Seraphina series
2012: Where Things Come Back by John Corey Whaley
---
Just when seventeen-year-old Cullen Witter thinks he understands everything about his small and painfully dull Arkansas town, it all disappears. . . . 
In the summer before Cullen's senior year, a nominally-depressed birdwatcher named John Barling thinks he spots a species of woodpecker thought to be extinct since the 1940s in Lily, Arkansas. His rediscovery of the so-called Lazarus Woodpecker sparks a flurry of press and woodpecker-mania. Soon all the kids are getting woodpecker haircuts and everyone's eating "Lazarus burgers." But as absurd as the town's carnival atmosphere has become, nothing is more startling than the realization that Cullen's sensitive, gifted fifteen-year-old brother Gabriel has suddenly and inexplicably disappeared. 
While Cullen navigates his way through a summer of finding and losing love, holding his fragile family together, and muddling his way into adulthood, a young missionary in Africa, who has lost his faith, is searching for any semblance of meaning wherever he can find it. As distant as the two stories seem at the start, they are thoughtfully woven ever closer together and through masterful plotting, brought face to face in a surprising and harrowing climax.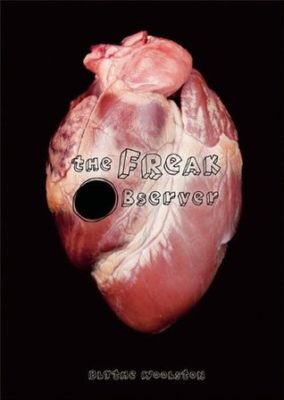 2011: The Freak Observer by Blythe Woolston
---
For eight years, Loa Sollilja's world ran like one of those mechanical models of the solar system, with her baby sister, Asta, as the sun. Asta suffered from a genetic disorder that left her a permanent infant, and caring for her was Loa's life. Everything spun neatly and regularly as the whole family orbited around Asta. But now Asta's dead, and 16-year-old Loa's clockwork galaxy has collapsed. As Loa spins off on her own, her mind ambushes her with vivid nightmares and sadistic flashbacks―a textbook case of PTSD. But there are no textbook fixes for Loa's short-circuiting brain. She must find her own way to pry her world from the clutches of death. 
2010: Ash by Malinda Lo
---
Cinderella retold
In the wake of her father's death, Ash is left at the mercy of her cruel stepmother. Consumed with grief, her only joy comes by the light of the dying hearth fire, rereading the fairy tales her mother once told her. In her dreams, someday the fairies will steal her away, as they are said to do. When she meets the dark and dangerous fairy Sidhean, she believes that her wish may be granted.
The day that Ash meets Kaisa, the King's Huntress, her heart begins to change. Instead of chasing fairies, Ash learns to hunt with Kaisa. Though their friendship is as delicate as a new bloom, it reawakens Ash's capacity for love-and her desire to live. But Sidhean has already claimed Ash for his own, and she must make a choice between fairy tale dreams and true love.
book 1 in the Ash series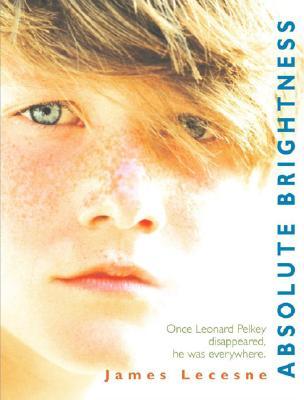 2009: Absolute Brightness by James Lecesne
---
Phoebe's life in Neptune, New Jersey, is somewhat unremarkable. She helps her mom out with her hair salon, she goes to school, and she envies her perfect older sister. But everything changes when Leonard arrives.
Leonard is an orphan, a cousin who Phoebe never knew she had. When he comes to live with Phoebe's family, he upsets the delicate balance of their lives. He's gay and confident about who he is. He inspires the people around him. He sees people not as they are, but as they hope to be.
One day, Leonard goes missing. Phoebe, her family, and her community fight to understand what happened, and to make sense of why someone might want to extinguish the beautiful absolute brightness that was Leonard Pelkey.
Regular Hours of Operation
Monday: 9:00 am – 6:00 pm
Tuesday - Wednesday: 9:00 am – 8:00 pm
Thursday: 11:00 am – 8:00 pm
Friday: 10:00 am – 6:00 pm
Saturday: 10:00 am – 2:00 pm
Sunday: CLOSED
Closures in 2023
January 2 – New Year's
January 16 – Martin Luther King, Jr., Day
February 20 – Presidents Day
March 24 – Staff Development Day
April 1 – Building Maintenance
May 27-29 – Memorial Day
June 19 – Juneteenth
July 4 – Independence Day
September 2-4 – Labor Day
September 28 – Library Conference (LCEI)
September 29-30 – Building Maintenance
November 10-11 – Veterans Day
November 22 – Closing at 5:00 pm
November 23-25 – Thanksgiving
December 23-26 – Christmas
December 30-31, 2023 – New Year's
January 1, 2024 – New Year's Day
Address
73 North Center
Rexburg, Idaho 83440
We are located on Center Street, just north of Main Street, by the Historic Rexburg Tabernacle.